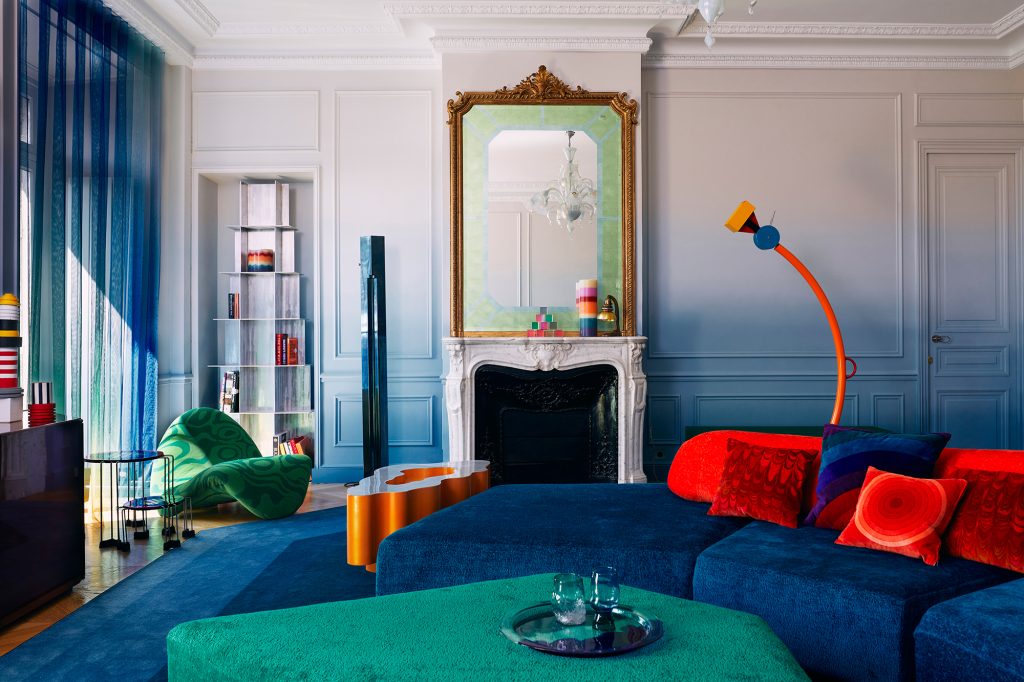 SHOW NOTES
On this special episode sponsored by Lumens, Dan meets three extraordinary emerging talents in the field of design: London's Tola Ojuolape chats about her explorations of various cultures that went into her lauded design for the Africa Centre; Paris's Julien Sebban of Uchronia describes his mission to create ultra-colorful, radical interiors and furniture; and New York's Jacqueline Sullivan explains her new downtown gallery that proudly blurs the lines between collectible design and the decorative arts.
Listen to this episode
TRANSCRIPT
Jacqueline Sullivan: I love decorative arts. If you're thinking about functionality of something, isn't there a lot of function in feeling good, or feeling pleasure at seeing something, or feeling pleasure in having a vase in your home that you love? There's so much beauty in decorative arts.
Dan Rubinstein: Hi, I'm Dan Rubinstein, and this is The Grand Tourist. I've been a design journalist for nearly 20 years. And this is my personalized guided tour to the worlds of fashion, art, architecture, food, and travel, all the elements of a well-lived life. And welcome to a special episode brought to you by Lumens. Today, I'm taking a break from the ultra-serious heavyweights in creativity to connect you with the next generation of designers that will shape the world to come. On this episode, the first of three we'll be doing this year, we'll meet a trio of young talents that are making waves in design, each with their own unique story to tell. We'll meet a gallerist in New York who's trying to bring a bit of poetry back into the home and the world of collecting, and an interior designer in Paris who's wowing audiences with trippy ultra-colorful spaces and furniture.
But first up is a curious and bright-eyed interior designer raised in Ireland and now working in the UK, Tola Ojuolape. Her recent design for London's Africa Centre turned heads with its tactile environments, use of color, and pattern, and ability to synthesize a look that everyone from across the continent could identify with. She's also worked on hotels and is currently exploring ceramics and other various projects. I caught up with Tola from her flat in London to talk about her travels to Nigeria, what it was like growing up in the bucolic countryside of Ireland, and what obstacles she faces as a young designer entering the field.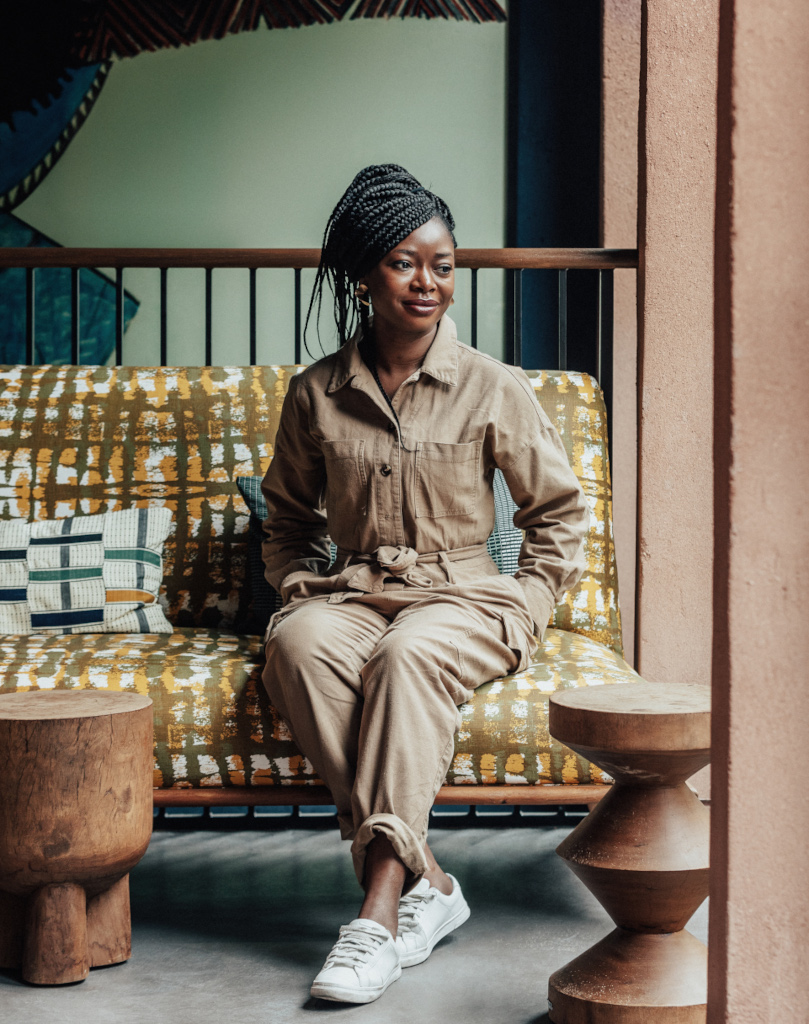 I guess, the way to get started is, like I do with all of my guests, tell me a little bit about your early life. I heard that you were raised in Ennis, which is near Limerick.
Yes. Oh, my God. I didn't think you would know that at all. But yeah, I'm—
I've gotten very good at Googling towns to make sure I know where they are.
Okay. Yes. Yeah, so I'm Nigerian by birth. But I was raised in Ireland in Ennis County Claire, which is near Limerick City in the southwest of Ireland. So, all of my formative years were spent in Ireland. Yeah, my family moved there a very long time ago. There weren't many Black people there. And it was just a place that they chose to settle in.
Oh, gosh. And so, what was it like growing up there? I've been to that part of the country and it's quite beautiful and serene. Of course, it is a little bit like an Irish postcard.
Yes, indeed. Indeed. So yeah, Ireland is really nice. Ennis is really, really beautiful. It's near the the Burren, it's in County Claire. We've got the Cliffs of Moher there as well. So it's definitely a definitely tourist destination. La Hinch, which isn't too far, is also the surfing capital of Ireland. So, there is a lot to do, a lot of heritage as well. And Father Ted is actually filmed in County Claire, so that's another pull. Yes. And there's some scenes from Ennis in Father Ted, which is very amusing growing up.
Oh, wow.
But yeah, so my childhood, I guess, set in context of that, was really, really interesting because we were this Nigerian family. We were the third Black family essentially in the town, against this backdrop of this almost coastal Irish town. But it was lovely. It was absolutely beautiful, very suburban. I had lots of friends. And, I guess, it's been the foundation, the stability for everything that I've done since. I go back every year. And it's just so different to my life now. And it's like, "How did we do this?" But, when you're growing up, it's what you're given that you accept, and everything just seems so bliss.
And was there anything as you growing up that now looking back maybe was a hint of you starting a design career?
So, I think when I was in school, I wanted to study architecture, actually. And I went to an all-girls Catholic school. And it was my career guidance counselor who actually pushed me towards interior architecture. So ,I think, my formative and my design…What led me to the path that I'm on started in the secondary school that I went to. And, I didn't like physics when I was studying physics at the time. And, I thought I needed it for architecture. And she was a very diligent teacher. And really, looking back, I think she was probably a feminist and really believed in women taking their own path. And she was great. She found this course called Interior Architecture, which is in Sligo, which is northwest part of Ireland. And she said, "I think, this is not as technical as architecture may be. There's a bit more art, and your grades, and what you're doing looks like it gravitates towards that. And, how about I take you and a few other students there to the open day?" And that was how it all began really. I ended up studying interior architecture in Sligo for five years.
And then, after that, I read that you spent some time in Italy?
Yes. So, I studied at Polytecnico de Milano, the Bovisa campus. Was there for about a year. And I think, that began the lens and the sharpening of my eye with design and real appreciation for design, obviously. One of my lecturers actually studied at the same campus and recommended it. And, my friend and I, who I grew up with actually in Ennis Town and ended up studying with, we lived in Milan, and studied in Milan, and it was amazing. Just seeing the fashion, learning Italian in Lake Como, and the food, and just design was just incredible. I remember distinctly, the retail stores really standing out, like Roberto Cavalli was quite big at the time. [inaudible 6:14] were doing amazing things and their stores were just incredible. And, even the students and the university was just beautiful and really design led. And yeah, I think at that point I said, "I really want to do this."
And, to someone who, perhaps they're from the States, or just had not heard of the Africa Centre before, tell us about that.
Yeah. So, the Africa Center…Interestingly, when I moved to London in 2012, I actually went to the Centre, just because it was a hub for Africans in diaspora to meet. It is an institution that has existed since 1961, I believe. And was a real hub for thinkers, and makers, and photographers, and artists from the continent to meet, discuss African diasporan issues and beyond. And so, they had a new building in the center of London, a place called Suffolk, having been in the center of London Covent Garden since the '60s essentially, they had an ambition to use it as a platform to promote the rise of contemporary African design. They reached out to me, because they had seen some work that I had done over the last five years across contemporary African design. And, I had a blog actually years ago when I started traveling back to the continent, where I was documenting the rise of contemporary African design and this pull and shift towards it.
Tell me about your travels to Africa when you're essentially a tourist, and you're going around to lots of different places. What did you learn about that with fresh eyes as a designer? What does Pan-African design mean to you? Because, if they asked you to bring up Pan-African vibe to the Centre in London, that can mean a lot of different things to a lot of different people. And I'm sure that a lot of people gave you their opinions. What is your impression from visiting all the different places in the continent that you did?
Yeah, interestingly, I had not been back to the continent since I moved to Ireland. So, I did go upon graduating. And I went to Nigeria first. I think, I did not realize how cosmopolitan the African continent was, like Lagos for example is and, I think, has always been a real metropolis. It's a melting pot of various people, countries. It's quite diverse. And, I think, I suppose the connection to the UK has made it very relevant over the years. So, that was my first impression. And art was huge. I think now more than ever, we see how visible it is. However, 10 years ago it was like that as well. And I think, at that time, a famous Nigerian artist actually sold at Sotheby's and that really jump-started everything that we see today. So, I knew upon landing this Africa Centre project that had to be a big part of the space.
However, when I started going to East Africa, I found that the tone was completely different to West Africa, whereas West Africans or Nigerians can be quite confident, and quite brash, and really loud, potentially. Whereas, East Africans are considered, well, just a lot softer. The design style was a bit more refined. But consistently, there's a love for craftsmanship, materiality, and tactility. And, I spent some time in Senegal as well. And there, you saw strong colonial French influence. There were parts that literally felt like you could be in Cuba.
So, the African continent really, in conclusion, is a myriad of experiences, a myriad of cultures, tapestries, and layers of beauty. And, I decided for the Africa Centre project, this was what it needed to be, rather than maybe the demonstration that we may see here where everything is really colorful and super bright, which, there is that vibrance that exists on the continent, absolutely. But I felt consistently across board it needed to be a celebration of that human touch and that love for the earth, and materiality, and tactility. And, I think, the fact that it was a unified approach was well met by the board of the Africa Centre, because it didn't mean that it was being limited to a part of the continent. And therefore, the rest of the continent would be left out.
And to get a little bit technical, there's this fantastic indigo clay plaster and that color shows up a lot that people really have gravitated to. And you've used that indigo color before in your work. And I'm just curious, where did that love of this deep…It's this very, very deep indigo blue come from?
Yes. I'm so proud of this indigo, because I fought for it. So, as part of my journey to the continent, I found an artist called Nicke. She actually owns an art center in Lagos. And she was this woman who championed artisan cloth making in the southwest of Nigeria in the '60s, and has traveled with it for decades, supporting women in diaspora to have a skill and have a craft. And, the cloth that she makes is quite a celebrated cloth in Nigeria. However, across the continent, this indigo blue comes up quite a bit. So, you have artists in Mali who use it quite a bit. You have people in Mozambique who use this color.
And also, in South Africa, this indigo blue is quite a rich and respected color. And it felt quite natural to use it as a contrast to a lot of the terracotta and the earthy colors that one would see in the Africa Centre. And I felt quite confident to be able to use it, because I had been experimenting with it for a number of years. And, I think, it was very timely to the fact that it was this woman, this matriarch essentially, of artisan cloth. It just built the narrative and the story that we were trying to tell with the space very well.
And, I'm going back to your days in Ennis. And, what does your parents must think of all of your success?
It's so funny, because my family, they've been incredibly supportive. And, design is not really a course that most Nigerian children will do. Actually, however, there are more Nigerian designers being visible. But, I think, my family have always been very open. They've been incredibly supportive and thankful that this design route has actually done something for me, because architecture is the only other thing that they recognized years ago. In Nigerian households, you're usually a doctor, or lawyer, or an engineer. So, yeah.
Yeah, it sounds very familiar.
Yeah.
To many people, in short. And, when it comes to being…I wanted to ask you this because you have a burgeoning studio, you're doing a lot of amazing work, you're based in London and we're coming out of this pandemic period, where the country is dealing with Brexit, and inflation, and now it's a cost of living crisis, and an energy crisis, and all sorts of crises all happening at once. As someone who's running a small business and a growing creative practice, what are your obstacles in a very ground level way? And, what do you think the design industry at large can do to help someone like you?
I think that for young people like myself who are starting up, I always say that I don't think that in design school we are taught the financial side of things. I think it's a real shame. For designers like myself who are up and coming, having that understanding of how the finances work, unless one is erudite and chooses to be smart and literate in that area, it can be an obstacle. And therefore, growing your team, or growing your brand, or knowing how to cost for things can be challenging. So, for me, that's a cap that I've had to be very intentional in wearing, and really surrounding myself with that knowledge, and really bringing someone on board to really support me, and educate me in ways that I may not know.
Well, in London, I think that the design industry, just because of the nature of how it is, it can be quite segregated. So although, even commercial design is a thing, hospitality is very different from workspace design, and very different from residential design, but they cut across quite easily. So, I wish it was more unified and maybe knowledge sharing platforms were more made readily available for up and coming studios.
And, what would you say is the number one thing people really need to understand about you as a designer? If they had one takeaway from this, what would you say that you would want them to understand about you?
I would say that whilst the Africa Centre, I believe, is my breakout project into the industry, the work that I do spans across board. I work across various mediums of design. And it would be easy to look at me and think, "Well, she can only do African design." And whatever that means to the next person. But actually, the work that I do is very contemporary and has a contemporary lens throughout, and really tries to wear a worldview and a considered thought through in its approach and delivery.
(SPONSOR BREAK)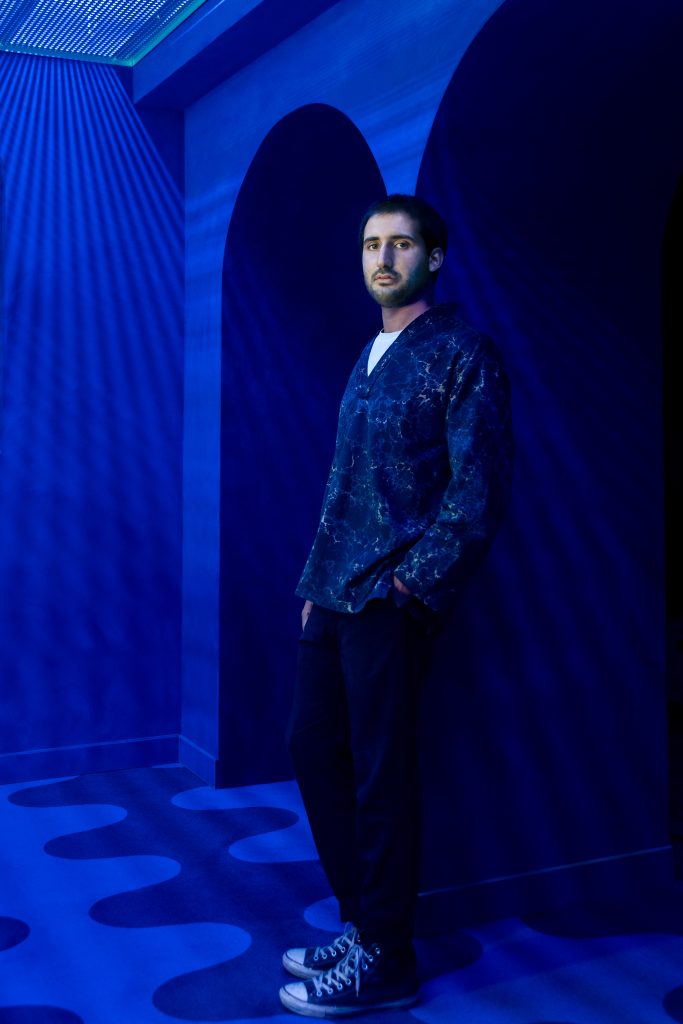 My next guest is a budding visionary from Paris who channels the city's avant-garde sensibility in all the right ways. Julien Sebban, the young designer stands out amongst his French contemporaries that, let's admit it, have stuck to lots, and lots, and lots of beige. Instead, his firm Uchronia creates spaces that are bursting with color and often mixing unusual materials, shapes, and patterns in ways that push all the boundaries. It's working. In just a few years, he's created various retail environments for brands like Sonia Rykiel, a pop-up vegetarian spot at the gallery's Lafayette, and notably Forest, the cafe at the Museum of Modern Art in Paris. I caught up with Julien from his growing studio to discover his process, his aspirations for the future, and just what it's like to live inside one of his colorful creations.
So, you're from Paris originally, right? Were you born in Paris?
Julien Sebban: I was born in Paris. And I left Paris a decade ago, when I moved to the UK to study. And, in between all of that, I traveled also around the world. So, I moved to the U.S. in 2010. I did an internship there. Then I moved to South America to Bueno Aires, where I did also an internship and I volunteered. And also, in Australia. And I studied in the UK at the Architecture Association, which is, for me, the best school.
And what made you want to travel so much and work in different places?
Honestly, I always traveled, and the thing that I was lacking in France was to speak English. So, when I turned 18 I was like, "Okay, I need to do something." So I went to Australia, and I did a working holiday, which is this visa that allow you before you're 26 to go to Australia for a year or two year to travel, and you're able to work 30 hours per week, which means that you can actually earn money and live there. So, I did that to be better in English. And from that, when I turned 21, I've never been to the U.S., and I had a few friends that were living there. So I was like, "Okay, I need to find an internship and move there for a few months." So, I managed to move to New York. I did a really shitty internship, but it allowed me to be able to be in the U.S. And I was crashing at my friend's place in Chinatown, which was at the time, extremely funny and cool.
And then, from that, I moved to South America, because I thought I would live my entire life in Buenos Aires, which is still a dream. But, with the economic crisis and everything there, I really don't think it would be would be a good idea. But still, I love it.
Amazing. And so, when you went to the Architectural Association in London, did Uchronia come from that?
Yeah. So, this school is brilliant. So, you have to work a lot before being accepted. You have four interviews, it's quite intense. But once you get there, it's by unit. So, you choose tutors that are truly amazing. Four years ago, they had [inaudible], that was one of the tutor. You had [inaudible], [inaudible]. Really renowned architects were teacher there. And basically, you pick which teacher you want, and each teacher has some topic. Each unit has 12 people. So, you apply, and then you do even more interviews. So you're either accepted or not. And, I got accepted in this unit that the tutor was Tyen Masten and Inigo Minns. I don't know if you know Punchdrunk, but his sister founded Punchdrunk. Punchdrunk is the same as the McKittrick Hotel in Sleep No More in New York. Anyway. So, they were all about performative architecture. Really interesting.
So, normally, you change every year, units, but because they went from intermediate to diplomat, that's boring. I stayed in the same unit towards my entire studies. Which was really amazing, because it allowed me to really develop what I wanted to do. And, the assignment in this class was really developing your own interests and developing what could be your future office. So, when I entered there, you did a lot of exercises, met a lot of people, and that's where I came across the term Uchronia, which I really appreciated. This idea of living outside of time and stuff. So from that, I was like, "Okay, that's something that really interests me." And by the end of my studies when I did my diploma, for me it really felt natural to use the name and everything that I've studied to create my own office.
And so, how do you describe your practice today? How is your studio set up? And how do you describe it to someone who doesn't know you?
So, my studio is a multidisciplinary collective that works within architecture and interior design. What I really wanted to do was to create places of experiences. So, for me, it was all about experiences. So when you enter Uchronia project building, whatever, you really enter into an experience. And it was the idea of removing the technique and the creativity, because most of the time, when you're a student, you draw crazy shape or crazy things. And, people always tell you, "You won't be able to produce those as architectural elements." And what I'm really trying to do is really to combine both and to show to people that it's actually possible to make something crazy a reality. And that's something that interested me all of my studies. And nowadays, that's really something that I'm trying to push. The idea of a collective was really important for me, because it was the idea of gathering young talents. And London is very different than Paris. But, in London, if you apply for a job, you will get an interview. Then, you can have it or not, the job. But, you always get an interview.
In Paris it's very different. No one talks to you if you're no one. And it's really hard to push this line. And that's something that I do as well in my office. Everyone is under 30. I'm turning 30 next year. But, for me, it was really important to have people that I consider talents, people applying for jobs, but not necessarily with a lot of experiences, "I've worked in this and that." That's not what I'm interested. I'm really interested in people that are really creative and they want to do something that is freed from all the boundaries. And because I've never worked in an office properly before, when I set up my studio, I really didn't want to have rules. Everyone is at the same level. And, we really have this sense of freedom when I'm with my team and we're designing, and then we're like, "Okay, is this possible? Is it not?" And, most of the time, it happens to be possible.
And it's the same for our furniture line. My dream was to have a furniture line that was made with only French craftsmen. So, everything is produced in France. And when we started it, a lot of people were like, "It's impossible to do that. The prices." A lot of things. And then, we managed to put it out. And now, it's becoming 20 to 30% of the income of the company, which is really great. And that was the same idea, to push the boundaries and say, "Okay, we produce in France." We managed to have amazing craftsmen with crafts that are most of the time forgotten. And, together with my team, we really are building this dream, which is Uchronia, now we're 10 people working at the office. We also have a really cooler building, which is called [foreign language], it means the castle. So we have this small building in Montmartre, which has six floors and each floor has a different vibe.
We have a showroom, we have a small workshop, a kitchen obviously. And then, big material deck and stuff. And for me, it was really, again, part of this storytelling, and this story of Uchronia that I really wanted to have. Most of our craftsmen are within… Some of them, we can walk to the [inaudible], which is amazing. And most of them are in the region of Paris, so less than 40 minutes away from Paris.
And a lot of your projects have this really strong sense of color and shape. And, I'm wondering, are you inspired by a '60s aesthetic, or a little bit of a Memphis '80s aesthetic, or a little bit of everything?
A little bit of everything. But Memphis is definitely the reason why I've done architecture. So, my family is really not into architecture. But, I don't know why, my grandparents always had some decoration magazine, since always. But that has never been a thing for them. They're not stylish or whatever. So, I always read those magazines. And, for me, the aesthetic of Memphis and the '80s has always been part of my vocabulary and the things that interested me. Then regarding the color, obviously, this group and this era had a lot of colors.
But, as myself, I always painted my room in very vibrant color. And part of my study was to do color therapy. And, it's something that I truly believe, living in a colorful place really change your mood and the way you live. And that's something for me, which is extremely important, to remove a bit of this white style based site that is everywhere we go completely against. And, all of our spaces that we develop, interior apartments or restaurants always have vivid color. And, I mean, my favorite color is orange. And that's the late motive of each one of the projects. So this project, the restaurant Forest, is very different from the rest of our portfolio. In terms of color and forms, yet it's the one project that informed us on how to work at a really high level with French craftsmen. And for me, this project is still one of my favorite because of that.
And, as a young designer, I mean, your studio really does stand out, because I feel like there's so many young studios, but they all share a similar beige spirit, if you will. Has that been a challenge for you? Or, is that actually a good thing that you stand out?
What I found at the beginning…So, I moved to Paris only two years ago before I was doing London and Paris. So, when I've done the project of the Museum of Modern Art, I was still living in London. And I had a small office in Paris. And that was really important, because in London I always felt more free than in Paris, because Paris is very severe, very strict. And even in terms of architecture and design, it's still very niche. And there is one style that people accept and not the other one.
So, living in London for seven years really allowed me to develop my agenda and the things that I enjoy. And, when people contact us to do projects, I really ask them the question, "Do you know what we do as an office, in terms of colors, shapes, and everything?" Because, that's something I'm really not ready to compromise. And also, now, I realize that, that's where people come to us for, is for our sense of color and shapes. And now, after three years, I can say that a lot more people come to us also because of that, which is really cool and that's what the studio is about. So I'm really pushing it more and more. But I realized that now a lot more people are willing to have not beige Berkeley interior.
And, in terms of restaurants, what we do also stands out from other projects, because we're not scared. And that's something that is really important in my studio, is that, when we do something, what I like to provoke is emotion, whether you hate it or you love it. I really enjoy when people hate our project, because it means that it provokes something to them. And I think that, what I believe architecture is, it's all about emotion. And, if it provokes emotion, good or bad, that's what I want. If you do a project and no one sees it, that's for me boring. Whereas, what we try to do is, we dare to do a project that are different. And I love our clients for that as well, because they allow us to do really fun, weird things.
What's the weirdest thing you ever did?
My apartment, it's not finished yet. We've been doing it for a year. Not one wall with white, let's say. And it was really a testing ground in every single possible way. And that's why it's delayed so much, is because we really tried a lot of ideas, and because it was for us, we're not in a hurry, but now we're in a hurry. And it really feels interesting and very strange. And even when I go on site now, and now it's almost finished, I realize that cool and good things take a long time. And that's something I really push my clients to understand.
For instance, the restaurant of the Museum of Modern Art took us two years to develop. But there was the pandemic in the middle. But still, it was a very long time. Or when we do apartments now, it's minimum a year. And that's something I really tell my clients. Because, if you do something quick, you will never get it perfect. And now, we're really going towards doing really good projects. Not a lot of projects, but extremely good quality, and amazing detail that when people live there they really understand why they spend so much time doing it.
When you're working on these residential projects, because they are so colorful, and they are so different, than a lot of other designers in Paris at the moment, I'm curious, what do the homeowners give you as feedback? What do they tell you it's like to live in a space like that?
Honestly, each time we develop… So, we did three really cool apartments for me. And each time someone entered the flats, they always said, "Oh my God, it looks exactly like the person that lives there." And for me, it's the best compliment you can get. And, honestly, all of the clients that we had living in their places really like it, because we don't just do a crazy colorant form. I believe that we really respect the ethos of the client. Yet, we propose them something that they would never have imagined. And, most of the time, I mean all the time, the clients and their friends, or family, or whatever always say, "Oh my god. It's something I wouldn't have imagined them living there. Yet, it fits so much their personality and the way they live." And that's, for me, the best compliment we can get. And that's something when the people that we done project for really always tell us, "It's crazy how you manage to do something that was the vibe and the personality of the client." Which, for me, is the best compliment to have.
You personally, I mean, to have such a vibrant and an inspired portfolio of projects, I'm wondering, as a young designer, how do you stay inspired? What do you do in your free time?
I wish I had free time. I don't really have free time. But I think what I love is that people are contacting us for very, very, very different projects. So, we've done a lot of restaurants. But each time it was different, either the theme or the type of restaurant that we're doing. So now, we're calming down in terms of restaurants, because we've done, I think, 15 or 20. For interior apartments, we get really inspired by the place as it is. And also, we only do two or three apartments per year, which is really not a lot. And we really, really think about what we're doing. The furniture line is really my thing, myself. That I develop on the side. And all that small collaboration, meeting new manufacturer, new people, really brings always new energy. Because, for my personal time, I think I still have 20% of my time meeting new people or artisan.
So, that's something that each time I meet someone, we have quite a cool library downstairs of materials and stuff. For my team, we discuss always the material and we're like, "Oh my God, that would be so cool to develop." And stuff. So because the project are so broad, and also we speak English at the office. So my husband is not working with us, but he's Australian. And, because I was educated with British education, everyone speaks English, and everyone comes from a different part of the world. So, I believe that our references are all very different. And that's something I really enjoy, because it's not everyone is Parisian, and we all have the same reference. Everyone comes from different parts of the world, which I believe allow us to have very different references.
And before COVID, I used to travel a lot. I'm quite happy I don't travel that much. But, for instance, going to Australia every December for a few weeks is so fresh. Yet, the design scene in Australia is a bit underrated, and it's completely amazing. More over in Melbourne, for me, it's totally incredible what's happening there. So, when I go there, I always meet really cool architect people I would like to work with. So that's also the thing that always allow us to be creative, I think.
And what's next for your studio? Do you want to do more residential? Do you want to develop that more? I mean, obviously, you're doing so much at the moment. So, where would you like to see your studio in maybe five years, let's say?
So now, we're doing a hotel, which is really exciting. That was the first. I mean, honestly, this year we crossed a lot of things I really wanted to do. I really wanted to work for a major fashion house and we worked with Sonia Rykiel, which is quite famous. Yet, we have a very similar DNA, in terms of being very French, very Parisian, working with excellent crafts. So that for me was a dream, because we developed a concept that is going to be across the world. That was, for me, a huge, huge dream. Having our furniture line as well and sending pieces…Like yesterday, we sent pieces to the U.S., to Australia, that's for me, completely crazy, to sell things to people I've never met, that I don't know, that are going to have RPCs in their place. That's, for me, honestly a dream.
Something that I'm trying to push also is to work now more in the UK and in the U.S. I mean, in the UK, I really want to start going back there, because I believe that's where I'm from, and that's a place that I really enjoy. And, I don't think I have dreams in this way. We worked with some brands that I can say right now that are completely crazy for what we're doing. And that's something that was really a dream. And for me to continue working with incredible clients, that's something that I really appreciate. And what I like is that every day is different at the office.
(SPONSOR BREAK)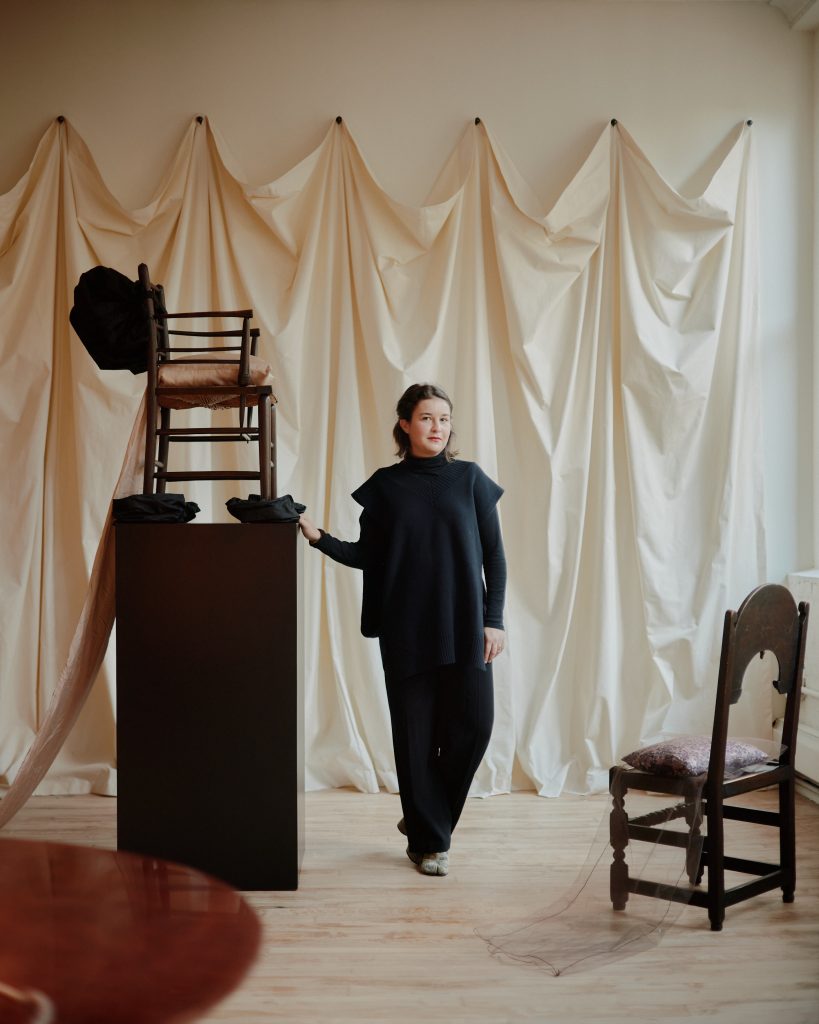 Sometimes, the world of collecting can really feel like a booming industrial enterprise, and in the process, a bit of emotional depth can be lost. But my final guest today, Jacqueline Sullivan, is fighting back. She started her own eponymous gallery in the cutthroat New York scene, that brings a touch of humanity, poetry, and even a tinge of subversiveness back into the field. And she's not shy about using the phrase decorative arts either, a pair of words that many avoid. At her Tribeca Gallery, you might find ceramics inspired by industrial stoves, sartorial creations meant to dress a chair, or glass sculptures shaped like sea creatures. I caught up with Jacqueline from her gallery to chat about her time in South America, how she defines her practice today, and the emotional quotient she feels is so key to collecting.
Before you started this gallery, tell me a little bit about your life that led up to it.
Yeah. So, I am from Massachusetts.
Where in Massachusetts?
In Sudbury, Massachusetts.
Okay.
So, I've always been really interested in historical design and the past, because that's my vernacular there. My mother was a huge collector of design and had such good taste. She was from Illinois.
What things did your mom collect?
Mostly 17th and 18th century English and American design.
Oh, okay. Because, that American traditional revival of the '80s and '90s was going on. Was it Shaker? And was there anything like that in the house?
Oh, my God, no. No. I mean, my mom, she was somebody that grew up in Illinois with casseroles and things like that. And I think that she was always really interested in furniture and decorative arts. And so, she really encouraged me to think about objects in a way that I hadn't considered them before, because she was really lovely in the way that she took me into historical homes. We were always going to historical homes in Massachusetts, like the Gropius House, Walter Gropius, who was a professor at Harvard. And, we would go there. And, it was just beautiful to see different interpretations and approaches to design, in terms of living with things in a way that felt good. It didn't necessarily need to be functional, it just needed to… I don't know. It just was a really interesting place to grow up, I think.

And what did you study in school?
In college, so I actually took some time off. It's a weird thing about me. But I actually took time off after high school, and I moved to Argentina, where I hiked Mount Aconcagua. I was a mountaineer. And, it's one of the seven summits in the world. So, Aconcagua was the highest peak in South America. And so, I did that for a while. I lived in Argentina, I learned Spanish. And then, I went to USC in California and LA. I was deciding between Middlebury and USC. And, I felt like if I went to Middlebury I would study environmental science or something. And, I just really wanted to get into art. And so, I was a poetry major, and an art history major as well. So, it was a double major.
Why poetry?
Because, it's something that I've always loved in my life. I love the connection between writing and human experience, and that's how I approach also the collections, in terms of…I don't know, I think of people feeling really, you can call me a sap, but emotional about things that they love, or what it means to them in terms of people that they loved that treasured certain things or… I don't know. I feel like there's a really big connection between literature and interiors. And, I don't really know how to explain it.
And so, after school, where did you work in the art world?
Yeah. So, I went to USC. And then, I didn't like LA that much. I liked it in a lot of ways, but I moved to London and I did the Sotheby's program for Decorative Art and Design. And I realized I just love decorative arts. And I got really annoyed that everyone would talk about how decorative arts were feminine or for women. It just became this thing with design that I felt at odds with.
Well, it's like everything is…Especially when you're talking about the decorative arts and you're talking about anything related to making, or domesticity, or anything is related to all sorts of connections, I'm sure. And so, what made you want to open the gallery? And when did you open the gallery, if you can give me the quick timeline?
Yeah, yeah. So, we opened in September. And, this was a project that's been in the works for two years. So, we kept pushing the launch.
During the pandemic, I'm sure.
Yeah. Yeah, exactly. It was a lot of work. And, I had an ex-boyfriend who is an architect who once told me that I should just be a patron at some point in my life, when I'm 85. He was like, "You just love to find people that you love their work and want them to make things for you." And, I made it a career now. So, I'm working with people that are so lovely, and so excited to respond to a brief. And, the first collection, for example, was based on a Gertrude Stein poem, obviously. It was called Tender Buttons, but it was Substance in a Cushion. And, I feel like, people really responded to that in a really exciting way.
What was some of the feedback that you got from that show?
I don't know if I heard all the negative feedback, because I'm the owner. So, maybe some people—
Well, the good feedback, let's focus on the good feedback.
Yeah. I feel like people felt like it was refreshing. I never want to be negative about other places, or when you do a profit and loss summary and all this stuff, you're always thinking about what you're doing differentiates you from other people in the world. But, I do think though, that I just thought I had a voice to offer that people would like. It wasn't that I was negative about anybody else. I mean, I love all of them. I go to these galleries and stuff. But, I didn't want to be a showroom. And I never really wanted to be a gallery. I just wanted people to come and see things that they might like, and be interested in, in terms of seeing it in context with really historical design. It's interesting for me, for a contemporary artist, to be placed in context with a chair from the 1500s. That's interesting.
And so, you're not just working with craftsmen and designers per se, but you're also working with fine artists, but you're looking at them or presenting them in a very domestic environment. Is that fair to say? Or through a decorative arts lens, in a sense?
Yeah, I think that's true. I think, I'm just trying to think about people in terms of not having necessarily a designation of a fine artist, or a decorative artist, or whatever, but thinking about people that I just love to work with that I really admire.
Is there anyone out there in the art and design world that you really admire that you don't work with now? Maybe it could be someone super famous. Who out there do you think is if they had a show up in New York that you would drop everything to go see?
So, I've admired this guy forever. And he came to an event and we did a salon. I adore Eric Mack. He's incredible. He's a textile artist. And, I lived in California and I literally flew back to New York to see his show at the Brooklyn Museum. He's incredible. And, I just adore him. And we did a salon a few weeks ago, and he spoke. And, yeah, I think he's the best. He's amazing.
And, I'm now just looking it up as we're chatting, I mean, with textiles, he seems like he creates these assemblages in a way.
He's incredible. Yeah.
It's almost like quilting, but in a totally non-functional way.
Yeah. No, and I don't know if function is necessarily the end game.
What are your hopes and dreams for this gallery? What do you want to accomplish with it? Or, just what do you feel like you want your gallery to be known for? Which is another way of saying it.
I think, I want people to feel like design and decorative arts are accessible, in a certain way. My mother once told me that taste is based off of money. Money creates taste. And I think, access creates taste. What I think is, it would be nice… I've met so many amazing people while we've been open that are just interested in the pieces, and the process, and the materials. I think I just would love people to feel comfortable with the gallery as if it's a home.
When I look through all of the different pieces that you have had at the gallery, they're all a little bit different. There's nothing there that's basic looking, if you know what I mean. There's nothing that's just a minimal looking chair. Everything is pushing a material or a concept into a new dimension. And so, is that transgressive, or almost sinister part of you and the way you want to express yourself through this gallery?
Yeah. So, obviously, there was a concept behind when I approached contemporary designers and it was from the Gertrude Stein poem, Substance in a Cushion, well, Tender Buttons, but it was the chapter Substance in a Cushion. And, I felt like I wanted contemporary artists to explore and experience materiality in a way that was, "What does matter mean to you? Does it mean what matters? Do you want to work in a different material?" And, it was a really, really eye-opening experience to work with these artists, because I felt like, A, they trusted me so much in a way that they had no idea who I was, and they had no idea what this gallery would look like. And so, I will forever be grateful to them that they were willing to work with me. But I also feel like that was the whole prompt, was to explore something that they hadn't before.
But going back to my question, is that almost sinister element this or almost a danger zone of part of—
Are you calling me dark?
Do you think of yourself as dark? And I wasn't going to say dark, because it's not really dark. But there is a little bit of a dark element, at least in the photography, and the way that it's styled, and the chair that has a dress to is. Nothing is—
But what do you mean by dark?
Nothing you're going to find in a home store in Connecticut. There is no antiquing, we go find this little shop in the middle of the country, and we find a lovely vase, and we take it home. None of that. Everything here is challenging the viewer in some way.
I think that's true. Thank you for realizing that. There are choices that I make. And, I think the choices that I make are representative of the person that I am. And, people seem to like it, because I feel like it's not easy. I think, there's a challenge that, that's why I started this, that I think, I want people to think about things. Yeah, if I wanted to open a gift shop somewhere and sell things, I probably would make a lot more money. But, that's not how I feel fulfilled. I want my life to have meaning. And, yeah, I've been through a lot of stuff. And, I've had cancer. And I do feel like this is a project that I believe in, and it represents me, and my taste, and people seem to like it. So, that's good. Yeah.
And if you had to describe your gallery in three words, that's my last question, what would you say?
Okay, okay. I would say, curiosity, cozy, and friendship. Is that weird?
No.
Sounds stupid. But I feel like people that come here, they hang out for an hour and a half, and I can never get any work done, because I'm always hanging out with people that just come and hang out at the table.
A special thanks to Tola, Julien, and Jacqueline, as well as our sponsor, Lumens, for making this episode happen. The editor of The Grand Tourist is Stan Hall. To keep this going, please follow me on Instagram @danrubinstein to learn more. And sign up with your email for updates at thegrandtourist.net. And don't forget to follow The Grand Tourist on Apple Podcasts, Spotify, or wherever you like to listen, and leave us a rating or comment. Every little bit helps. Til next time.