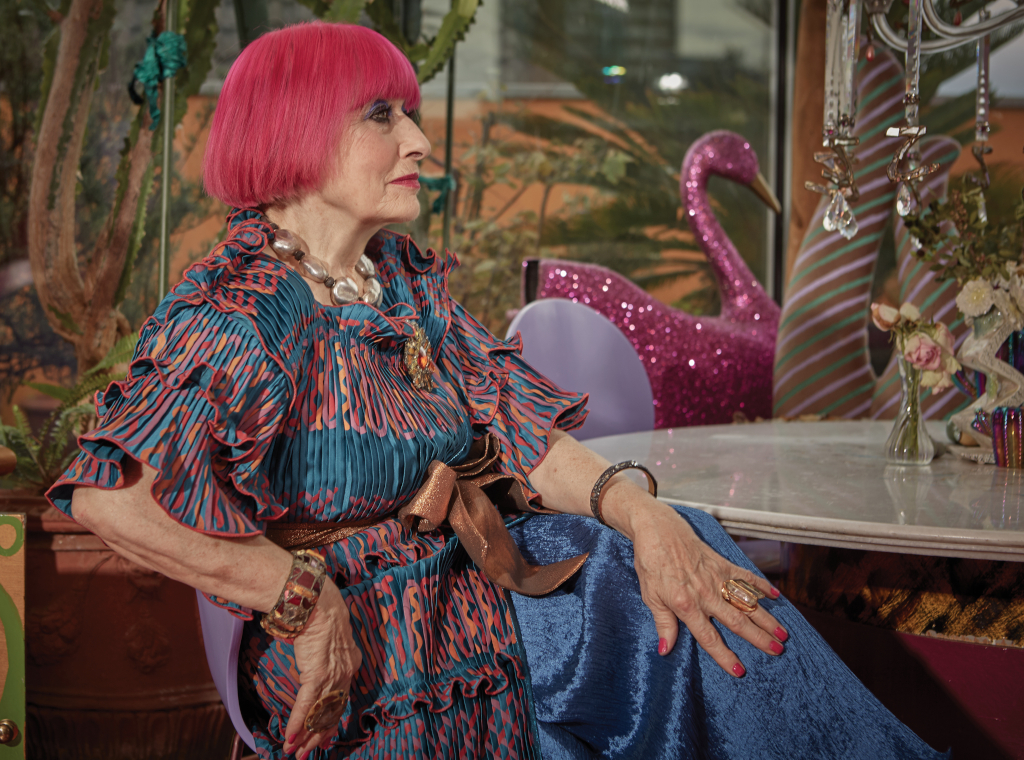 SHOW NOTES
One of the most iconic fashion designers in Britain, Dame Zandra Rhodes has made a name for herself by filling the world around her with color, joy, and plenty of eye-catching patterns. On this episode, Dan speaks with the textile-loving designer about her early days in London, how Diana Vreeland of Vogue changed her life, The Fashion and Textile Museum (which Rhodes founded), and her own unstoppable sense of personal style.
Listen to this episode
TRANSCRIPT
Zandra Rhodes: I think that I might move into the modernist white box, but whether it stayed modernist white box for more than a week would be debatable. I mean, when I moved into my penthouse, it was a modernist white box. And a close friend of mine said, "Well, you can't live in this, Zandra, can you?" And we immediately changed it.
Dan Rubinstein: Hi, I'm Dan Rubinstein, and this is The Grand Tourist. I've been a design journalist for nearly 20 years, and this is my personalized guided tour through the worlds of fashion, art, architecture, food, and travel, all the elements of a well lived life. My guest today is a fashion, and textile designer style icon, and a true visionary who's always ahead of her time, Dame Zandra Rhodes. Born in Kent to a mother who really knew her way around a sewing machine, Zandra studied textile design, and her legendary career flowed from there. Over the decades that followed, she made a name for herself with bold prints, and even bolder colors, often with flowing silhouettes. In the 1970s, her so-called Conceptual Chic Collection was a major part of the Punk era, bringing safety pins, and holes into the mainstream ages ahead of others. Over the years, she's dressed both actual royalty as well as rock royalty, and she started a museum devoted to fashion and textiles in London, and won numerous awards including a Daytime Emmy in 1979.
In 2012, when the UK decided to create a series of postage stamps devoted to the British greats, she was right up there with Vivian Westwood, Paul Smith, and Alexander McQueen. And even after 50+ years in the business, she not only hasn't stopped working, but she hasn't relinquished her own bodacious sense of style, including her fuchsia colored hair that's been her signature for decades. Her positive outlook on life and color isn't just for show, as you'll read in the new book, Rare Birds, True Style by Violet Naylor-Leyland. Zandra's rainbow colored flat, above the Textile Museum, is one of the many stylish homes in the book on eccentric British style, more on that later.
I caught up with Zandra Rhodes from her London studio to discuss her upbringing, how Diana Vreeland changed her life, her time in New York, and her secrets to a successful career. And stick around to the very end for some more practical advice.
So, I kind of wanted to start in the beginning with you, and you grew up in Kent, right, which is in Southeast England for us in the US?
Yes, yes.
And I was wondering what was life like for a young Zandra Rhodes? What were you like as a child?
I think I was quite a boring, studious child really.
Really?
I was always drawing and getting on with things.
What'd you like to draw as a kid?
What did I draw? Probably more… I drew a lot of patterns. I remember doing the wiggly lines that everyone knows me for. I did that one at school. But then I would be…later, when I was sort of probably about 15, I started to do things like drawing my mother at her sewing machine, and things like that. So, I did love drawing.
And your mother worked in Fashion Leader for most of…I think, for your childhood, was a teacher.
My mother was a teacher at the college there, and she taught dressmaking to students. So, I was always aware of things being made, but never imagined that I would be making them myself.
That's always what your parents did?
Oh, my father was a truck driver. And as I say, my mother was a very, very stylish lady. And they'd met ballroom dancing, so she made her ballroom dancing dresses as well. She taught in the local art college, and was a very inspirational, amazing lady.
And what was her sense of style like, when you maybe think back to it?
When I think back to it, she always wore lots of makeup, lipstick, and eyeshadow, and she had a big curl that she sprayed silver on the front of her head. And so, she didn't look like any of the other mothers. And when it was Open Day at school, she said…I'd say to her, "Please don't come looking different from all the other mothers," but she always did.
And was your dad equally a stylish guy?
I suppose when he dressed up to dance at ballroom dancing, he would've been. But the rest of the time, he was in an old dungarees suit working in the garden.
And I mean, obviously, you're known for your sense of color and pattern, and also, we're going to be talking about this book. So I'm curious, what was home life…what was the decor of the world around you at home, and not just in your home, but also in Kent, and kind of the—
In those days, you didn't go into other people's homes. That's what is so strange. It was more that when, for example, I remember after school I'd knock at the door at home. Because we didn't have a door key, because my mother didn't like that idea. There was always someone there. But say it was, say, in the afternoon, and my father was home, and a knock at the door, and say, "Oh, can Jillian come to tea?" You know what I mean? So, in the main, you didn't go into other people's homes. So, I don't remember what other people's homes were like inside, which is so strange now, where you go into people's homes.
Well, now we know everything about people's homes, about everyone's life.
I know, but when I think back, it's very strange.
I'm curious, when you kind of had those discussions, like everybody else does with their parents, about, "What are you going to go to school for? What are you going to do…maybe go to university or do anything like that?" did your mother or anyone encourage you to study textile design, which is how you started?
I think that because my mother taught at the art college, she was very encouraging to me doing artistic work, and going to the art college. And if I once said to her, "What if I'd have wanted to leave school early?" she said, "Oh, I wouldn't have let you." But she was a very clever mother in that you did her will without knowing it. So, that's why she was so clever.
Yeah. And you studied home textile designs first for interiors, is that correct?
In the main, in those days, one sort of doing textiles, yes, for interiors. And it was very fashionable, and there were lots of lovely wallpapers, and very dramatic furnishing fabrics. And so, I suppose, really, I was the first in a group from the people at the Royal College, which is my final university, to make the decision that I wanted to go into doing textiles for clothes.
After studying locally in Kent, Zandra went on to the Royal College of Art, majoring in textile design before striking out on her own, she opened a boutique called Fulham Road Clothes, she founded with designer Sylvia Ayton with dresses that incorporated her own textiles in 1967. It was short-lived, but got her noticed. I wanted to ask her what it was like starting out, and how getting noticed by Diana Vreeland, the legendary editor of Vogue, put her work on an international stage.
When you had your first shop, what was that like, and did you enjoy the entrepreneurship? What was that like being a young businesswoman back then starting your own brand as…today, we would call it a brand, but you know.
Oh, it was fairly tough going because we were having to teach two days a week to make the money to live. We weren't being paid by the Fulham Road Clothes shop. We'd only have just raised enough money for the shop to exist, so we weren't paid by it.
What were some of your first clients?
Oh, Penelope Tree. Penelope Tree was one of my first clients, and bought a wonderful trouser outfit that was made exotically of scarves, and we were so overwhelmed that she came into the shop.
That's a good client to have. It's like a famous—
That was very lovely.
Did she stick with you for a while or come back later?
Well, I saw her later in life, but I mean, the Fulham Road Clothes shop was only open for a year, and then it disappeared into thin air, and Sylvia got offered another job. And I ended up with my two days of teaching, and no job. And that's when I decided after the influence of two marvelous exotic American models, Ukrainian American models, that I should go to America with my designs.
And what was that like, your first time in the States?
It was like being starstruck, and it was the fact that I had a letter of introduction to Diana Vreeland, the head of American Vogue, who I still think has been the high priestess ever. And she saw the designs, and raved about them, and said, "We'll have to photograph them on Natalie Wood." And she called Natalie Wood, and then she called Henri Bendel, the top boutique in New York, and they featured my clothes. So, it was really like being on a magic carpet.
Did you enjoy your time in the States back then, those sort of first times?
It was perfectly wonderful. And I still look back, and think of it as a time that I can't believe.
And what was Diana Vreeland like? Did you wind up meeting her in-person or was this all through—
Oh, no, no, I met her in-person, and then later on in life, I read to her when she was going blind, and she stayed in touch, and was always wonderful about my things.
And can you describe to the listeners what that first collection was, and why you think that it was a success? What do you think caught her eye about it?
Everything in the textile designs was designed by me. The knitted circle was a very large circle, and I'd drawn it as if it had been all hand knitted. And then, I made kaftans, and the kaftans were made of these very big designs, and the sleeves were whole circles, and the print…So, the print was what dominated the whole thing. It dominated a yellow coat that I did where that was a circle, and I'd got someone to show me how to make patterns, so that the…I printed it myself, and then cut it out, and then had it machined, and made up.
(SPONSOR BREAK)
Fast forwarding a little bit, another turning point in your career was conceptual chic, which I believe was '77.
Yes, you are very good. You've read all these things.
Oh yes, of course. I do my homework. The Grand Tourist does his homework, of course, especially when speaking to a dame, are you kidding? And this was like you picked up on punk a little bit, probably early. For me, I think of punk as like '80s, and early '80s, but maybe I'm—
That's when it had really reached, probably spread worldwide. I think that it was already going on in the streets at the time when I picked up on it. Mine is really the Couture version that…Well, Versace did his dress with the safety pins and holes. He did his dress about, I think, 11 years later, the one that was on Elizabeth Hurley for the Oscars.
With yours, what was the reaction like at the time? I'm curious, did people say, "Wow, this is so young, and hip, and cool," or were they kind of like, "Are you crazy?"
The magazines photographed it and loved it. It was not a good selling proposition.
I guess, if the look is a little DIY, maybe the audience was unwilling to pay, I don't know.
Probably, yes, but they're now collector's items. I mean, the top and skirt that I did, Philadelphia Museum paid $6,000 for theirs that they've got. So, there are very, very few of them.
Going back a little bit to your time that you had spent in New York, and used to spend, I think, a couple of months a year here in New York, I read that you used to go clubbing at Studio 54. Was that true?
Oh, yes, I did go to Studio 54 during its height.
What was that like? Everyone has their own Studio 54 story, so I'm wondering if you had any.
I think it was during the world of Halston, and Bianca, and everything like that, and Warhol, and I look back at it now, and it's almost like a funny dream. But I mean, I'd go there, and be out late at night, which I wouldn't dream of doing now.
And I read that you used to, probably maybe coming home after a late night, but in the early morning, draw skyscrapers and things like that in sketchbooks, and—
Oh, I did. You're so good. You've done lots of research. Yes, I did go out, and draw skyscrapers, and looking out of the window, and draw skyscrapers if I was lucky enough to be looking at another one. And then, one of my prints that I really adore, which is the one of Manhattan that I use, not only on my dresses, but I did a range of wallpapers that's out at the moment, which is the Manhattan landscape. And it's been really, really wonderful. And I'm just decorating my apartment with it, so I'm really thrilled.
And you dressed a lot of famous people throughout your day, and I think one of them was a top for Freddie Mercury?
Oh yes, I did. I did tops for Freddie Mercury and Brian at that time. And then, I did some tops also for Marc Bolan.
And when you're working with men like this, was it ever… I mean, you're not synonymous with menswear, but I'm always curious, has there always been that kind of temptation to do more in that?
There is, but it never cropped up. But it was always wonderful just dressing different people. When Lauren Bacall came to me to get dresses, it was fabulous. So, it always strikes me. It's just wonderful when they appear. And I feel it's been wonderful to do them clothes like that.
Any memorable or surprising stories, I guess I would say, from one of these kinds of clients?
One of the most memorable was actually when Lauren Bacall came. She stepped on a pin in my studio, and she was going, "Oh, oh, oh." And I'm thinking, "What have I done?" And she stepped on a pin, oh, it was like death. I thought I didn't know what I was going to do.
She didn't need a tetanus shot, I hope?
No, she didn't need a tetanus shot, but it was very scary.
Okay, okay, oh yeah. And did you ever design anything for Lady Di? I think you may have?
I made about five dresses for Lady Di, and one of them that everyone remembers is the off shoulder one, which was pale pink with the pearls, where she was in Japan, and she announced she was pregnant. And that was when she was in that very pretty dress. It looked lovely.
And did you have to do a lot of fittings with her, or did you get to—
I used to go to the palace to fit her for those dresses, because the original one she tried on was black, and in those days they didn't wear black at all. So, it would then be remade in another color.
And what was she like as a client?
She was very shy. She was very shy, and she didn't really say very much. And if you're English, you wait until you're spoken to from royalty as well.
Of course.
So, it was all quite amazing really. And it was quite fabulous to go to the palace, and curtsy when you got there, and fit her, and everything like that.
(SPONSOR BREAK)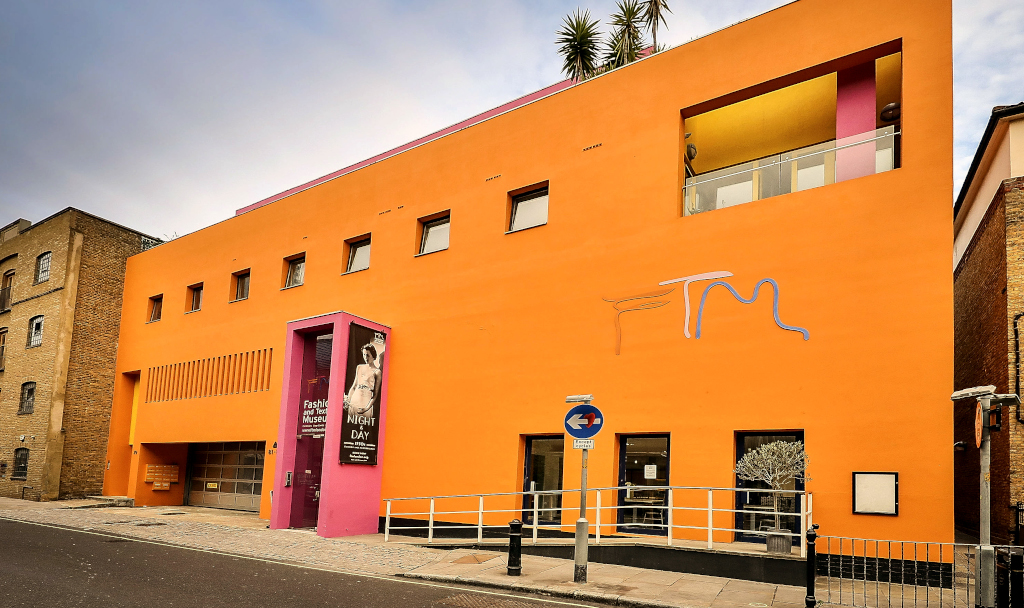 The most amazing part about Zandra is that she's still working today, collaborating with so many brands in just about every industry one can imagine from bedding, and wallpaper to shoes, socks, and even public service announcements. In 2003, Zandra opened London's Fashion and Textile Museum, the only one in the UK devoted to contemporary works of the kind, and she placed it in a former warehouse. It's now a part of London's Newham College. A major retrospective on Zandra's career opened there right before the pandemic. And as Zandra will explain, one of the upcoming shows is dedicated to the textiles of Andy Warhol. I wanted to ask Zandra about the museum, how she navigates her career after half a century, and her own unstoppable sense of style documented in the book, Rare Birds.
And if I were to ask, Zandra Rhodes, who do you look up to in textile design, who do you think are some of the greats that you have in mind?
Oh, one of the great greats I would say would be someone like Lucienne Day, who she designed in the '50s and '60s, and did very Festival of Britain type designs. I think that, I mean, we've got…Well, there are still contemporaries. There's like Natalie Gibson here in this country that does lovely ones with parrots, and things like that. I mean, we're very lucky. I think that coming from the Royal College, really fantastic textile designers came out of that. And then, soon here in London, we're going to have an exhibition of Warhol's textile designs, because he did some amazing textile designs that no one gives credit to, because it was before he founded the factory. So, it's going to be his early stuff that people had in catalogs that they didn't….It would've been in Lord & Taylor, and across the shops in America, and really notable designs. And so, we're very, very excited about that.
One little story that I would love to hear you recount is your hair started…You started dyeing at pink, as from an interview that I listened to. I think Vidal Sassoon had a green wig, and you had traveled maybe to Asia, and you tried to do… thought you would see something red. And if you could recount that story of this trip to the Far East, and how it kind of—
Oh, well, I went on a trip to China. Before China was red, China was navy blue or army uniforms, when I went there in '79. There was not a single person in anything else, but I came back, and created a collection in red and green, and thought, "Oh, I should…" And so, I turned my hair. Basically, it's pink rather than red, but it changed it, and that was 1980.
And what brought you to China back then, because that was kind of a rare trip to make for anyone in 1980.
Oh, a friend of mine, a guy called Arkari Hayes, said, "Look, there's a group of friends going to China. Let's go on this trip with one of the first people." And it was quite amazing to go on something where we might as well have been dinosaurs. Or to the Chinese, they'd stop in the street, and watch us walking through the street. They hadn't seen anything like it.
And I mean, that brings me to another question of your travels. And travel has been sort of a big part of your life. And were you doing a lot of trips around that time, like Japan, or Africa, or anything like that? Or where did you enjoy to travel to that kind of—
A lot of my designs have been from going on fabulous trips. I mean, I went across America in 1976 in a Volkswagen camper, and ended up doing a cactus and cowboy collection before Calvin Klein, and Ralph Lauren did cowboy collections. And then, I went into Mexico, and I did a Mexican collection with a big print called Mexican Sombrero. So, my designs were very much influenced by the travels that I went on when I do drawings, and create the prints that went from my drawings, and turn them into collections.
And did you travel solo? Did you travel with friends? What would you like to do?
No, I usually traveled with boyfriends, so it would be a semi-romantic trip.
Oh, did any of them last more than one trip or just—
Oh yes, they lasted more than one trip.
Oh, good, lovely. And actually, your time in Mexico kind of brings me to the Fashion and Textile Museum, which I believe your studio is it connected to it?
That's it. And it was designed by Ricardo Legorreta, the top Mexican architect. And it's orange and pink, say no more.
And how did you meet him, and how did that happen?
I bought this building in a very unchic part of London, where at the time there was only one little restaurant and a pub. And people worried that I walk home safely. I felt that if I chose someone who did fairly simple buildings, but very notable and colorful, it would pass the planning permission more than some of the rather, let's say, people who might do a very exotic, difficult-to-build structure. And I felt the structures he did were very memorable, and very…They always looked wonderful. So, I flew him to London first class on my mileage tickets, and said, "This is an up and coming area, and it would be wonderful if you could design my building." And he agreed to do so. And in fact, I think that… And now, we've got The Shard at the end of the street, and it's one of the most popular areas of London, so say no more.
Well also, congratulations on your new collection with IKEA, which of course is a huge… It's a big deal, and seen everywhere, and is—
That was fun to do, and I was lucky to be doing that continuing in COVID times, which is quite wonderful.
How long did you work on it?
Probably, it was a culmination of nine months. I mean, we first of all had the team over to London to say to them, "We think we could do a lovely job working with you." And they looked at different things. Then my team, we went there, and we were lucky enough to have got that far before the COVID shutdown, so then we could continue, and finish the different parts of the job, which is quite wonderful.
And I'd love to talk about Rare Birds, which is this new book that you're featured in, you and your home. And your home is super colorful.
I know, very. In this book, they've done lots of colorful bits.
And how does Zandra Rhos go shopping for things for your home? I mean, your stuff is so singular, and so—
I don't go shopping for things for my home. I mean, suddenly I might be on a trip…If I'm on a trip to India, for example, I'm looking at a picture with a wooden carved tree in the background, I happened to see it in a junkyard in India. I was traveling with my wonderful friend, Andrew Logan. And Andrew, I said to, "It's wonderful." And he'll say, "Well then, get it. And then, you can't say to yourself, "Oh, I'll look. And there might be something in another town." You've got to say to yourself, "I like this. This is going to stay with me." So, you have to make the decision on the spot. It's something that you've fallen in love with, and it's something that you can live with."
And I think you collect some ceramics too. Is that true?
Oh, I have a collection of ceramics mainly by Kate Malone, and Carol McNichol who are top English ceramicists. But I love ceramics. There's something wonderful to collect, and then I cry when I break them or chip them.
Have you ever tried your hand at ceramics or something like that?
I did it for a charity with Kate Malone, where we decorated pots, especially for raising money for young children to go…Because it so difficult these days for young people to learn art, and anything like that, because it's been taken out of school curriculums, so that it's quite good when they're able to access something like that.
And I would say you've had your period of your designs that everyone comes through highs and lows, and you've had this incredible career, and you have a museum with your name on the door, more or less, and this fantastic career that has so many legs. And I would say, what do you think has been the secret to your own personal success in terms of reinvention and longevity?
Never give up.
Did you ever want to give up?
No, no. I mean, I've had times when it's been particularly low, but I've never wanted to give up. I mean, I've always said to myself, "If I gave up, what would I do?" That must be the same with you. You do something, and yeah, I wouldn't know what to do with myself.
Did you ever have a plan B, like a secret plan B? You were like, "Maybe I'll go into real estate?"
No, I didn't have a secret.
Something else?
No, I didn't have a secret plan B. So, there was no point in falling flat on my face, and not having anything to do.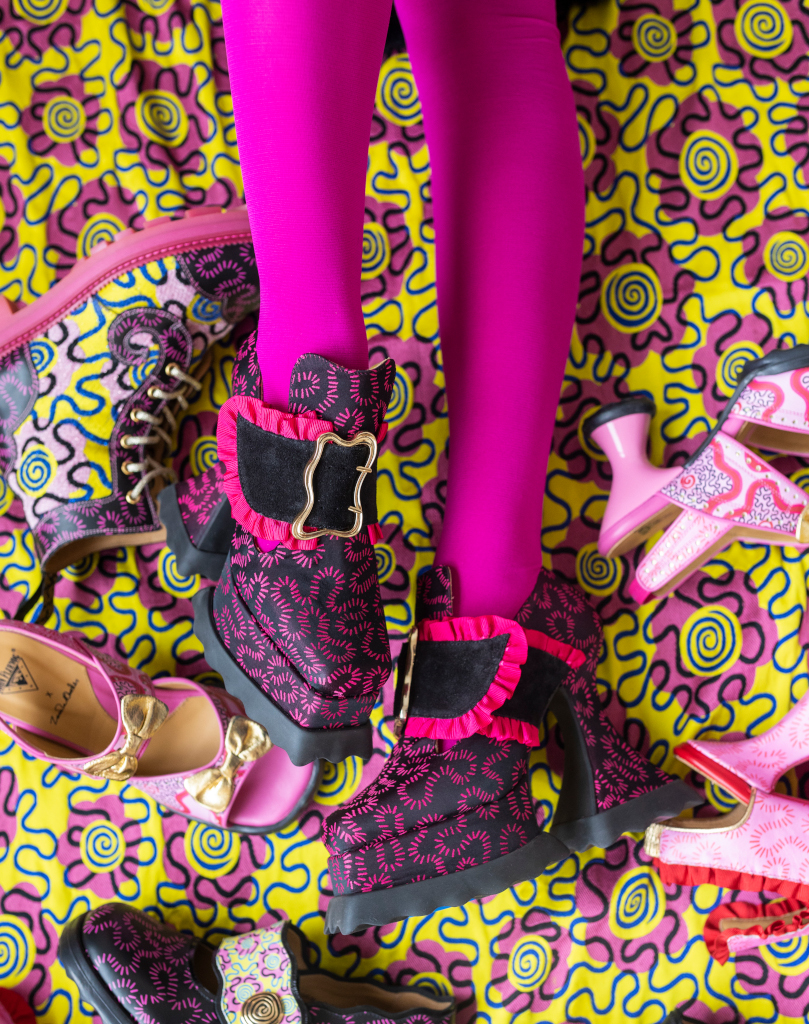 Exactly. And so, what would you say is the plan for you and your studio for the next five years or so? What's on the horizon?
At the moment, it's been very exciting. We've been cataloging every single collection I did. I always saved the key garments that I felt were the most memorable. And of those garments, I'm now working out distributing them to… A big collection is going to go to the Fashion and Textile Museum that I founded. And then, I'm going to give work to the V&A, and to the Met. And my key Australian Collection, I'm going to donate to two of the top museums in Australia, the Powerhouse, and the Museum in Melbourne.
And when you go through your archives, sometimes when you're going through that stuff, you come across things you may have forgotten or little pleasant surprises that you may have been lost to memory. When you're going through your archives, did you discover anything special, or anything you didn't remember, or—
It was like seeing one's children before they grow up, you looked at different things, and you say, "Oh, that's a wonderful one to remember." And we revamped some of them, some of them when we thought that they shouldn't. It's really mainly to make sure that they don't get forgotten, and that the key ones…In fact, it was wonderful when Harold Coder retired from the Met. The one thing he really wanted more than anything else was my punk wedding dress. So, it's wonderful for that to happen to me, and know that the dresses are in safe and memorable. safekeeping.
Were you able to save most of your dresses or are there things that are kind of lost to…that weren't—
Well, I think I've saved mainly the ones I think I believe in. And I hope that the other ones that slip through my fingers are going to be treasured, and looked after.
Is there anything left that you would like to do, now that…in this part of your career? Is there any kind of…after the archive, and anything like that? But in terms of new designs, is there anything that you have your eye on?
No, I leave my mind open to suggestions, so that a lovely project could come up that I could then spend time on.
A special thanks to my guest, Zandra Rhodes, and to Kelly Robinson, and Violet Naylor-Leyland for making this episode happen. The editor of The Grand Tourist is Stan Hall. To keep this going, please follow me on Instagram @danrubinstein to learn more. And sign up with your email for updates at thegrandtourist.net. And don't forget to follow The Grand Tourist on Apple Podcasts, Spotify, or wherever you'd like to listen, and leave us a rating or comment. Every little bit helps. Until next time
May I ask you a very personal New Yorker question?
Yes.
What kind of bagel does Zandra Rhodes order when she's in New York, when you get the chances of bagel?
I think I like cream cheese with salmon.
Plain, or sesame, or poppy? Or what kind of bagel?
Sesame is good.
Yeah? If I ever see you, I'll come over, and I'll bring one.
Oh, wonderful, wonderful.