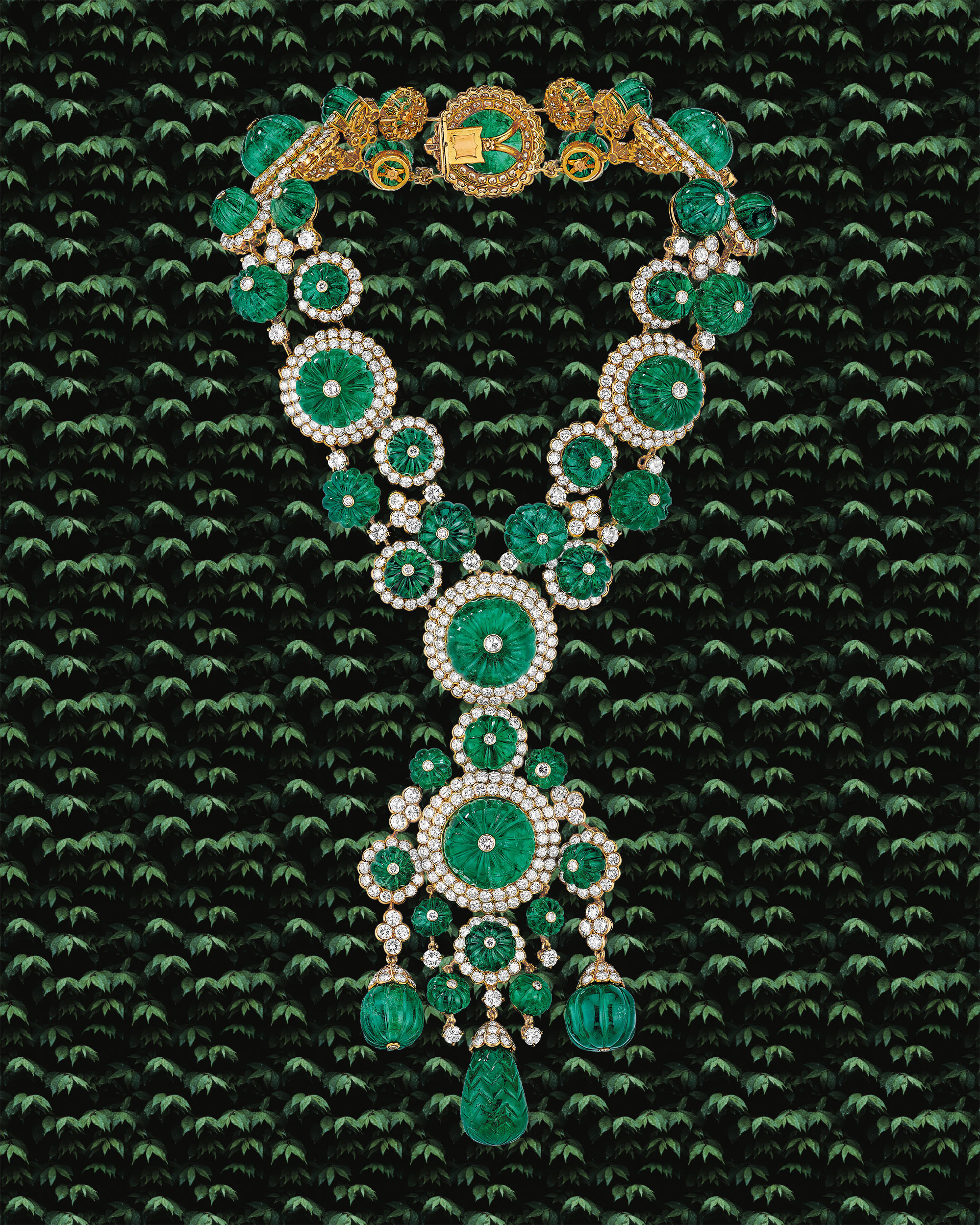 Shimmering from a jewel box gallery set into a corner of the American Museum of Natural History's iconic Mignone Halls of Gems and Minerals, the exhibition "Garden of Green: Exquisite Jewelry from the Collection of Van Cleef & Arpels" (open until March 2024) expresses the power of one color through 44 gem-encrusted jewelry pieces. Drawn from the archival collection of the French high jewelry maison, the dazzling objects emphasize diverse variations of green—from glimmering emeralds and peridots to opaque selections of malachite, jadeite jade, green chalcedony, and more. Thirty-two of these works are on display in the U.S. for the first time, and together encompass an exhibit as informative as it is inspiring.
The museum is an apt, albeit surprising, setting for such a spectacular showcase of jewelry masterworks. Roughly five million visitors traverse the museum each year, many of whom are drawn to the scientific institution's colossal blue whale model, 100 dinosaur skeletons, or the Hayden Planetarium. In the permanent collection of the Halls of Gems and Minerals, however, the 632-carat Patricia Emerald is a pinnacle of natural specimens—one that both informs an understanding of, and contrasts with, the man-made splendors found in "Garden of Green." "At the maison, we have a specific interest in exhibitions at the intersection of art and science," says Alexandrine Maviel-Sonet, Van Cleef & Arpels' Paris-based Global Patrimony and Exhibitions Director. "Having a dialogue between our jewelry pieces and the museum's mineralogical collection is quite exciting. The collection of the museum was of particular interest, but also the way that they educate and inspire such a wide audience."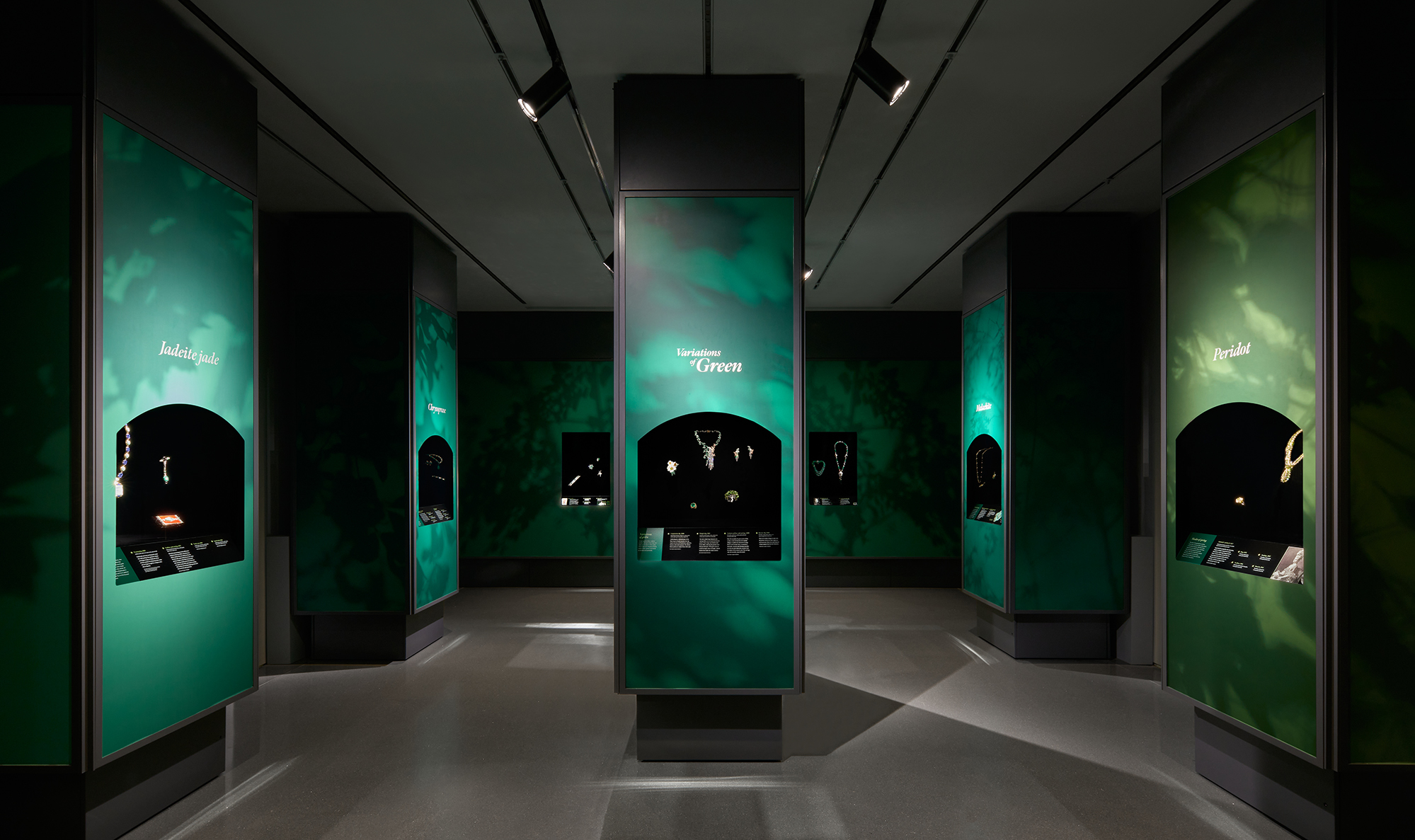 Maviel-Sonet, who helped to organize "Garden of Green," also nurtures smaller curatorial partnerships and oversees a team that looks after and enriches Van Cleef & Arpels extensive private collection of more than 2,500 pieces. This time, she partnered with the American Museum of Natural History's curator emeritus, George E. Harlow. "This was really created with the American Museum of Natural History," Maviel-Sonet says. "It was also the first time we curated an exhibition based on a color." The previous jewelry exhibition at the AMNH, "Beautiful Creatures," ran in 2021 and included Van Cleef & Arpels pieces, as well as creations by Suzanne Belperron, Cartier, Boucheron, Buglari, and Salvador Dalí.
Organized by gemstone categories, "Garden of Green" features an abundance of masterpieces—with enchanting green chrysoprase mouse and bird clips from the 1950s and the 1960s, as well as the fairytale-inspired Quatre Chemins necklace (crafted in 2019 with 16 emerald-cut Zambian emeralds totaling 27.79 carats), as mesmerizing centerpieces. More than 900 emeralds contribute to the glittering magnetism of the Cydonia necklace and earring set from 2009.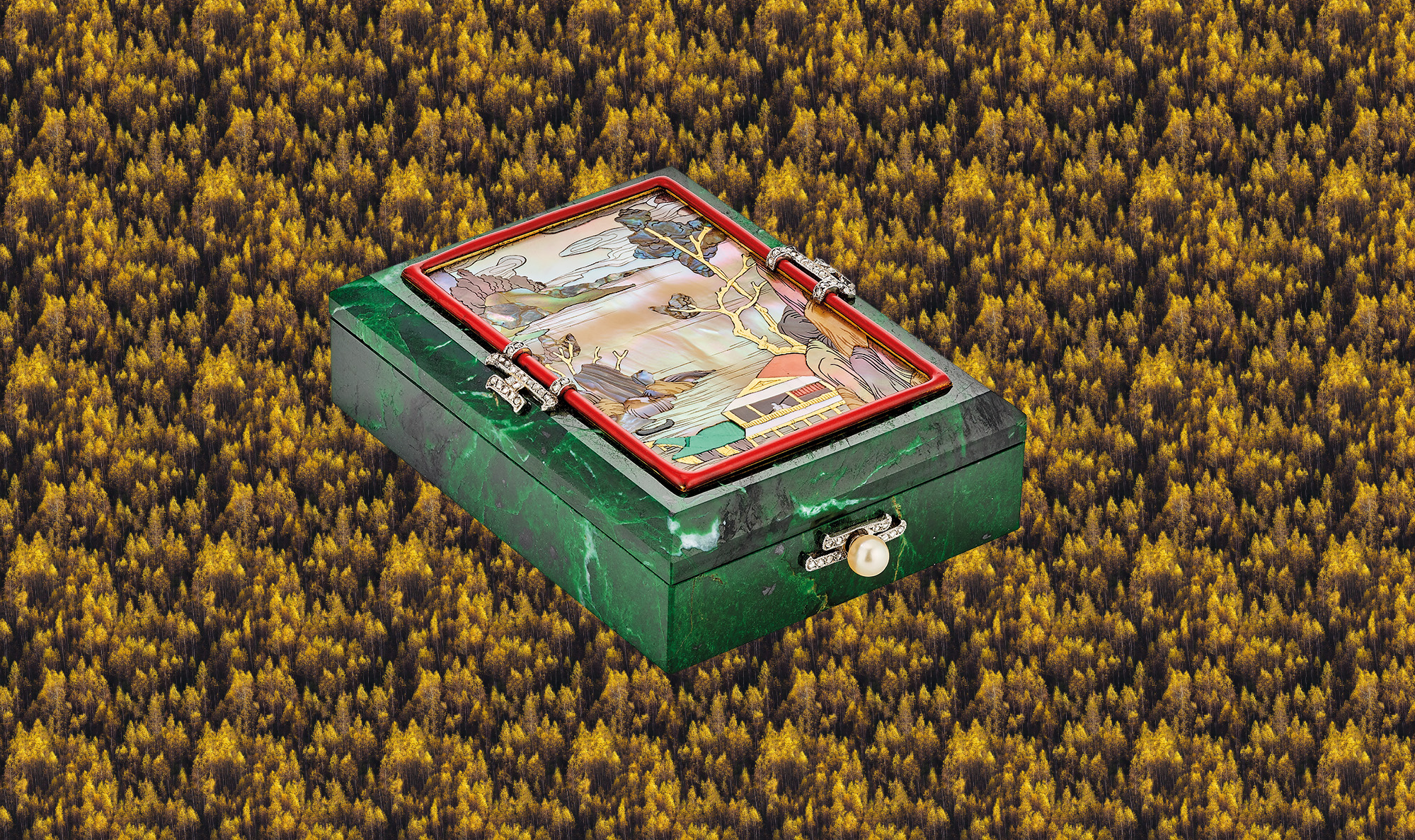 The earliest creations on display date back to 1921. "Some of these pieces are from near the beginning of the maison," Maviel-Sonet says. "They are quite old, but they show how we always had a taste for gems and color, and not only precious stones like emeralds, but also ornamental stones." This last assessment is evidenced by an Art Deco evening bag from the '20s which paired jade—considered decorative and semi-precious rather than precious—with rose-cut diamonds and silk. Nearly fifty years later, the maison crafted a necklace that could be transformed into two bracelets for Princess Begum Salimah Aga Khan; it incorporated gold, diamonds, and 44 carved emeralds. Several other items demonstrate that often it's a stone that guides the entire jewelry design process.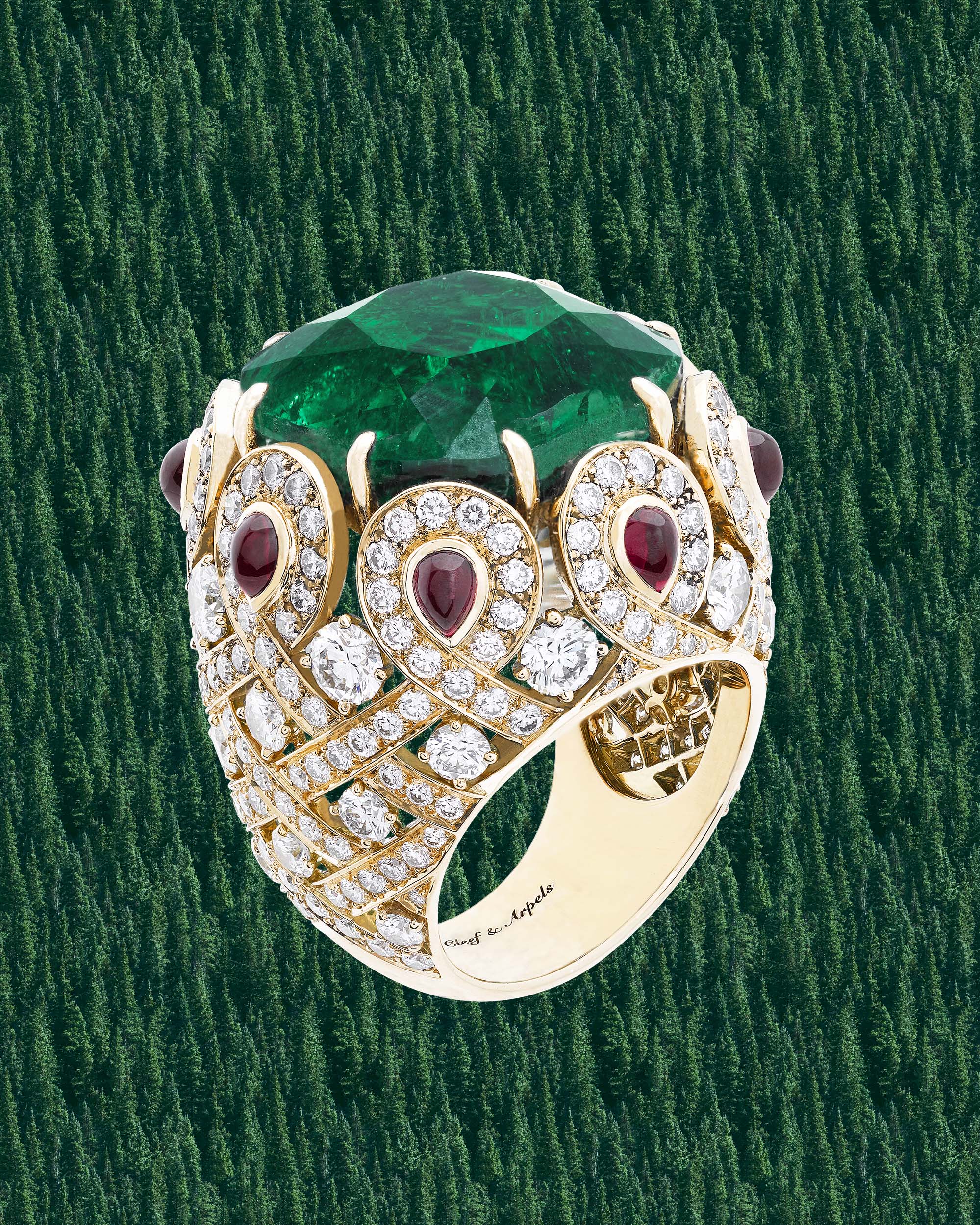 "Everyone at VCA was so enthusiastic about creating a bespoke selection of jewelry for the Museum; they came to us with strong ideas perfectly tailored to our gallery," says Lauri Halderman, Vice President for Exhibition at the American Museum of Natural History. "Their patrimony collection spanning a century is world-class, so we were equally excited about the opportunity. People are drawn to jewelry, and curious to know all about it, so that's a great way for us to start visitors on a broader exploration of the mineral world." 
The show strikes a balance between a celebration for materials born of the earth, and the human hands behind the heavenly jewelry. This is epitomized by the Pongal cocktail ring from Van Cleef & Arpels' 2013 Pierres de Caractères Variations Collection. It's an ornate design that supports a bright green 27.81-carat Colombian emerald, resting upon a woven pattern of yellow gold, diamonds, and cabochon-cut rubies. Together, they forge a wondrous vision that sparkles as much as it enlightens.