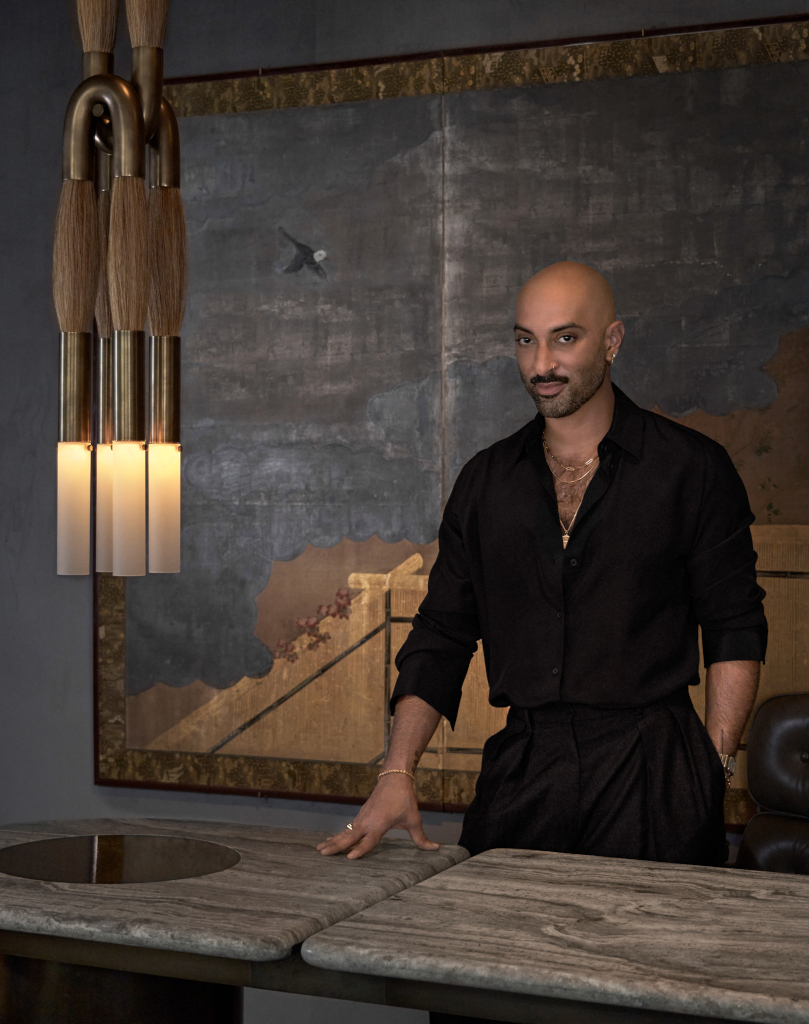 SHOW NOTES
For this season finale of the podcast, Dan shares an on-air meal with Gabriel Hendifar, artistic director of the acclaimed lighting and furniture brand Apparatus. Over various courses corresponding to phases of the impresario's life, the two discuss the genesis of his growing company, the rule-breaking events he's thrown, and why he's going through a midlife epiphany.
Listen to this episode
TRANSCRIPT
Dan Rubinstein: Hello.
Gabriel Hendifar: Mr. Rubinstein.
Dan Rubinstein: Grand Tourist calling.
Gabriel Hendifar: What a nice surprise.
Dan Rubinstein: How are you?
Gabriel Hendifar: Just kidding. I knew you were coming. Hi. Welcome. Come in.
Dan Rubinstein: Thank you.
Hi, I'm Dan Rubinstein and this is The Grand Tourist. I've been a design journalist for nearly 20 years, and this is my personalized guided tour to the worlds of fashion, art, architecture, food, and travel. All the elements of a well lived life. As you've probably guessed by now, welcome to a very special episode of The Grand Tourist. But before I explain what's going on, a bit of housekeeping. This will be the last show of the season, but we'll be back in just about a month with a whole new collection of episodes and even more surprises. Don't forget to follow me on Instagram @danrubinstein in the meantime and sign up with your email for updates at thegrandtourist.net. While most of my guests chat with me from many miles away, on today's episode, I decided to make a house call. And I came with my appetite for knowledge and dinner.
My gracious host is someone I've admired for years in the New York design scene. And through his brand Apparatus, he's elevated the minimal chandelier or horsehair sconce into an ultra-covetable object. What he started a little over 10 years ago with his co-founder Jeremy Anderson, is now more akin to a luxury brand than, dare we call it, a lighting company. And with his ultra-glamorous and retro fabulous spaces—think Halston meets Piero Portaluppi—he turned the humdrum showroom into a talked-about spectacle. At times, it seems like whatever this man touches turns into design gold. Gabriel Hendifar. The products by Apparatus are another entry in the history of post-millennial American design that come from a long line of talents who have used these sculptural objects as fashionable statements, like the sofa was in the '70s and '80s.
I remember seeing Gabriel's first-ever collection and was immediately taken aback, not just by the works themselves, nostalgic, glamorous, precise, and sometimes otherworldly, but by the beautiful crowd that surrounded them. And the parties. We'll get to those. And anyone who knows Apparatus has made a Herculean effort to not miss a single one. Just last year, they turned their palatial showroom in Manhattan's garment district into a jazz club, and for multiple nights had an Emmy nominated jazz band performed live. Who does that? And who can pull that off? A major fashion brand would. Or just Apparatus. Since it began, the brand has expanded beyond lighting to furniture as well, and their showrooms have opened in cities around the globe. Their latest is about to debut in London's exclusive Mayfair neighborhood. More on that later.
Now, about that house call and our episode today. One of Gabriel's latest initiatives is the very opposite of a grandiose party. Instead, it's called Eight at Eight. It's just that: Eight incredible guests having dinner in a small dining room at a showroom, which he rightfully calls a gallery that has mirrored walls and a tablescape that's a work of art itself. So, for the season finale, Gabriel invited me to his incredible downtown apartment for a more intimate version of Eight at Eight, microphones included, where I would get to ask all the questions I want while being fed a fantastic meal by Chef Lauren Gerrie, where each course would correspond to a phase in Gabriel's life.
So, grab a glass of wine or pull your souffle out of the oven for this discussion about how this American phenom got started. A story about Gabriel's first love and first clubbing experience in New York, why he believes he's going through what he calls a midlife epiphany, and some beautifully designed ASMR.
So Gabriel, thank you so much for doing this. I'm really happy to be here. This is the first time I've ever done something like this on The Grand Tourist, which is a meal in your lovely home to explore the amazing world that is Gabriel Hendifar of Apparatus. Just a note to the listeners how this is going to go.
Hi, listeners.
Hi. The Grand Tourist makes house calls, which is very exciting. We are going to be doing a personalized guided tour of your life, in a sense, through some courses.
Oh, man.
And so, we've decided to kick things off with some tea and a couple of dates and some—
Some hot dates.
And some Turkish delight. And obviously your beautiful home here is in the neighborhood of NoHo in Manhattan. And tell us a little bit about the amazing Lauren that's going to be cooking for us today.
Oh, boy. It's like This is Your Life except with food. This is going to be really fun.
It is.
Lauren is, among all of the amazing things she is, my favorite thing about her is that she's my friend and that I get to spend time with her and she's really amused in so many ways and as a dancer and an artist and an incredible chef. And I have the good fortune of being able to call upon her to create these culinary experiences for the studio. She's our chef in residence, really creating food for all of the events we do. And specifically, we created a dinner series in collaboration with her called Eight at Eight where we have eight people for dinner at eight o'clock.
And we've created this fantasy of a dining room that is meant to really encourage intimate personal conversation and create the feeling kind of that you're in the department store after it's closed and you're kind of in on a secret. So, we invite our guests, which is a really small, intimate group for the size of the studio, to have an experience in a jewel box inside of a much larger space. So, it's been really fun to create those menus with her and to really imagine what the fantasy of that dining room experience should be. It's like we get to play restaurant. It's one of the costumes we try on.
For those who are listening, I want to hear it in your own words, what is Apparatus?
Oh, boy.
If you meet someone at a dinner party and they're like, "What is this?" What is Apparatus? How do you describe yourself?
I mean, maybe most understandable answer to that question is, we are a design studio that explores lighting and furniture and objects, and we explore them in spaces that we design. And maybe the more…Depending on who I'm having the conversation with, the more abstract emotional response to that, which feels the most resonant for me, is that Apparatus is a platform from which to explore the way design helps to shape human experience. And can help us to realize the full potential of various kinds of experiences and to really delve into emotion as it relates to objects and meaning. And that's probably where the person I'm talking to would turn away and go get a drink.
And you're a tea drinker, I'm assuming. We're having some lovely cardamon tea.
I am a tea drinker. This is actually a tea that is very traditional Persian cardamom tea that was always present in the house I grew up in and in every house I visited that was related. And pre-dinner, post-dinner, literally anything wrong with you, anytime you're thirsty, always tea.
Oh, okay.
That's how we're starting.
And for this Eight at Eight, is this the dinner series?
Yes.
Name drop for me. Who are some of the people that would show up at Eight at Eight?
Oh, man. Justin Vivian Bond has been a guest. Solange Knowles has been a guest. We've had Noemi Bonazzi, who's a dear friend and a set designer, has been a guest. It's really about kind of connecting people that we're inspired by who we think should know each other and who will have some sort of creative synergy. So, it's pretty wide ranging. And of course, my favorite thing is when you have a guest who has a friend in town and who can't come unless they bring their friend. And all of a sudden you're surprised by this amazing person who you would never have thought would be there. And it's kind of those connections of community that I think are most exciting in that kind of discovery.
And so, why? You've got a big…how many people work at Apparatus now?
We're, I think, 108, 110 people now.
Wow.
Yeah, it's a machine. It really is a machine.
And you're about 10 years old, the company is.
We are about 10 years old.
Okay. And so you've got a hundred people. I'm sure in any environment when you've got a business that size, you've got to be really super busy, really focusing on things. Why put that much energy and effort into something like that? What does it do for you?
I mean, what it does for me—
Aside from getting invited onto really amazing podcasts—
Sure.
We didn't really think about why dates on the table, how we're supposed to eat them with the pit and everything. But you know what? This is art.
You will often—
And I'm willing to—
—be offered a platter of dates with your tea if you're coming over to my Persian grandmother's house.
Yum.
And then when you're done with the date, you put the pit on the plate.
Oh.
This is The Grand Tourist, after all.
Oh, my God.
We are international traveling now.
We are traveling through food, which is, listen, Stanley Tucci is not doing his Searching for Italy anymore, because I think CNN is not going to do another season, or then they might do it with somebody else. And I've always wanted to do a reboot of Lifestyles of the Rich and Famous.
And here we are eating dates and drinking tea. To answer your question, the why. The way I approach creating work for the studio is that I'm often trying to define the mood of an experience and imagine that experience as part of a world. And then the exercise of designing the things becomes about what are the things that we need to tell that story and to create that experience. And so ultimately, all of the pieces are in service of the moment where we actually step into the fantasy and experience what it feels like to sit at this table under this light reflected in this mirror with these people. It's really in a way designing a set for the drama of human experience. And so the parties, the dinners, everything that we do that is about bringing people together to experience things together, those are the ways that I feel the most connected to the work. It's really ultimately the point.
(SPONSOR BREAK)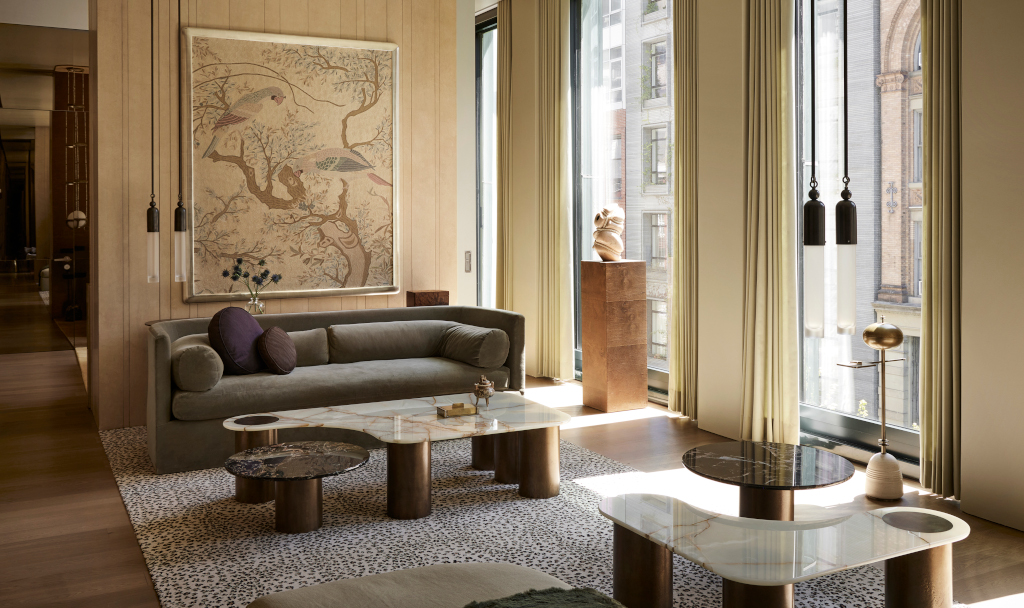 Oh. Oh, wait.
Oh, wait.
Oh, wait. Here is Lauren with the first course.
Hi, Lauren.
Come on in.
Lauren Gerrie: Hi.
Hi.
Lauren Gerrie: Hey there.
This looks amazing.
Gabriel Hendifar: Oh, boy, boy, boy, boy.
This looks both healthy and also really delicious, which is a rarity. Lauren, come on, slide in and tell us what we're eating here.
Lauren Gerrie: For the first course, Gabriel asked me to remake a scent nostalgia experience of having his grandmother cook this very, very specific Persian dish. And I basically took all of my favorite components of everything and deconstructed it. So, we have a beautiful jasmine crispy rice that has turmeric and a little bit of sugar to give it that wonderful caramelization. And then the stew is made up of beans and all of these herbs that are actually sauteed. So, cooked down, it's parsley and cilantro and scallion and garlic.
And I brightened it up a little bit by having the beef, which is a very slow roasted short rib. And that's on top with the beans that have been cooked separately. And then a beautiful broth of both dried lime and kafir lime, which is not traditional, but offers really nice balance. And then it's topped with sunflower shoots and some freshly squeezed Meyer lemon. So, you get all the crispy and the melty, and instead of having a sloppy kind of homestyle stew, we have a beautifully composed dish here of all the best, just the crispy rice. So, you get the best part of the crispy rice. It's all crispy rice. And then this really, really… the perfume is unbelievable. I mean, the entire apartment is filled with it right now.
Yeah, it's pretty magical.
Lauren Gerrie: You describe the dish because the quintessential flavors are fenugreek and—
Gabriel Hendifar: Yeah, we'll get into talking about—
Yeah. Well, we chose this beautiful dish, which is a stew and a crispy rice. And this sort of brings us to your early life and your heritage.
Gabriel Hendifar: Yeah, childhood.
And your childhood. Where did you grow up, first of all?
I grew up in Los Angeles.
Where in Los Angeles?
I grew up in Hancock Park, which sounds a lot fancier than it was. And sort of the part of Hancock Park that wasn't about rolling estates. And my parents left Iran in 1979 during the Islamic Revolution and came to the United States really with nothing.
What did your parents do in Iran?
Nothing. I mean, they were married so young, so there weren't careers.
How young were they?
I think they were in their early 20s.
Oh, wow.
Yeah, they were in their early twenties, and they moved to Los Angeles and built a life. And I was born in 1981, two years after. So really, we all kind of learned how to be American together. I was growing up in this new culture at the same time that they were understanding what it felt like to move around in a world where they didn't really speak the language, where they had not had experience growing up. And so, that was kind of a really specific and interesting way of growing up.
And what did they do to support the family when they got there?
My dad went to technical college and he worked in various different factories as a machinist and invented machines and innovated machinery. And then he ended up becoming an entrepreneur. And at some point in the early '90s was one of the largest manufacturers of shoulder pads in Los Angeles.
Oh, my God. Really?
Which kind of was a badge of honor. I remember in third grade, I would take bags of shoulder pads to my teachers as gifts, the kind that you could velcro in.
Oh, wow.
Yeah. So it was like—
I think my mom probably was a client, I'm sure.
I'm sure. I'm sure. Not that he was the only person making that kind of shoulder pad.
Sure. By the way, this is really good food. And I'm not saying that just because—
Because you have to.
—because I have to. I'm actually saying this because it is really good.
This is my first taste. I have not tasted this one.
All right. All right, Gabriel.
Oh, my God.
It is really good, right?
Yeah. It's wild how…I shouldn't talk with my mouth full, right?
I know. Are we doing that? We didn't really talk about this before. Should we talk with our mouths full? But you know what? It's my podcast. I can do what I want. The Grand Tourist.
You absolutely can. Ooh, this is incredible. Lauren, this is so delicious. This is actually a dish called ghormeh sabzi, which is a very traditional Persian dish, which we kind of described. But some of my most clear early memories of childhood were of my grandmother cooking.
So, your parents came here with their grandparents, or how was that situation like?
My parents came here, and then my grandparents, my maternal grandparents followed very closely after. And we lived next door to each other in a duplex. So, I grew up with my grandparents right next door, which was wonderful. And in order for anyone to make this dish, you really are going through bunches and bunches and bunches of parsley. So much parsley. And I remember she would clean the parsley and set the parsley out on the table to dry all day and would be chopping parsley for hours and hours and hours. So, it was such a striking, vivid memory, the color of the parsley, the smell of the parsley in the house. So experiencing this again right now is very special and so delicious.
Was it an easy childhood? Was it a happy childhood, would you say?
It really was. Yeah. I think something that a lot of immigrant parents are very aware of is, where they can, trying to be protective and providing things for their children that maybe they feel like they didn't have. It's this idea of creating a new life in a new place. I felt very happy growing up, and certainly there were challenges, but I think those were really cultural. I was very aware of what it felt like to be a person that came from another place. The understanding that I had of the world inside our house, which looked a certain way, there were the Persian carpets and the chandeliers and this really odd combination of Italian modern and French sort of Louis XVI furniture, which is a very Persian combination of things that come together.
Is it?
Yeah, specifically in Los Angeles. Life looked a certain way, and I had a very intense connection to this place that my parents came from. But it was one step removed. It was through food, it was through music, it was through their longing and their nostalgia and their storytelling. So, in a lot of ways, I had to fill in a lot of the blanks myself. A lot of my connection to this place is based in fantasy and required a certain kind of invention for me to imagine what it felt like to fill in all of the details between the stories and between the images and between the rug that I knew that came from a particular place or the object that came from a particular place.
Brothers or sisters?
I have a younger brother and a younger sibling, Nick. I am the oldest of three. And that was…What was that like? I don't know. I don't know what I have to say about being the oldest sibling.
Well, you don't have the…I mean, my mom was an immigrant, so you don't have the pressure of being the only child. And I think especially for…my dad was born here and his family has been here for a long time, but my mom moved here when she was 16. So, it's a different kind of pressure to be the only child when you're thinking about, I don't know, just anything. Were your parents strict when it came to school or studies or anything like that? Was there any hint of your future, design or fashion career that could be hinted at when you were young?
I was a pretty creative kid. I played the piano. I was always playing with fabric and drawing and making things and pretty crafty. And no, my parents weren't particularly strict. They were very supportive of all of the ways that I was creative. My mother plays the piano, my dad plays the drums. And some of my fondest childhood memories were being at family gatherings where inevitably they would be entertainment after dinner.
Do you still play?
I haven't played in a really long time. I got really serious about it in high school.
Oh, wow.
I became obsessive. Yeah. I almost went to music conservatory as a pianist.
Oh, gosh, that's amazing. I've never known that about you.
Yeah. I really dug into this idea.
Take that Business of Home Podcast.
I really became intoxicated with this idea of virtuosity. I think at a certain age in your teens, for me, I won't speak broadly, I was really inspired by this idea that you would sort of sacrifice for the sake of art. And that you would become singularly focused and singularly obsessed and just kind of climb to the pinnacle of what is possible.
If you were just hanging out and just playing around on the piano, what would you play?
I mean, it was always Chopin for me. I was a sad little boy. Actually, the same third grade teacher that I took the shoulder pads to, we had to do historical, biographical book reports. And I chose Chopin, of course, and we were meant to come dressed as the person that we were talking about.
Oh, my gosh.
So my little third grade self was…I think I wore a cape, and I thought that was the thing. So, I was a pianist for a while. And growing up, the difficulty was really in trying to make sense of what it felt like to be from two different places really. And to sort of find a way through two cultures. And certainly that became challenging when I came out when I was 13, because that—
Oh, my gosh. You came out when you were 13?
I was 13 when I came out.
How old are you now? Sorry.
I am 41.
You're 41. Okay. So, to come out of 13, back then, I'm 45, so to come out 13, that was a thing.
It was a thing. I mean, it was sort of—
That's like Saturday after school special on ABC.
It was like RuPaul generation one and The Real World. It was like Pedro on The Real World.
Oh, gosh.
That was the thing. I mean, really being gay and certainly being a gay man in that moment was about trying to understand how to be comfortable with the idea that your desire could equal death. And that was sort of a really constant thing on the mind all the time. And it was one of the reasons that coming out was hard. I think, certainly for my mom, it was really difficult when I came out and she had a hard time coming to terms with that.
Are your parents religious, or were they religious?
No, they weren't religious. And it's interesting, I didn't know this until later, but during my childhood, I was aware that my mother had an uncle who had passed away, and my grandmother was very close to her brother. And anytime I exhibited any kind of talent or creativity or things that were supported in a way that my family celebrated, I was compared to my mother's uncle. They were like, "Oh, my God, you're so much like Majid." You're enjoying that, aren't you?
I am. Listen.
Yeah, it's delicious.
In my family—
Since I'm doing all the talking, I can't eat as much.
In my family, "Eat that food."
You eat that food.
"You eat that food." Yeah. Thank you, Lauren. Yeah, "Eat your beef." I know when someone's talking about me in the third…in all the different languages I would hear at the dining table, I know I can understand in five languages, phrases like "Why isn't he eating? What's wrong with him? Why is he in a bad mood?"
Oh, my God.
And, "Only one serving?"
Right. Only one. You don't want more?
Yeah, I know how to recognize that in German, Italian, which we didn't really anticipate. How do I interview you and you eat at same time?
While eating.
Slight production issue, but you know what? Let's make our parents proud and actually eat some food.
Absolutely. I'm going to go back to my uncle for a second.
Yeah.
I knew that my mother had an uncle that passed away who was very creative, and I was always compared to him when I would exhibit any sort of proclivity for anything that had to do with music or art. And it wasn't until, I don't know, maybe 10 years ago that I learned that he ended his own life.
Oh, gosh.
And that the assumption was that he was gay.
Oh.
And these things became clear to me as an adult, maybe 20 years, 25 years after coming out. And that really put into context what my mother's trauma around my coming out was, in a way that I wished had been more clear to me at the time, because I think it would've enabled us to have a different kind of conversation. I don't know. It's funny how these generational traumas just kind of get passed on. And at some point—
Did he pass on before you came out or after you came out?
I never met him.
But timeline-wise.
Years before.
Oh, okay.
Yeah, years before. I mean, probably 20 years before. I mean, I think he passed away before I was born. I never met him. But it was really interesting to put an end to that mystery of where her pain around the subject was coming from.
So, you were knee deep in Chopin, you were sad little gay boy playing Chopin. And then, at what point did you…Did you go to school? Did you go to design school? What was that experience like?
I ended up going to, staying in Los Angeles, going to UCLA, and I enrolled in a program there called World Arts and Cultures, which was a new program that was mostly a performance-based performance studies program. I was a theater kid in high school. I really didn't know what I wanted to do, but I knew that I wanted to have access to a broad range of subjects. So, I ended up taking documentary film production classes and performance studies classes and queer theory classes. And what really stuck was when I found myself taking lighting design for theater or costume design for theater, scenic design for theater. And I had a really wonderful teacher named George Tomlinson, who was kind of one of those intergenerational mentors that you are lucky to happen upon in your youth. He was in his 70s and had been the set designer for Three's Company and had lived this life that I, as a young queer kid, found to feel sort of like a portal to a different world and a different way of thinking about working.
And I took a class with him and soon after, he was like, "Look, I think we've done everything we can do for you in this department. You should go to the theater department and actually do a proper scenic and costume design curriculum." So, I did that. And while I was there, I was really most interested in costume construction. I mean building corsets and panniers and all that kind of stuff, sort of where architecture and clothing meet, and really loved costume and scene design.
And while I was doing that, I was assisting a graduate student, and I was at a fabric store sourcing vintage buttons. And while I was sourcing these buttons, a woman who…At the time, I was like, "This is a really wonderfully eccentric person. Who is she?" approached me and asked if I was looking for work. And I gave her my number thinking nothing would come of it. And she called me and I ended up working for her for eight years.
Wow.
And that was how I found my way into fashion.
And so what was that? What was your first…You worked for her for eight years. Was that the fashion part of the career? Did you go from there to somewhere else?
I went from working with her to working for another women's wear designer named Raquel Allegra in Los Angeles. But those first eight years were really what I consider the fashion chapter of the story where I got to learn and experience and create in a way that really felt like a dream that I was so fortunate to be a part of. And certainly learned so much about how to balance both the creative and tactical and operational needs of a business. I learned a lot about the kind of studio that I would ultimately want to make for myself one day. That was really incredible.
And what…Ooh, speak of the devil.
Oh, hi Lauren.
That's another course.
She's back.
She's back. Oh, wow. This is really pretty. Tell us about this, gorgeous. Come sit next to me.
Lauren Gerrie: Okay. Well, this is an ode to all of the beautiful Russian women that influenced you. So, we have components that are quintessential to the cuisine, so potatoes and cabbage, which needed a little bit of the—
A little lift?
Lauren Gerrie: Yeah, a little lift, so to speak. So, I took a French technique, which is a stuffed cabbage that has a beautiful presentation, and it's filled with my favorite, which is the vanilla bean whipped potato, which we use for Eight at Eight. And then there's a combination of some fennel and fennel frond on the interior. And then it's slow roasted, and it's topped with Urfa chili, which is similar to the lemony zest that you get from sumac.
Delicious.
Lauren Gerrie: But it has a smoky chili flavor that isn't hot. It just gives you this heat that comes forward and I think really balances out the cabbage and gives it a punch. And then you squeeze some fresh lemon on top.
I'm squeezing the lemon.
Gabriel Hendifar: Yes.
Lauren Gerrie: And it's delish.
Thank you so much.
Gabriel Hendifar: Wow.
Yum. So, cabbage, Russian ladies, go.
Gabriel Hendifar: I mean, what a perfect choice for the fashion chapter. I mean, one of the things that was so magical about that experience was that over the course of eight years—
Thank you.
—we built a team of the most incredibly talented Russian pattern makers and seamstresses.
Where was this? Was this in LA?
This was in Los Angeles, and essentially it was my job. I assisted with designing, and I ran the sample room in the studio and production. And we made one of a kind pieces, so really every single piece was an exploration, an innovation in pattern, and an innovation in sewing. And working with these women really felt like it opened a portal to me, again, this idea of virtuosity, to a certain kind of skill and virtuosity that felt that as though it came from a fantasy from my youth, of this idea of making something the best that it can possibly be. Pushing something as far as it can possibly go, and really leading with the desire that an object should be seductive. It should be something that you feel as though you must have in your life because of what it tells you about who you are and how it was made.
And at what point during that time did you have this idea, or did you have this idea? When did that switch to Apparatus happen? I mean, nobody just sort of sits around and goes, "I think I want to do lighting. I think I want to create a sconce."
Right. Well, what happened in the story was that Jeremy and I met in Los Angeles, and we moved in together. While I had been working in fashion for those 10 years, I also was doing interior design projects on the side.
Oh, how did that happen?
It happened because my senior year of high school, I designed the set for Guys and Dolls, which was at the time, the most expensive set our high school had ever produced. And as a result of that show, one of the parents of someone who was in the show, approached me and decided that they would like to ask me to design their house. Which kind of was another…I don't know. I've had these moments in my life where—
How old were you at the time?
I was 17, 18.
Oh, gosh.
Yeah. Yeah. Who takes that risk? Yeah, exactly.
Who would be like, "Yeah, I need to decorate my house and there's this kid who's 18 years old."
I will tell you, Irina Brodsky, who was a lovely, lovely woman who…It was an education. I mean, part of me was just so excited about the idea of playing the part of interior designer. That really appealed to me. And of course, I was learning things.
What year was this?
This was in 1999, 2000, 2001. And then she introduced me to a friend, and it was just like this kind of thing where I had this, again, interesting, these really wonderful Russian women.
Was there a design fee plus percentage?
Oh, man, I don't remember. I don't remember. I mean, certainly I wasn't making money. I was just really excited to be able to go into Jonathan Adler and sort of take something out on memo. Gosh, it was that kind of thing.
Yeah. That's amazing. And how big of a house was it?
Man, this is delicious.
Good.
I don't know. It was maybe like 3000 square feet.
Wow. Bigger than my house.
It wasn't tiny. But anyways, I had been doing that, and Jeremy and I moved in together. And before that, I had gone into really deep credit card debt decorating my own apartment.
Oh, gosh. How bad are we talking?
Manageable, but managed to actually have Elle Decor shoot it. By one day I opened the masthead and I was like, "Who am I going to send an email to?" And I saw Anita Sardsidi's name and guessed what her email address was going to be, and sent her photos, and she graciously responded the next day.
Oh, gosh, so what year was that, that it was published in?
So, here's the thing. It actually ended up, they shot it, but it didn't get published. It was one of those never-ending stories at the time.
Oh, yeah. Where was that place, by the way?
It was in LA. It was in the Miracle Mile. And yeah, that really crushed me. I did have this, maybe reasonable idea that I was maybe good as an interior designer at that age, because the magazine had responded. And then they didn't publish it, which was crushing. But anyways, the point of the story is Jeremy and I moved in together, and part of the excitement of doing that was redesigning the apartment that I lived in. And in that process, I had the crazy idea that we should start making lights.
Why lights?
And that's really how it started. Why lights? The real answer to that question is that we couldn't afford any of the things that I thought that we should have. And so it really became sort of necessity being the mother of invention. What I then really learned about lighting as a category is that it is particularly magical because it is not really beholden to the same ideas of function as a lot of other things are that you could make for the home. Try to make a chair, for instance, or try to make a sofa. Really, a light is about creating a bit of magic. It's really jewelry. Certainly I have ideas about what that should and shouldn't be, but it's a form that you can explore and express things in a way that feels less about function, if that makes sense.
It totally does.
Yeah.
What was your first product?
Actually, the very first thing was the Cloud.
Dan Rubinstein (00:40:22):
Describe to people that don't know what the Cloud is.
Ah, the Cloud. The Cloud, it's a chandelier that has a series of frosted glass orbs that are all hanging from chain. It's really about the contrast between the lightness of the glass and the armature, the brass armature that is essentially supporting that lightness. It's really contrast. And it's still our number one selling piece, which is wild to say 10 years later.
Oh, wow. Amazing. How many pieces have you created over this time at this point?
Ooh, I think the catalog is now, I want to say 140, 150 pieces.
Oh, gosh.
That mostly are all in continuous production.
Oh, wow.
Yeah. We very rarely retire anything, and we're always adding new things.
And where do you produce everything?
We produce everything in New York, in our factory in Red Hook.
Oh, wow.
Yeah.
That's amazing.
It's really wonderful. Yeah. We're very much invested in the soul and energy that we can bring to making a thing. And believe that that ultimately is an energy that is passed on to a person who brings and invites something into their house. The idea of the hands and the brains that it takes to make a thing is something that we really celebrate.
Speaking of love and connection, first loves.
First Loves.
First loves.
Good one. My first love was in high school, and he was two years younger than I was, and we were both in the theater program at my high school. And I think both discovering our sexuality at the same time. And so there was a lot of that feeling of kind of danger and discovery that went hand in hand. Because you're not really sure, "Does he like me? Is he gay? Does he like boys, does he not?" And then I remember the feeling of that question being answered and feeling fulfilled, and the rush you get of a certain kind of possibility being opened to you all of a sudden. And then as relationships are at that age, it burned bright and quick. And then I was heartbroken. Oh, my God, that heartbreak was hard.
(SPONSOR BREAK)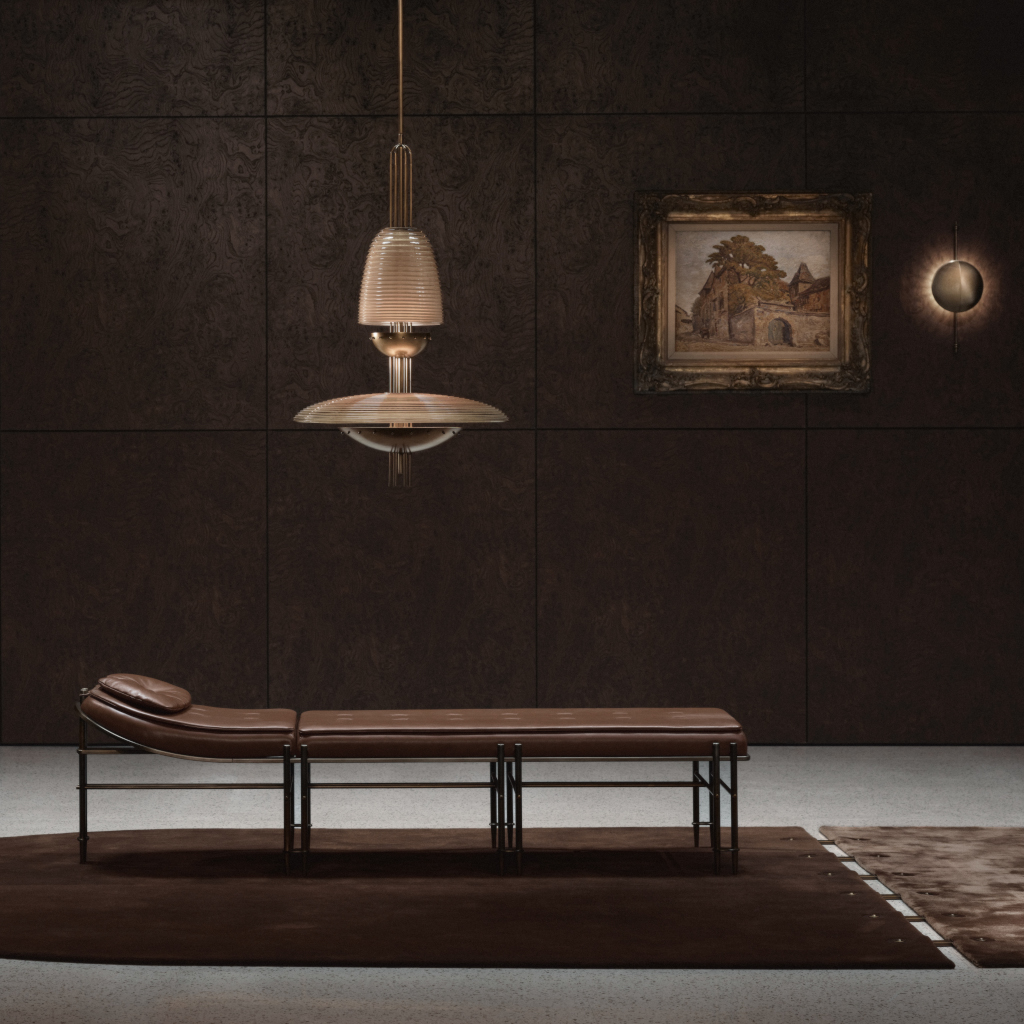 All right, time for the next course. Yeah, Lauren, tell us briefly what we're looking at here.
Lauren Gerrie: These are all beautiful building blocks to make the flatbread of your dreams. This is a pan fried flatbread. It's yeast free, and it's done with coconut, yogurt and nigella and sesame seeds. And then there are shaved cucumbers with Cara Cara orange juice, a smoked curry chili, and a bit of za'atar on top. A pistachio gremolata, my version of one with some pickled raisins and mustard seeds. And then a miso tahini with some smoked chili. And this is an herb compound butter with toasted coriander seeds on top.
Oh, my gosh. I'm very excited.
Gabriel Hendifar: So excited about those toasted coriander seeds.
Lauren Gerrie: This is really a choose your own adventure, make your dreams come true.
Love. All right. We are very excited. And so, Gabriel, why have we chosen this course?
Why build your own adventure? It was interesting thinking about how to describe what we do as a studio. One is its own challenge, right? Because I think it's informed by certainly the fact that we make objects that we hope people want to incorporate into their own lives and their own stories. But it's bigger than that for me. It's really about a platform through which I get to explore different ways of making people feel something. And that can have a wide array of references and a wide array of stylistic approaches. And I think what remains constant is that Apparatus is essentially the structure that I get to play in to tell different stories. And so, we were trying to think about how to really interpret that as food. And what came to mind is this idea of a lovely array of things that you can mix in ways that you wish to create the experience that you want and to tell a different story.
Okay. Wow. And so when you had started Apparatus, you had designed your own house and you had done some stuff for other people. What was the big first hit? When did you think like, "Oh, this isn't just a giant waste of time and money"?
The very, very first hit was, we had launched a very simple initial website, and it was picked up by Remodelista. And immediately I remember opening an email account that we had made just for show, because that's what you need for a website. And all of a sudden there were emails. I was like, "Oh, wow, okay. Whoa, we got 10 emails yesterday. What does that mean?" And then from there, it turned into our first order, which was for a restaurant in Shanghai.
And that's pretty exotic for a little company.
Yeah, it was pretty exotic. Yeah, it was great.
How many people were you at the very beginning?
It was just Jeremy and I. It was literally just—
Wow. So you were making everything yourself?
Yeah. I mean, I was finishing metal in the kitchen sink and assembling things in the dining room.
Wow.
And packing boxes, and, this was pre-Uber, figuring out how to get something to the FedEx to ship it. Yeah, it really was building something from nothing. And then we did ICFF in 2012, and from there—
Which is a design fair here in New York.
Thank you. Yes, a design fair in New York. And from there, what was incredible was to see the work immediately responded to by an incredible community of interior designers in New York. And that's really what started the momentum, which has grown steadily now for 10 years.
When you got started, what did you say? What did you and Jeremy, what did you say to yourselves like, "Oh, this new company is going to be X, Y, and Z." What were you trying to set out to do and to accomplish? Because today you have this very distinct vision, distinct product offering, distinct culture and communication style and reputation. What were your aspirations when you were in the very beginning and getting started?
Great question. I think the initial aspiration was really quite simple. To make something beautiful that was of a specific time that did what I felt was missing in a lot of the design around me that I was looking at. Which was to create objects that had a sense of the future in their form, but also really celebrated the human hand and a sense of the past and the sense of time. And that very much felt like it wasn't a thing that I was seeing. And so really the initial goal was to make things that people loved because of that combination of things.
And then what became clear to me over the years, creatively, was that ultimately, especially because of the way I grew up, where objects were essentially carriers of meaning from a different place, was understanding that I actually have the ability to tell stories and to make people feel something in relation to objects and space. And so, what now leads my interest creatively is how to tell the big story and what is the emotional vibration of this thing. And that's where everything else comes from. And certainly, I'm as invested in the 16th of an inch that I think that a certain component needs to be changed in order to make it the most beautiful part of a chandelier as I am in the large story that we're telling. But it really starts from imagining the world and understanding that the objects we make have the ability to communicate meaning.
And how long were you doing lighting before furniture started to enter into the mix? I remember there being sort of limited-edition kind of things before it became full on.
Yeah, we started making…I mean, really the approach to furniture was completely in keeping with what I'm describing as process, which was to say, okay, well, here are a number of things that we make that produce light. And in order for us to experience them fully, we need to also imagine the other things in the context of this light. So, what is the table? What is the chair? What are the objects that go on the table? It's really just about filling out the vision ultimately, which is exactly the way I see the studio growing. I think to me, knowing that there is a universal approach that is not tied to being expressed in a specific category really allows me to imagine sort of limitless possibility for what Apparatus is and can be.
When you're talking to clients around the world, let's say a designer from Milan who uses Apparatus in their projects, do you think that they see you as a uniquely American studio? Or what kind of box do they tend to put you in? Or is that just way of thinking over and done with?
I can't speak to that way of thinking broadly, but I think one of the things that I find maybe the most delightful,l actually, is that the references really change depending on who you talk to. And people generally seem to find a way to see themselves and their own references in the work. And I think that for me, is a real validation of the approach, which is to create something that feels familiar enough that you're invited into it, but really starts to kind of make you go, "Wait a second. That's not what I thought it was." When you get close. And so I speak to people, Middle Eastern, people who see Middle Eastern references. I speak to Italian people who see Italian references. I mean, it's really wonderful to feel like I have a specific enough perspective that I know what I want to make, but that also the things we make are tools that people can project their own stories onto. I think that feels really wonderful.
All right. We are eating trifle for dessert. Because you are having your next major moment this spring with a new showroom in London in Mayfair.
Yeah, we're opening our—
This is the big time.
—gallery in London, and yeah, I guess this is the big time. Yeah. It's been a really exciting thing to dream about, and certainly for the past five years, we've been dreaming about opening in London, and here we are on a street that—
Which street?
We're in Mayfair on Mount Street.
On Mount Street.
And so we're kind of right in the middle of what feels like a certain kind of luxury and a certain kind of international luxury there. And certainly approaching this project in London has been creatively really rewarding and somewhat complex emotionally, because certainly the United Kingdom and London specifically are emblematic of a certain part of the world that has shaped other parts of the world in certain ways. And certainly my family has been the lives of people that I know and love and my life. I'm in the United States because of empire, because of the ways that certain people shape the lives and futures of other parts of the world.
Going to London has been about finding the joy and excitement in the possibility of what that kind of place can be and the people that it attracts and what it becomes, and also kind of making peace with a certain complexity and discomfort around a certain part of that history. It's been really an interesting personal journey because from a creative and aesthetic point of view, always I approach the galleries as a means through which we absorb certain references that feel geographically resonant and local and appropriate. And it's my job and the job of our incredible team to take those references and push them through an Apparatus lens that again, serves something that feels familiar, but that makes you see things in a different way.
We're referencing a lot of really beautiful classical architecture and materials and really deconstructing those elements and kind of putting them back together. So, that feels like what Apparatus does in terms of creating a gallery space in a new location. The thing that's been really interesting for me was also feeling like I needed to show up as who I am, which is a queer Middle Eastern person on that street, which in a way represents a certain kind of the way that certain places in the world shape other places in the world. So, it's been about understanding how to incorporate a sense of my own history and my own family. And we've been looking through archival photography and references for portraiture, and I'm really invested in bringing my family with me.
I remember you had mentioned once that you might have portraits of your family in the space. Are you still going to do that?
Yeah, we're working through what that's going to look and feel like. But yeah, it feels really important to me specifically to bring my grandmother with me and to have her in the space really as a sense of protection there and a sense of arrival really.
And this is on the street?
On the street.
Street level.
Yeah. Street level.
And you'll be showing lighting, but also showing everything.
We'll be showing everything that we make and a lot of things that we make and don't sell. I mean, it's really essentially, our world is so much about we make everything, and some of those things are things that we share with our clients.
And have you had a lot of requests, a lot of clients from the UK that that's what sort of spurred you to pick this location?
Oh, absolutely. Yeah. It's a really important market for us. I mean, essentially we follow the audience, and so yes, we know that already, that we have a wonderful audience in the UK.
And how many showrooms do you have now around the world? Once you open London, how many will we be at?
We will have three galleries. We call them galleries, and this will be our third. We did operate a gallery in Milan for a number of years, which we've just recently closed. So, we'll be Los Angeles, New York, and London with a long list of dream locations to come next.
Where would you like Apparatus to go next? Because you've touched upon lighting, you've touched upon furniture, amazing locations. I think there's a lot of different ways in which still, even in the design world, that you can kind of take the brand, so is there—
Absolutely. Again, in keeping with the way I think about making things, which is about them belonging to a world, I think the opportunity there is to create more of that world. It's certainly decorative accessories, personal accessories. I miss making clothes. I don't miss fashion, but I miss making clothes. The way I think about when I get up in the morning, what are all of the things that I need to populate my story and my experience? What is the thing I'm putting on my body? What is the thing I'm carrying? What does the doorknob feel like? What is the glass I'm drinking out of? What are the sheets? Yeah, we certainly experiment with hardware in the studio, but yes, for sure. Those things are fairly clear. I think the layer that I'm also really excited about is what do Apparatus experiences feel like? I absolutely want to open a nightclub at some point in my life.
Oh, you really do?
Oh, without question.
All right. Where? Let's just paint a total fantasy picture.
Oh, good, good, good.
Is it in New York?
It is in New York.
Okay. What's the first nightclub you ever went to in New York?
The first nightclub I ever went to in New York, it must have been Cielo or something.
All right, where's that?
In Meatpacking.
Oh, okay.
Yeah, it must've been not particularly—
What year was this?
Oh, 2010, '11?
Oh, not terribly long.
I mean, I haven't been here that long.
That's true.
Yeah. But yes, the fantasy of the nightclub is not that. It's a place that I want to go to have a light dinner and smoke on the patio and be dressed. And you can listen to someone perform something beautiful, and then also go downstairs and dance.
Okay. So it's part dance club, part sort of like Copacabana.
Yeah. That's the fantasy of the nightclub.
So, it's a restaurant. Is it a restaurant?
Yeah. I want to be able to order food. I want to be able to have a drink. I want to be able to flirt and get into trouble and dance and get lost in a dark corner.
Oh, wow.
And also order a steak frite?
Oh, wow. That's a very retro thing to ask for.
It is a very retro thing.
And in New York, it's probably…I can just hear somebody listening to this from the New York Food and Beverage scene, just thinking, "This kid's out of his mind. There's no way." However, if anyone could pull something like that off, it would be you.
I'm fairly good at thinking of things that feel crazy and enlisting the people and the will to make it happen. So, we'll see if that happens. But it's definitely a fantasy.
What would the music be like?
It would be different all the time. I think I would want to hear a jazz singer at dinner, and I think I would want to hear house music downstairs. And I'd want to have some jazz fusion. I'd want to have some disco. It'd be like all the things that make you feel like you're lounging and flirting and kind of living life the way you're supposed to. Yeah.
That's interesting. What about a hotel?
Absolutely.
What about an Apparatus hotel?
Absolutely.
I kind of feel like that's easy.
Absolutely easy. Already done. Yes. What about the Apparatus hotel? Without question. Yeah, yeah, absolutely.
(SPONSOR BREAK)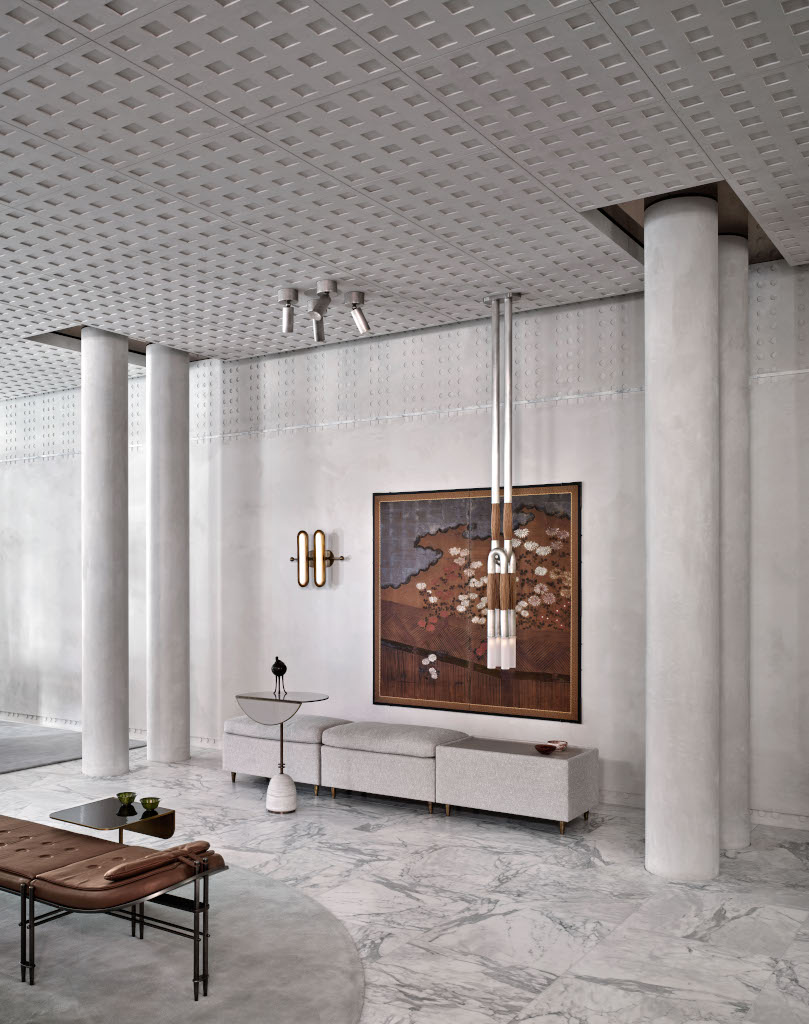 Let's bring up a slightly more serious topic. When we talk about belonging, we talk about London. I think lately, especially with everything going on in Iran, and obviously recently I saw you were selling a particular object where a portion of the proceeds would go towards supporting some of the protests there. How are you feeling in this strange time that we're in kind of out of the pandemic, kind of out of a Trump period, but not really. Who knows for how long?
Yeah, exactly.
Protests going on all over the world, war in Europe, and so on. In terms of, because you bring up your identity, how are you feeling at this moment? Because I know it's a part of what you project on social media, now you're bringing it a little bit into your business. We're talking about London. In this moment in your life, now that you're kind of looking back, you've had this amazing brand now for 10 years, you've had arguably like what anyone would say, is an amazing career and you're still quite young.
It's very kind. Thank you.
And you've got another probably 30, 40 years left—
I hope so.
—in you, before you retire. Thirty probably. How are you feeling? How are feeling about life?
Oh, wow.
Sometimes you've brought up the word. We're going there.
This is where it starts to get good. This is where it starts to get good.
How are you feeling right now?
I'm feeling like I'm in a moment of really major transition in my life. The last 10 years have been about building this thing and certainly have involved a certain kind of approach to making sure that this baby is going to be strong enough to stand on its own. And I think—
What does that mean?
I think in the first years of a business, you're really like, "Is this going to make it? Is there a point at which something's going to happen that's going to make this fantasy no longer a reality?" And so you're constantly searching for things that make you feel like you're on the right path or that you asked earlier, "What was the moment when you knew you made it?" You're looking for those moments to reflect back to you what you hope is true, which is that what you're doing is important and worthy and will last. And I do feel that that is the case at this point after 10 years. And that the question really is now why do you do what you do? And what does it feed in you? And what is the responsibility that you have to the people who help you do that? And to the people who you are trying to tell stories to.
And so this moment is they're big life questions. And what I keep coming back to is that I continue to have this intense belief that the objects that we make are products of our human experience. And it is a thing that we have done as humans for time immemorial, which is to shape the world around us because it's kind of the only way we know how to make sense of anything. And so, even while the questions of why make another thing, are always present in my mind, I think what I keep coming back to is because it's the way that I know how to make sense of the world around me. It's the way that I know how to build a safe kind of sandbox to play in and to invite other people to join me in. And in a time that feels increasingly chaotic and dark and things are maybe not headed in a direction that we're also excited about.
Where I find comfort is in the belief that I can continue to build a fantasy that I'm excited about and that I can invite people into that fantasy. And if I can dream that thing and make it come to life, that is a process that can be magnified outside of the work that I do. And can potentially inspire other people to do that kind of work and potentially move us all in a direction of imagination and possibility. And certainly, I don't imagine that the work I'm doing or Apparatus is going to change the world, but I do think that leading with the intention of continuing to tap into that human impulse to create beauty in the most oversimplified sense of this conversation is the antidote to the darkness. And that I just have to keep connecting with that feeling.
Are you having a midlife crisis?
No. It doesn't feel like a crisis. It feels like clarity. Yeah. No, it doesn't feel like crisis at all. It feels like actually coming closer to an understanding of who I am and why I do what I do. Yeah. It actually doesn't feel like a crisis at all. It feels kind of like a homecoming.
Midlife epiphany.
Yes. Yeah.
Do you see that changing anything in Apparatus?
Good question. I don't think so. I think what it changes is the way in which I place that work in the context of my own life and what it means to me personally. I'm very clear about what Apparatus is and about what it needs to continue to be what it is. And the amazing talented people who show up every day and give of their brain and their history and all of that. I'm so, so grateful for that. I can't do what I do without them. And also, I know that as the studio evolves, my role inevitably changes and evolves alongside all of those people. So it's like a constantly shifting recipe. And that does allow for me to find the parts of the process that I find most gratifying and nourishing and to build the team around me that are people who are the best at what they do and who allow me to be the best at what I do.
And when you're designing, let's say your recent furniture collection, which was a big launch for you, and you created this beautiful film with it, which I thought was really fantastic—
With our lady muse, Debra Shaw, it was a dream to work with.
Yes. I know that when it came out, a lot of people were like, "Who could do that? Who could really pull that off?" I mean, you could imagine any other company trying to do something what you did, which was essentially a slow short film with a beautiful woman walking through a set that you built in a giant freestanding set in the middle of a huge studio. Yeah.
Storytelling, ultimately.
It's like if you had brought, she's like an Eartha Kitt, kind of a young Eartha Kitt.
Well, let's bring this back to Deeda Blair. Many of our references for that character were Deeda Blair.
Okay. Yes. Future or perhaps past guest, Deeda Blair, depending on how I order the episodes. Yeah, no, incredibly not approached from a way that a furniture brand that we would think today, even a luxurious one.
Sure.
Is it fair to say that you still today are approaching things with Apparatus from a fashion lens?
Oh, absolutely. Yeah. I think that one of the most important things that I learned in fashion was the idea, again, of making objects that people desire and understanding that part of creating that desire is in the story. And it's certainly an object needs to stand on its own and be a thing that is impeccable and of a quality that you believe in, that you trust. But really it's the stories that we tell around objects that attach us to them. And I think that's what fashion does brilliantly. And I think that is one of the things that we really hope to do. And we employ a lot of the same tools of telling you a story about a chair or about a light fixture through the lens of the woman who is experiencing this world.
You're so good with creating experience, whether it's experiencing a product or a party or a video about a coffee table, whatever it is. I'm curious, what is the most amazing performance you've ever just attended or saw? Was it like a play or a show?
Great question. Great question. Great question.
What sticks out in your mind as the ultimate experience? Performative experience?
I recently, I'm going back to the sort of theme of virtuosity again, recently saw Yuja Wang perform.
Who's that?
Yuja Wang is an incredible concert pianist who, it's polarizing for a lot of reasons, but I would argue is probably the most important living pianist currently.
Oh.
And what's incredible about her is that her skill and technique is astounding, but she's also just fucking cool. She'll wear sunglasses on stage and wear a four-way stretch iridescent mermaid gown. It's like that vibe. And I saw her perform a Liszt piano concerto at Alice Tulley last year. And I have to say there was something about being in that room and watching someone play on the edge of what is possible. Really, that's what I feel when she plays that she is—
What does that mean in terms of a piano?
That you're not quite sure if she's going to make it through. It is that on the edge and it's exhilarating. And then she does, and there's a certain confidence that you have in the fact that she will. But there's a sense of danger in it that I'm obsessed with. I'm really, really obsessed with. And I think any opportunity that I can have to watch someone perform in a way that makes it clear that they have mastered a technical skill, but ultimately that technical skill is only in service of what they are trying to communicate from an emotional resonance perspective. Those are the experiences to me that really, again, it's like that is what it means to be human, and it's something that I aspire to do in my life and in the work that I create.
And talking about the evolution of Apparatus, I mean now that we're into the dessert, after dinner amaro—
The after dinner amaro.
—obviously, parties have been…Here in New York we have our design week in May. The most fabulous events during these design weeks of the past decade have all been sort of your party.
That's sweet. Thank you.
Come on. You know it.
I mean, I can't say it myself.
Oh, God, so annoying, Gabriel. No, I mean, I can't tell you how many people are like, "How did you get into this? How do I get an invite?" Or how blah, blah, blah. Yeah, you kind of made a thing out of…And it kind of hit people like it was a breath of fresh air because nobody knew. You guys seemed to have come out of nowhere when it first took off. And I remember…Usually, when I go into any kind of design week thing in New York for a long time since, especially during those years, 2010, 2019, let's say, I would know everybody there. And then I would go to an Apparatus party and I would know some people, the cooler part of the people that I knew, but 80% of the people I would be like—
You didn't know who are these people?
"Who are all of these people?" And that was actually really refreshing because the people that I did know would look at me. I remember the first event you did at your showroom in New York when it opened. Someone looked at me from across the room and was just like, "What the hell is going on? Who are all these people?"
That's fun.
Kind of like, "Wow, what is this? How did you get here? How did we get here? And how did they get here?"
I love that.
And can you maybe quickly bring us through what makes one of these big parties? You've done how many big, giant events at this point?
I mean, we've done probably five or six at that kind of scale where you feel like you're in a room where you don't know everybody, and it's about discovery. And those are my favorite. And the parties are really the most pure expression of the ethos, which is an understanding that, again, all of the things that we make are in service of this human drama. They are the set onto which this play has to happen. And if the play doesn't happen, what's the point of the set? So, it's really how do we animate the world?
How do we imagine what it's going to feel like, the sort of collective moment of joy and wonder and discovery, and how do we deliver that both to people that we want to say thank you to, our community, and to people who we just want to invite to play in the sandbox. And I think that's where the chemistry gets really interesting is where you're in a room and you know maybe 30% of the people and another 30% of the people you're like, "I really want to know you." And the rest of them, you're just like, "What is going on?" I think that is actually the recipe for a really, really beautiful night where you are just aware that you are in the sea of humanity. And it is just so beautiful to have all these people around you.
And, most recently, you created a jazz club.
We did, yeah. We created a jazz club for three nights in our gallery, which was an extension of the themes of Act Four, which were all inspired by sort of 1960s cultural touchpoints. And jazz was at the center of a lot of the inspiration for the collection. So, we created this pop-up jazz club for three nights and we had the wonderful Baylor Project perform. I don't know when this is airing, but they're currently nominated for a Grammy. I guess we will know by the time this episode airs—
Good luck.
—if they will have won or not. But the result of creating that event where we invited people to step into a different time and having the result of that be this artifact of a record, again, it's a highlight. It's one of those moments where what I hope to do, which is to create things that are carriers of meaning, really interacts with the idea of what it means to be human, to me.
I think for people that don't know, it's like I would say is your events are sometimes a Halston documentary meet a really great fashion party. Or with a very slight tinge of industry something.
Sure.
But if I had brought in a stranger off the street and said, "What industry is this?" I don't think anybody would really be able to tell me, which I think is kind of interesting.
Yeah. I think the point of those events is actually not to try to sell you anything. Really, what my aim is, is that you feel that you are transported and it's an intoxicating feeling, and you leave wanting to know more, essentially. Yeah.
No, I tell people in the industry all the time is I think there was a post-recession pre-pandemic vibe where everything was like money, money, money, money, money up. Everything was to make more money.
Like '20, '18, '19. Those were the years.
Which was just like, make more money, make it about business. Nothing else matters anymore. Everything that used to be part of the design doesn't really matter. And that was all dumb. And you just came along and said, "Let's just have a really banging party." Guys will dress up in leather. There will be a jazz bar, bizarre food on a beautiful trays that are so perfect looking, no one wants to touch them. Outdoor space, indoor space.
Yeah. It's about discovery. It's about reconnecting with the feeling of playing and having the pleasure of being able to provide that for people and to invite that. It's really ultimately about connection. It's just about connection.
Now that dessert has come to a close, and we've had our little amaro a point in the evening, and Lauren has now joined us from the kitchen, I just want to raise a glass, a great little toast to my gracious host, Gabriel, to Lauren and the incredible meal that we just had. And here's to London and to Apparatus in the many years to come. And thank you so much for having me. And this was a total trip and I'm so excited that we did it.
Thank you so much for being here.
Cheers. Now we have to go clink.
Sure. Clink. Oh.
Thank you to Gabriel Hendifar, Marlene Kaplan, Lauren Gerrie, Drew Damon, and everyone at Apparatus for making this episode happen. The editor of The Grand Tourist is Stan Hall. To keep this going, please follow me on Instagram @danrubinstein to learn more. And sign up with your email for updates at thegrandtourist.net. And don't forget to follow The Grand Tourist on Apple Podcasts, Spotify, or wherever you like to listen and leave us a rating or comment. Every little bit helps. Til next season.
All right, here's a true story. Maybe we can stick this at the end. I knew, I probably look back and now think like, "Oh, of course I was really gay." When I was a kid I remember I was at one of those summer day camps. My parents would always make me go to camp in some way. So I went to this day camp, and I remember sitting around a circle, like a campfire circle, without probably a campfire. "We're all going to go around. What's your favorite color?" Someone was like, "Red." And someone was like, "Blue." Someone was like, "Purple." And then it was like, "Dan, what's your favorite color?"
Oh, there you go.
And I paused and I was like, "Off white." What seven year old says off white?
Off white.
Yeah.
Brilliant. Is it still your favorite color?
No.