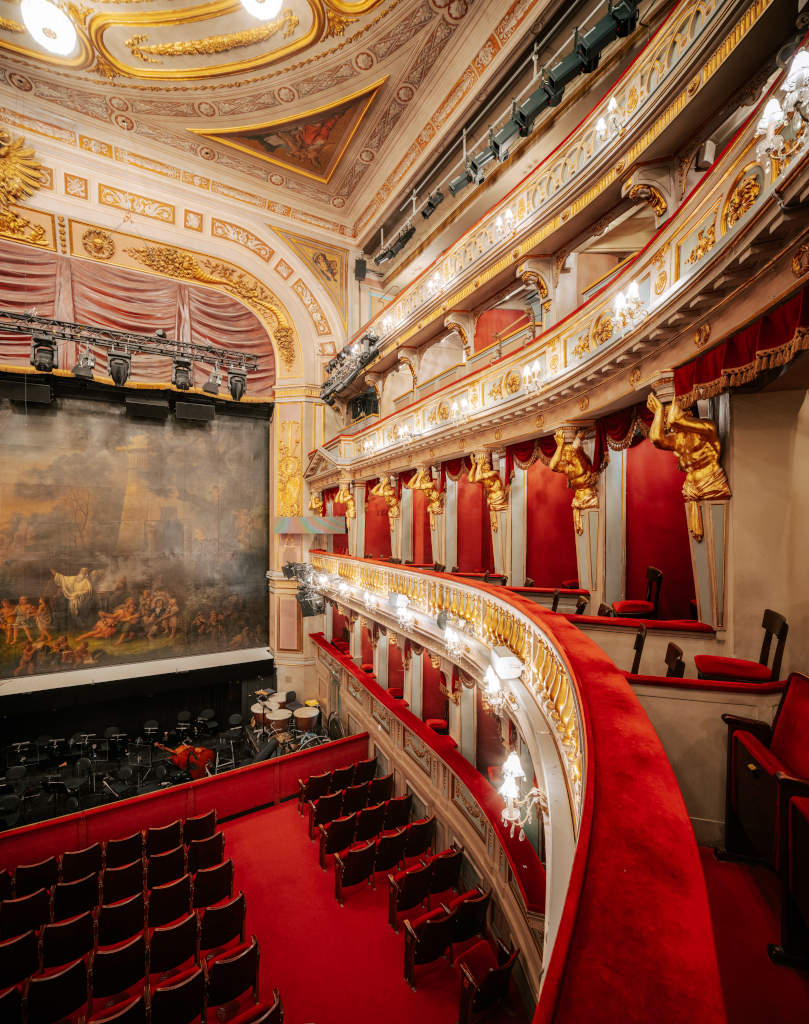 SHOW NOTES
The Austrian capital is a place with history around every corner, where layers of cultural complexity create an environment that endlessly rewards exploration. On this episode, Dan talks with hoteliers, curators, museum directors, and creatives who are upholding the legacy of a city bursting with art, design, music, and culture.
Listen to this episode
TRANSCRIPT
Jasper Sharp: You get into a taxi in Vienna, most taxi drivers will complain to you about something. I just say to them, "Go for one day to Geneva. Go for one day to Paris. Go for one day to London, and you'll come back and you'll realize this place is amazing." It's an amazing place to live. It's an amazing place to work. It's an amazing place to have fun, even with this amazing cultural landscape, you look at it and you think, "Yeah, but they could do this and they could do this." So even in a place where it feels like so much is being done, many of us look around and see room… There's a wonderful expression in German, "Luft nach oben." Air above. There's still air above, and it still feels like we can all get better at what we do.
Dan Rubinstein: Hi, I'm Dan Rubinstein, and this is The Grand Tourist. I've been a design journalist for nearly 20 years, and this is my personalized guided tour through the worlds of fashion, art, architecture, food, and travel, all the elements of a well-lived life. And welcome to the first episode of season seven. On the special podcast, we dive deep into one of my favorite cities in the world. It's one capital that's so steeped in history, especially when it comes to art and design. It would take a dozen podcasts to fully explore.
For most Americans, it's a place often overlooked, and its history is rarely taught in school. But when you tell any story about the birth of the modern world, you simply can't avoid this former imperial capital. Vienna. For most of you listening, you already know it as the former heart of the Austro-Hungarian Empire, far in the east of Austria, and as the home of musicians like Strauss and Schubert, Mozart and Beethoven, or where Freud invented psychoanalysis, or where artists like Clint and Sheila pushed boundaries, all part of the incredible turn of the century, art and design legacy, the city is simply bursting with.
Like many avid travelers. I'd been to the Austrian capital a few times before this visit to see the major sites, but on this voyage, I wanted to dig a little bit deeper. Why now? For a while, it seemed like the city kept coming up everywhere I looked. There's a new Netflix TV show and a recent film about the famed Tastemaker and Perisi. Rosewood Hotels opened their latest five star hotel there. The city was marking the 150th anniversary of the world's fair that kicked off the city's golden age. And once again, in 2022, Vienna was celebrated as the world's most livable city for the third time in the past five years, according to The Economist. What I discovered on my week-long visit this April wasn't just a luxurious European metropolis, but a place chock-full of complexities and contradictions. A place packed floor to ceiling with layers of history and grandeur. And all in a country with a population smaller than that of New Jersey.
Of course, being the grand tourist, I had the pleasure of staying in two fantastic hotels and then filled my calendar with as many experts as I could find. I was given a royal welcome by the family owner of one of the most important five-star family run institutions. I met with the head of the city's incredible design museum, had a coffee at the home of an Italian-born curator who runs a design program at an Austrian castle, chatted about the soul of Vienna with the British expat, and caught up with a designer friend who has been working with some of the best workshops the city has to offer.
But instead of finding answers, I found a lot more questions, and an invitation to visit again and again to peel back even more layers of this most sophisticated of cities. But before I left for Vienna, I connected with Radha Arora, the legendary debonair CEO of Rosewood Hotels. Their latest property is in Vienna, right smack in the heart of town where I stayed for the first half of my time there. I wanted to ask Radha why they chose the city, what someone like him would do with the free day in Vienna and more.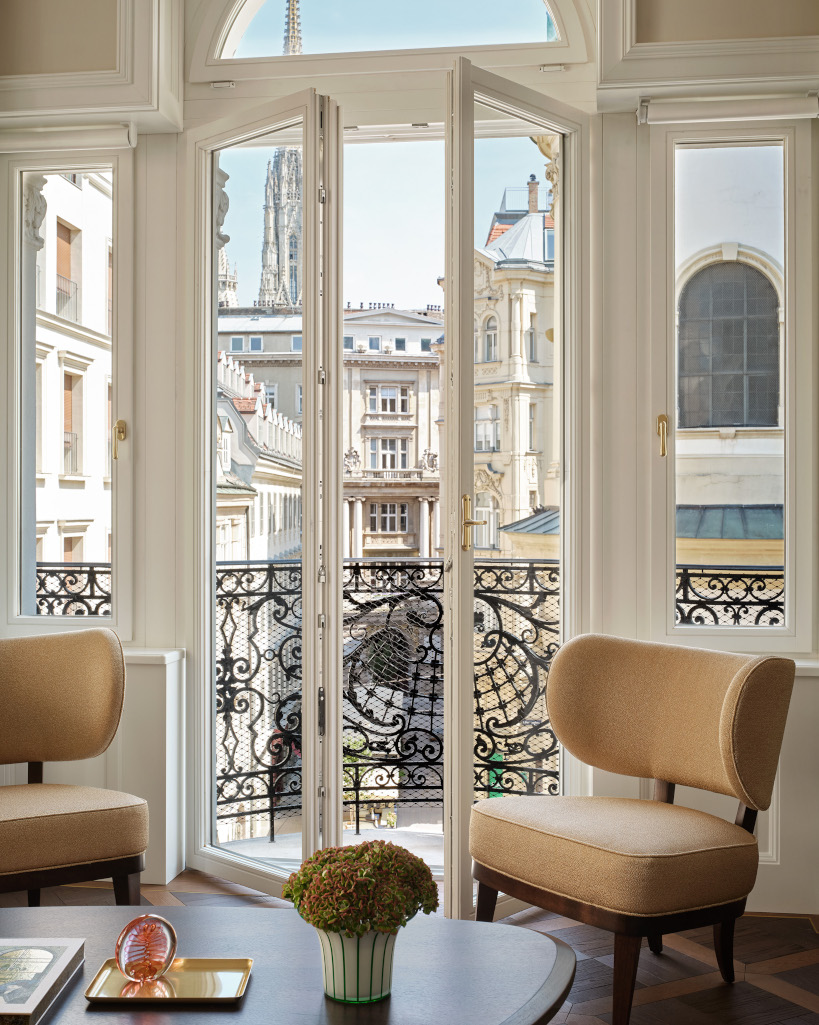 And was there a meeting where you guys sat around a table and decided to open this location in Vienna? How did that first come about?
Well, one thing about Rosewood is that we tend to find opportunities where we feel that they compliment the brand's DNA and the spirit of sense of place. Vienna is one of those destinations where it's not typically on your radar. In Europe, you normally tend to go to Florence, Milan, London, Paris. And Vienna, what we felt was that if there was an opportunity, we looked at several partnerships there, and this one particularly in interested us because it was centrally located, but at the same time, it was a unique to the extent that it would've been a smaller boutique property, and where we could be able to deliver on our promises of intuitive service. And so this particular opportunity came about six, seven years ago when we started looking at Vienna and we fell in love with it.
And how would you describe the interior to somebody, or the hotel itself?
So, the idea was to create a destination, a property that felt like an apartment, like somebody's apartment over the years and somebody who's collected the pieces of furnitures. And as we know, Vienna has not just beautiful architecture, but beautiful pieces through the mid-century, modern era especially. And so, what we've done is created this unique property that feels like a home. So you walk in, it feels like somebody's apartment that's kind of lived in. And I think we've realized the full potential of the property, in that it's really delivered on what we expected it to deliver.
And you mentioned that it's more of a boutique property compared to other locations. Is it like in terms of size? Is it?
Yes. So, it's 99 bedrooms. They're very spacious. 99 bedrooms and suites. And it also has a unique dining room. And also, as I mentioned, a spa which is not really featured in other properties in Vienna, that's very distinct in this particular property.
And what would you say is your favorite element of the hotel? Possibly the spa?
Just, when you arrive at this property, it sort of gives you the goosebumps. Really, my personal favorite element of the hotel is the lobby lounge, the Salon Aurelie. And why? Because it has this sort of evocative murals by a local Austrian artist, Marie Hartik. And typical to Rosewood, what we do is we work with local artists to deliver on something that's really genuinely unique and authentic and really speaks to the local destination. And so, this particular lounge has hand painted palm fronds, flowers and butterflies that pay homage to Palmen house, which is Palm House, and Vienna's impressive steel and glass art, Novo Botanical Gardens. It's really quite unique. And when you sit there and enjoy your afternoon tea with the typical Viennese coffee house, traditional elements, you really feel that you're in the thick of Vienna, in the midst of Vienna.
And I was just curious, if you had a free day in Vienna, what would you do? If you had a free Sunday?
If you had a free day. So, one thing that I've been wanting to do that I have not been able to do so far is to go and explore the nearby vineyards, which are actually within the city limits. And Vienna, of course, it's also known for its wine taverns called Heurigers or Buschenschank, as you would say it. Where people would come to eat, drink, and listen to live music. And the custom really, it dates back to the late 1700 and was actually inscribed in the UNESCO index of intangible cultural heritage few years ago. Yes, I would certainly do that.
How would you describe the spirit of the City of Vienna to somebody?
It's a crossroads of heritage meeting the contemporary. And this is where we are located. I would say that Vienna, architecturally beautiful, historically so much to offer. Modernity, it has all of that. As you can see at Rosewood Vienna itself, and the destination that it is. And then the place it's located surrounded by churches. But at the same time, I think that it feels like you're walking into a museum. The moment that you arrive into Vienna, you're actually walking into a museum and you're surrounded with so much, not just architecture, but the fact that Beethoven and Mozart lived there and lived in some of these homes and played in the bowels of Vienna. And so at every street corner, you're tripping into something historical.
Can you remember the last thing you discovered that last time you were there, that you discovered something new?
Well, of course, there's two things. First of all, there's a Viennese market that takes place every Christmas. That Christmas fair is incredible. And I discovered that the year before when we were opening, I remember it being really cold, but still going there and taking it all in. And then last year when I was standing at the rooftop, and I was looking at the architecture from above versus from below, you see such beautiful spirals and the finishes on the architecture in Vienna. And you look across the city and you think, "Wow." It's a dense city and everybody's very close to each other. But you welcome that, because you feel that this sense of community and this sense of togetherness in this unique city and something that I've not seen anywhere else. And our property, Rosewood Vienna, as I mentioned, with the rooftop bar, you can stand there, drink Austrian wine and take it all in.
If you could describe Vienna to somebody in three words, what would you say those three words would be?
Well, it's two words. But it's educational, it's enriching, and it's magical.
(SPONSOR BREAK)
My stay at the Rosewood didn't disappoint. Not only did the interiors hold up to the incredibly high standards the city represents, down to the customized monogrammed pillows, but the service was stellar. True story: When I left my iPhone in the taxi, upon arrival, the team at Rosewood sprung to action and helped me track it down, racing around town in a car and driver to follow the latest ping using my Find My iPhone feature. Long story short, I recovered it safe and sound. One of my first stops in town when the dust settled and I stopped hyperventilating was the home of Alice Stori Liechtenstein. This Italian-born curator runs what is known as Schloss Hollenegg for Design. An exhibition platform, and designed a residency program in a 12th century Austrian castle that has belonged to the family of Alice's husband for generations.
As a lover and expert of all things design, on top of her duties of the castle, she also recently curated a show at Milan Design Week on Glass and is preparing a major show of Loeb Meyer Creations at Vienna's Design Museum, the Mac that opens later this month. I wanted to ask her why she's so fallen in love with the city, what makes it such a livable place after all, and why some of her favorite names in Viennese design have yet to get their due.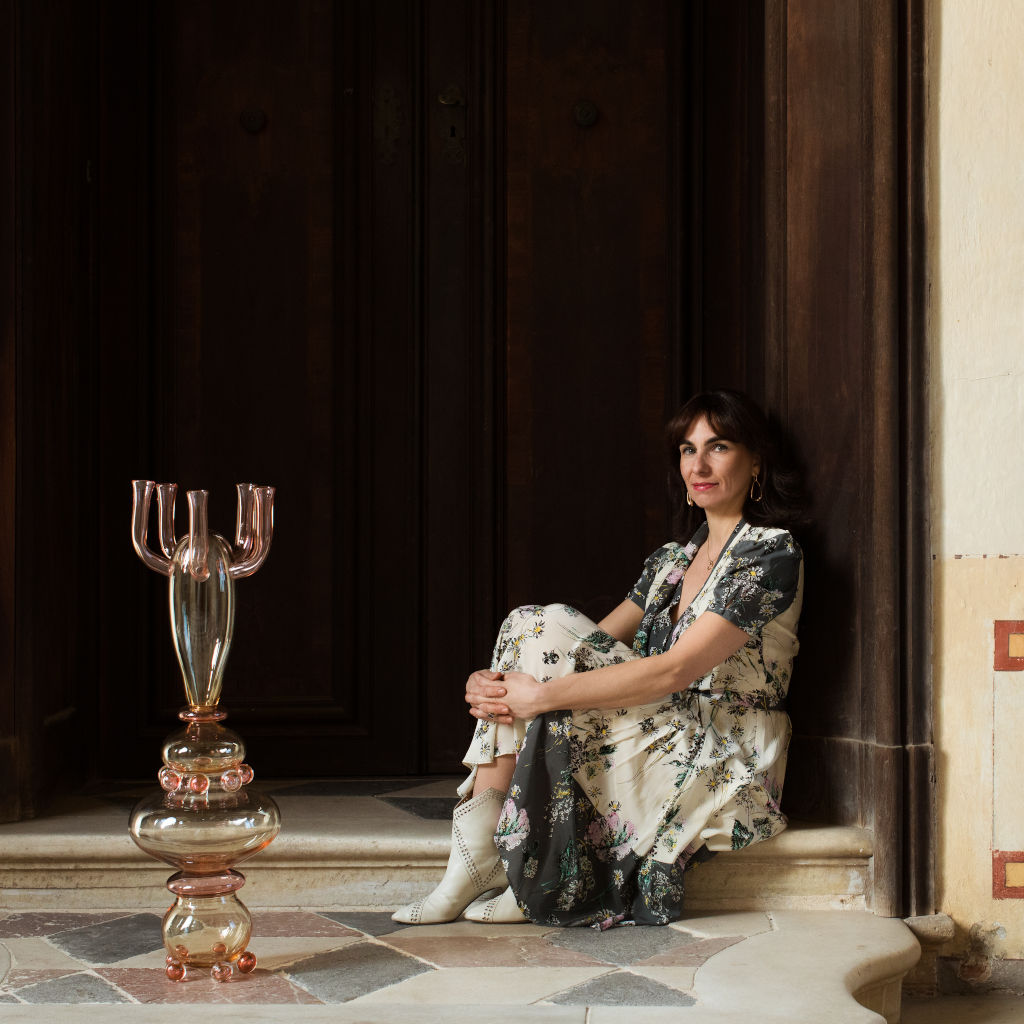 And so, we have a lot to discuss today, but I was wondering if you could tell me a little bit at first about the Schloss Hollenegg and your connection to it and what it is for people that don't know it.
So, Schloss Hollenegg is a castle that spans approximately 800 years of history. So, the first mention goes back to the 12th century, and the last architectonic additions were made in the 19th century. And it has been in my husband's family since 1821. And in 2015, I started the program Schloss Hollenegg for Design. So, we invite designers to come and spend time over the summer. They do a residency, and we have an exhibition program. So basically, we are a platform for emerging designers, and we are an incubator. And we have a program which compromises exhibition design is in residency and design talks, which happen in July.
And Schloß is "Castle" in German, more or less. So, where is that in relation to where we are now in Vienna?
So, it is based in Styria, which is a very beautiful region further South from Vienna. And it is in the countryside. It's about an hour from Graz, so it's about two and a half hours from Vienna. So, it's a very idyllic place. It's a beautiful countryside. It's hilly, it's a wine region. And the real challenge at the beginning was trying to convince people to come all the way there to see a design exhibition. But the place is amazing. We lived there full-time for seven years, which is when I started the program, and now I'm spending more time in Vienna, but it's still kind of home as well.
So, there's a part of the castle which is private, which is where we have normal things like kitchens and bathrooms and children rooms. And then there's a whole wing which is made up of historical rooms. Most of them haven't changed at all or haven't changed much in the last 200 years. And in these rooms there are all sorts of treasures from Renaissance furniture to Bedrock paintings and Chinese vases or Japanese lake objects. So, it is a small museum of applied arts.
And so what made you, after you had started to live there for a while with your husband, why there? How did that happen?
It took me a really long time to decide, okay, I'm ready to live in a castle. First of all, I'm not a countryside person. And the idea of moving into a castle was absolutely daunting. So I was like, "I'm not sure." So we started spending a lot of time there and the holidays and the weekends. And then at one point I was like, "Right, I have to take over and I have to take care of this place." And when we moved there, I realized two things. First of all, that the people in the area really identify with the castle. So they feel it's part of their identity, it's part of their history. They're really attached to it. And that made me think, "Wouldn't it be nice to open it up for them at least once a year?" So that was on one side. And on the other side, when you live in a place, you get a bit blind about the beauty of it.
And inviting people is always wonderful because suddenly they go, "Oh my God, this place is amazing." And everyone that you invite sees a different detail. And I realized I need to have people coming here the whole time, because it's good for me. And it's amazing for them because they really enjoy it. And so I just happened to ask Misha Traksla, which are Austrian designers, and I was like, "Well, would you do a residency in Hollenegg?" And they were like, "Sure, why not?" And I thought, well, if they're willing to do it, then there'll be other designers who will be interested. And that's how it started.
And once I invited the first designers in residence, which were Misha Traksla, and Dean Brown and Dos Fiorito, after that, I was like, well, okay, now if they come here and they produce a piece for the castle, then we need to present this piece. So we have to start doing an exhibition. And that set the whole ball rolling. And the good thing is I didn't quite realize what I was doing right at the beginning, so I just threw myself into it. And I think that's always the best way to do it, because if you start thinking about all the steps, then that kind of stops you. And then you just think, "Oh my God, this is too complicated."
Actually, you're not from Vienna originally.
No.
But obviously you live in Austria and you spend most of your time here. You're embedded in the fabric of the design scene here. The apartment that we're in now, when did you first start living here?
Well, this apartment is actually relatively new, because we moved into this apartment three years ago. I have lived in Austria now for 20 years, so that's not quite half of my life, but getting there. So I'm Italian. I've lived in several countries before moving to Austria. And I have to say, yeah, it feels very much like home now here in Austria.
Because I recently read that Vienna's was ranked the number one most livable city in the world. And why do you think that is? As someone who has lived elsewhere, but also—
I think there's a really good mixture. First of all, it's a capital city, which means that there are international people, there is a certain grander things are done on a big scale. The museums are amazing. There's a really wonderful cultural offer. There are several beautiful music venues, so you can really listen to first class concerts almost every day of the week. There's a lot of theaters. Culturally, it's really active, and it's both traditional culture and contemporary culture. So those are definitely things that make it a beautiful place. It's small enough that you can reach pretty much everywhere, either on foot or with public transport, but still, there's 2 million people. So it's not a small town anymore. I think it's just got a really good balance between having a lot on offer and also just having a relaxed, laid back atmosphere. And for example, you only need 20 minutes to be outside in the woodland around it, where you can actually do 10 kilometers hikes, which I do every week.
Oh, wow. Okay. When you came to this apartment three years ago, before that, did you have a place in Vienna? Or no, you were-
When I first moved to Austria, I moved to Vienna, and I lived here for two years. I'd met my husband, and I thought, "Well, what would be my future husband?" And I thought, "Well, wait a second. Before I commit, I want to live in your country, learn your language, see what I think of it." And it wasn't love at first sight. I mean, it was love at first sight with my husband, but it wasn't love at first sight with Vienna. It took a bit of adapting.
Why do you say that? Is that as an Italian, I guess?
First of all, because I was moving from Barcelona where I was leading this kind of like, oh, I'm such an artist kind of lifestyle. And because even if Vienna is a great city, the Viennese take a lot of pride in being a little unfriendly. So they're very scared of coming across as too friendly. So they don't like that. And so they tend to be a little bit on their-
Do you think that's a remnant of the sort of imperial past of this is where everything has to be a certain way and sort of propriety?
I'm not sure. I'm not sure. I think it's improving in the sense that the new generations understand that there's no need to be unfriendly to everyone in the street. But I think the old people just take a certain pride in that. I don't know. I'm not sure what it is.
Everyone I've talked to so far has been extremely friendly, I guess. But again—
Yeah, no, no, I think the people themselves, once you get into a conversation, they're absolutely fine. It's just this kind of general unfriendliness on the street.
Well, as a New Yorker, I think I understand that.
And a general unfriendliness. You go in a real typical Viennese cafe, and it's gorgeous and they will serve you really nicely. But you're a little bit scared of the waiter because he's going to be a little bit-
Gruff?
Yeah.
Right, okay. Yeah.
Because he's the owner and he's the boss, and you are just a tourist. And even if you're Viennese, you're still like his guest and his cafe.
And if you were to have a friend in town and you wanted to give them three things that they should do, what would you say those three things should be?
Well, my favorite place from my very first visit in Vienna is the Secession. So that's something that I still think is a beautiful architectural building. And it's got the Beethoven freeze in the basement, which most people don't know about. And it's really well run as a kuntsverein, so artist association. And they have really great exhibitions. And the ticket price is so cheap because it is an association. So I think that's definitely still my…It was my number one when I came here 20 years ago. And it's still my number one place. I always tell people. And then next to it, there's a Naschmarkt, which is the market. Which, yes, it's a little bit tourist, but I still think it's got a really nice vibe and you can get-
And what is it exactly? I also heard that.
It's a market. It's a market.
Like an outdoor market?
Yes. It's an outdoor market. It's got a lot of Turkish products, it's got great vegetables. It has a secondhand market as well. So [foreign language 00:24:04] on Saturday morning, so you can get fun things there, as well. And it's got a lot of really nice restaurants, small places where you can have a nice lunch. Those kind of go together because they're one next to each other.
I love the seventh district. That's possibly my favorite district for going window shopping, finding presents. There's lots of small shops, traditional shops, and lots of small shops that have beautiful objects. Not necessarily design shops, but just shops that take care of the good quality products that they have.
As someone who wasn't raised here, now that you've been learning a bit about Viennese history, is there any particular part of that history, especially in art and design history that maybe you think you've now learned a little bit, now that you've lived here or you've absorbed, that you think is the most interesting?
Well, through the Lobmeyr exhibition, I have absolutely fallen in love with Oswald Haerdtl, who was an architect. And yeah, I'm researching into that a lot. And Strnad was another architect who was more or less at the same time.
What era were they both?
Okay, so Oscar Strnad was at the turn of century, so he was born at the end of the 19th century, and he actually died fairly young in 1935. And my great love at the moment is Haerdtl. So Haerdtl was a pupil of Strnad, and he was also born at the end of the 19th century, and he lived until 1959.
So I would say it spans quite a big change in style, but they were extremely modern and they really, even if it was at the end of Haerdtl's life, he really gave a great character to the 1940s and 1950s, as well. So, there's very little written on him, so I'm kind of like, this is a pure dumb, I need to find out more about this.
And is there anything here in the city that they've left behind?
Well, so the Prückel, which is just in front of the MAK, which is my favorite Vienna cafe. So I suggest that you go and pop by tomorrow.
Okay, I will.
I hadn't realized. So it's always been my favorite Vienna cafe right from the beginning, from my very first months in Vienna. It then suddenly clicked because I was looking at all this Haerdtl things, and suddenly I was like, "oh my God, the Prückel." And I was like, oh, of course, he designed it.
And it hasn't changed that much. So you can still see a lot of his lamps and a lot of his design there.
And what would you say is, I mean, obviously of course it's like a touristy cliche to talk about the Viennese cafe and cafe culture, a lot of it comes from here and what we think about cafes and all that stuff. But now that you've lived here for quite a while, what would you say is today a defining characteristic of a Viennese cafe that you wouldn't get in…
Well, it's the fact that you can go in, sit down, and no one is going to chuck you out. So, you can really take your time. You can order one coffee, you can order five, but you can just sit there with your book or with your newspaper and have a really long chat or just sit there on your own. And that's something which is quite unique. Again, it's this thing about having the time to just be there. And I think that's something which doesn't happen in a lot of other places. I mean, I know in Italy it's like you finish your coffee, move on and go away, you know, drink a coffee standing in Italy.
Yes.
I would never sit down in a bar.
And most of the cafes here, a lot of them offer food too.
Yes, of course you can eat. And…
They're kind of diners in a way. They are kind of like the American equivalent of a diner in a sense.
Yeah, that's true. In a way it's quite similar. And then the other thing which I think people don't realize is that they have lots of different styles, so they're not all the same. So everyone will have their own favorite one because they like the way the tables are, or they like the lighting or they like where it's placed. So they're not all kind of done in a standard way.
(SPONSOR BREAK)
Even though I had visited the MAK Museum in the past, it remains one of my favorite places in Vienna. And the cafe that Alicia had mentioned, Café Prückel, is right across the street. It's the unofficial hangout for the museum, and its 1954 renovation is still almost completely intact and it's a must-see, and the food is equally as preserved in amber with all of its traditional glory and strictly mid-century style of presentation.
After some potato salad and a coffee at Café Prückel, it was time to visit Lilli Hollein, the director of the Museum of Applied Arts, the MAK. I met Lilli during my first trip to the city when she was the co-founder of Vienna Design Week. She also hails from a family filled with art and design connections. Her father was the famed Austrian post-modern architect, Hans Hollein. And funny enough, her brother is Max Hollein, the director of the Met Museum here in New York. The MAK sits on the city's grand Ringstrasse. The famed ring road that was developed by the emperor starting in 1857, replacing Vienna's medieval walls. And the museum itself, a marvel of the age was built after another proto design museum, London's V&A.
I wanted to ask Lilli, a native Viennese, why so many elements of the city's golden age of the late 19th and early 20th century still have such a powerful sway over the city's culture to this day.
So, the creation of the MAK was inspired by the V&A museum in London, and it sits on the Ringstrasse built during this sort of incredible time of expansion for the city. What was going on in Vienna at the time that made the founding of it so needed?
Well, obviously not enough in the sense of developing crafts and developing skills in design. So the founding director, Rudolf von Eitelberger, traveled to the V&A and was totally obsessed with the idea to have a museum of this type in Vienna.
What did he do, before he was the first director here?
He was an art historian. I mean, I think he simply sat in front of the emperor's office day and night until he got the museum. And that was also partly connected. The building that we are sitting in is 151 years old. The MAK itself is a couple of years older. It had been in a different location for the first years, but it was founded after the example of the Victorian Abbott Museum.
And then another milestone in the development was very soon the World Fair, the Weltausstellung World Exhibition in Vienna 150 years ago. And that on one hand contributed strongly to our collection, especially also to the Asian collection. And what's very interesting about the founding director, Rudolf von Eitelberger, he was really modern and a modern thinking man. So not only founding a museum with an exemplary collection or a collection that serves to train people in their taste, in their skills. And the building is really much the medium. It's the message that the building itself contains all the skills that at that time you would want to teach.
And talking about teaching, where we sit now and one floor up is where the Kunstgewerbeschule used to be. So, the building hosted both the museum and the school at that time. It was the school where Gustav Klimt and his brother studied.
Today, the school is our neighbor on the block. It's still a strong connection. But what I was about to say about Rudolf von Eitelberger is he was a really modern and visionary man, and he took advantage of the world being present in Vienna during the World Exhibition and held the first ever global art historian Congress that took place in the MAK 150 years ago.
Oh, wow. And what would you say was the material culture or the design culture of Vienna at the time when that World's Fair was happening? Was it just an age of explosive growth? Because I think that around that time there was a lot of growth in terms of industry and cities in the empire and new architecture. Is that fair to say?
It's almost hard to imagine what a turning point that must have been. If you imagine that the MAK was the first museum to be built on the Ringstrasse. So MAK is older than the Kunsthistorisches and Naturhistorisches, for instance, which wouldn't maybe perceive that way for you if you drive along the ring. But I mean the whole wall surrounding Vienna was taken down, this was city development in such a radical way. And so, I mean, architecture was in full bloom and there were so many possibilities to try out ideas, materials to have. And then of course to get influences also talking again about something like the world exhibition with an international background. And of course, especially Vienna around 1900, was a melting pot and a cultural platform for people coming from so many different parts of Europe with different cultural influences and sort of grew together here. I would say a very unique Viennese style.
And I'm wondering as now that you are in charge of this museum, and you obviously must speak to people that comment to visit all the time. I'm curious though, from the feedback that you get from them, what do you think resonates the most with people that come to visit? What kind of things do they see here that they react to, either in maybe a collection or even the building itself?
Well, what makes me really proud is that we are a museum that offers something for everyone. But of course, if you come as a tourist, again, I would always recommend the MAK, and I did before I came into that position. Because you have such a wide span view on cultural development, especially also in Vienna. So we have a beautiful Klimt drawing. We have the sketches for the Stoclet Friez in Brussels. And it's beautiful to see the handwriting of Klimt where he specifies which stone in the mosaic should be, of which materials, I think I find it a very touching piece. You have the whole Thonet history where furniture design moves towards the industrial age.
We have a fantastic Baroque collection, historicism, renaissance. Of course, Peter Mayer as a strong influence. And then we have with our design collections, so many contemporary topics.
So I mean, what people love about the MAK specifically, is a very unique approach that Peter Noever, my pre-predecessor, took in the nineties when he invited artists like Donald Judd, like Jenny Holzer, Barbara Bloom, Franz Graf, to work on our exhibition and period rooms. And for instance, Donald Judd was asked to do the Baroque collection room. And I mean, of course at first Donald Judd was saying, "why me, Baroque?" And it's my favorite. It is one of my favorite rooms. So this is something that specialists come for.
But yeah, with MAK, you get so many insights on the development of the Jugendstil of Vienna 1900 and in very different approaches. As I said, from Klimt to the furniture thing, we owned the archive of Wiener Werkstätte. And that of course was one of the super strong influences.
That was one of my questions for you is, the Wiener Werkstätte has this sort of hold on history and on Vienna, and it's endlessly fascinating and it's always going to be rediscovered. And anytime anyone visits like the Neue Gallery in New York, those pieces are always the most outstanding and the most interesting. And the gift shops are filled with, you would say reproductions maybe. Obviously, it's hard for me not to ask you a question about that here, when we're in Vienna. What do you think that those pieces have, why they have such a strong connection to Vienna and to history in terms of why they're never really out of the conversation?
Well, it is cultural heritage. It's DNA of some kind, maybe. And of course, I mean there were times in the seventies, eighties, no one was really interested in, you can steal furniture. And of course this rediscovering, as you said, Wiener Werkstätte you can always add something to the story.
We had an exhibition on display two years ago about the women of the Wiener Werkstätte. If you dig a little deeper there, it's so fascinating. And it was such a brilliant show if you look only at the patterns, yeah, you can get lost in that archive.
Oh, I'm sure. You know, you ran the design week of Vienna for many years. I was curious of all the capitals of Europe and all the major cities in Europe, what do you think Vienna's design culture today in the city as it is today, what makes it unique? How do you compare and contrast sort of that spirit of design culture in Vienna compared to say anywhere else?
I think Vienna's design culture still is at its best when it's sourced from many different sides. And when I founded Vienna Design Week with my two colleagues, Thomas and Tulga, 16 or 17 years ago, actually, there was not much going on in Vienna's and Austria's design scene and we didn't want to make a local festival. We believed that it's important to link local designers to an international audience, colleagues, manufacturers, but at the same time, to get international people here to work with what is an enormous heritage of the city. That we have so many manufacturers, that we have so many skilled craftsmen in super exotic crafts, they simply survived. And that's maybe something very specific about Vienna.
I mean, there's this nasty saying of when the world comes to an end, I'd rather be in Vienna because then it will be 15 years later. That's not completely untrue, I'm afraid. Because, Vienna has a certain resistance to trends and fashions, so we sometimes tend to oversleep things here.
Okay.
But then we jump on the train a little later and have kept certain precious pieces over the decades. And when we started the Vienna Design Week at the time, we still had so many of the small shops in the center of the city that would sell super specific products, but they're all gone by now.
Oh, yeah. I'm curious, as if I were to have an afternoon to go shopping in Vienna, what would you, for something in the design realm, or maybe even not, is there anything specific here that with your eye you would say that someone like me would love to see?
Well, something to bring home is always the little pralines by Altmann & Kühne. They come in boxes that have the shape of tiny furniture, and it's covered in Wiener Werkstätte that the designed paper. So, of course as the director of the MAK, this is something that I would recommend because it unites Wiener Werkstätte, the furniture, and fantastic pralines.
Oh, amazing.
We will open a showing on Lobmeyr glasses who have a strong connection with the MAK because the Lobmeyr family actually really was using the MAK Museum to train themselves to get connections to these designers. This is something that you will see in the show, but the fantastic thing is the shop is still there. You can just go and buy glasses by Loos and Hoffman, but also by Martino Gamper, Max Lamb and Helmut Lang, actually. So, there is contemporary designers that go on with this history.
I'd really go look for this very specific skills to work with certain materials. So many of these companies have roots that they were deliverers to the court and exist until today.
Vienna keeps getting ranked as the most livable city. So, from your own point of view, why do you think that is?
As a born Viennese and someone who really spent the largest part of my life here, I did that with total conviction. I love Vienna and I enjoy Vienna because given the size of the city, it is big enough to be a small metropolis, but it provides a cultural program that you wouldn't find in many other capitals.
So it is a city of culture, which I personally really enjoy and consume. I spent my weekends in museums and theaters, and at the same time, I mean, you can take your bike, you can take the subway and jump into an old arm of the Danube River and swim there. We bathe in drinking water. We are so privileged there, and I hope that that will last for some time, that we have these resources of the surrounding the city. So you have the woods, you have so many recreational areas really nearby.
And at the same time, yeah, I would dare to say and open-mindedness I am sure, not everyone will agree with me, but it's the same thing with the grumpiness that they say about Viennese. It's not true. It's a different kind of charm, but once you grooved into it, you will really enjoy it.
(SPONSOR BREAK)
After ending my stay at the Rosewood, I transferred from the latest hotel to one of the oldest. Found right across the road from the State Opera house, this family-run, five-star hotel is the stuff of local legend. The Sacher. Every day, you'll see a line for the attached cafe going out the door, rain or shine, where tourists patiently await their turn for a bite of its famous chocolate cake.
Once I got settled, I met with Alexandra Winkler, whose family owns the Sacher Hotel and its sister locations in Austria. Our interview took place in the small, but incredibly elegant Rote, or red bar, at the hotel. Just the night before, I sampled all of the classic Austrian dishes there and can easily proclaim it as the best schnitzel I've had in quite some time. I spoke with the gracious Alexandra about the wildly successful Sachertorte business that today ships all over the world; the history of the grand hotel that's had guests from every walk of life, including JFK, the late Queen Elizabeth and just about every celebrity who has ever passed through town, and how its most famous owner, Anna Sacher, was a hard-driving woman ahead of her time who had a pension for cigars and French bulldogs and who made the hotel the absolute center of social life in Vienna for decades.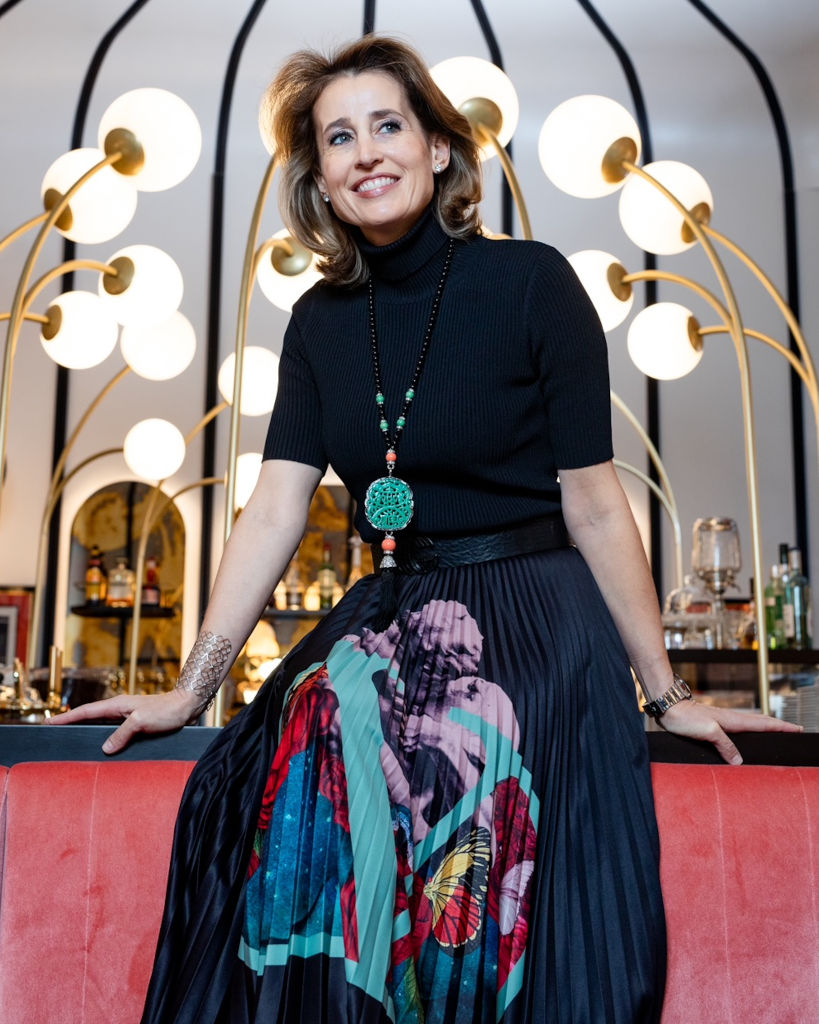 And tell me a little bit about the history of this hotel because obviously, speaking about this restaurant, it goes way back. So I'm wondering if you could give us a brief history of the hotel.
Okay, so I'll try to do the big points very short. So, everything actually started in 1832. At that time, Franz Sacher, he was 16 year old and he was an apprentice of Count Metternich. And the executive chef was off duty, and they asked Franz to create a cake because Count decided to have guests.
This Franz Sacher took some chocolate, some eggs, some marmalade and he created the Sacher cake. This is how everything started. And the big luck for us was that he was allowed to call it Sacher cake, not any other name, and that everybody really loved that cake.
He had a few sons, and one of his sons was named Eduard. He founded this place in 1876. Before, he used to be in Paris and London. He was very much into the gourmet business. He had a shop, so he really traveled the world before he came back here in 1876.
He managed this place together with his wife. She was called Anna Sacher. Unfortunately, he passed away very early so Anna Sacher had to take over the hotel to run it by herself. And she did this very successfully until 1930.
And I heard that she was quite the character.
She was an amazing woman. Yeah, I really would have loved to meet her personally. Today, I would say she was an entrepreneur. She was a real businesswoman. She was the person who made this hotel really famous. She loved to have nobility around her, famous people from politics, art, music, economics. She really knew how to do that and how to network and how to bring people together and how to be talk of town.
When she took over the hotel, women were not really running a business at that time. It was really untypical, and she had to fight for that. She had to fight to get the permission to run it, and she was extremely successful in what she did. She was very close with her staff, so she knew what they want, which problems they had. She was caring for them. She was, how shall I say? She came from a butcher's family and she was always smoking.
She was working class, in a sense.
Yes, but she was smoking cigar and she had a deep voice. She was very clear in her comments, I have to say, what she wanted. And really, yeah, she was an institution, let me say like this.
What was the city like back then? That was such a period of growth, right? We're talking about the late 1800s. That was a real… Lots of things we'll be talking about on the podcast, like the MAK Museum and the Ringstrasse and all of these things were built around that time. What part of that culture and that time in Viennese history that helped shape the hotel as it is today, do you think?
Well, I think she had a lot of famous people who came here, as I already said. I think many deals happened to be here. She asked all these people when they came here if they could give her a photo. They dedicated it to her. They signed on it. She had a tablecloth where she used to have the signatures of the people, and she used to stitch them.
Oh.
And there was a funny story, I think, where you could see how she was thinking and how she did her business. She wanted to have the signature of the emperor on this tablecloth, and so she asked the girlfriend of the emperor, who was named Katharina Schratt and she was a friend of Anna Sacher, if she can ask the emperor for a signature, which she did. And then she took this handkerchief on which the emperor signed, gave it to Anna Sacher and she put it into the middle of the tablecloth and stitched a little crown around. So I think by knowing this, you can see she organized the things she wanted to have.
She would've been really good on Instagram.
Yes.
I think, probably.
For sure, for sure.
So, I also heard that of all the traditions that you still hold up here, you're still doing the tablecloths with people's signatures. Is that right?
Yes. We not only…As Anna Sacher said, she had a picture, but she also had the tablecloth. And we continued her tradition. So if a VIP guest is leaving, we kindly ask him to sign on a tablecloth, which we afterwards stitch as well. So, I think we already have now six different tablecloths with really famous people. And I think this is something unique, which I have never ever seen at any other place before.
Wow. Yeah. And how many signatures do you fit on a single tablecloth?
I would say it's between 150 and 170.
Oh, wow. Okay, so it's a very big tablecloth.
It's a very big tablecloth. Yes.
Are you able to display them here?
We display the original one and two others. But apart from that, we don't have enough space. This is one of the problems. This hotel was not built as a hotel. It grew over the years, and we are within six different houses. If I had a wish, I would make this house a little bigger. But unfortunately, this is not possible. So we are missing space to really display all these tablecloths.
And if you had to describe the hotel today to someone…We had dinner last night and you mentioned that you worked in New York many years ago and you've studied this industry very well and you know it like the back of your hand. And how would you describe to someone if you went to any city in the world and they said, "What is the Sacher"?
Well, the Sacher is, for me, the only family-owned, five-star hotel in Vienna. It's an iconic and unique hotel which has always been a hotel since it was opened. So it's really…If you come here, you get a really authentic feeling of Vienna.
It has a wonderful location because we're just opposite the Vienna State Opera, two minutes away from the Albertina Museum, a few minutes away from the Museum of Fine Arts. So culture is very close to us. We have fabulous rooms. We are working together with Pierre-Yves Rochon, the internationally-known interior designer. We have an excellent service.
We just got a prize. We were voted as the…This restaurant where we are sitting right now was voted to the restaurant with the best service in Austria. We just got it two weeks ago.
And I think whenever you come here, you feel that there is a family. Each piece of furniture, each fork, each curtain, everything is selected by the family. Wherever you see a picture, I mean we decided where we should put it. Should it be lower? Should it be more left? Should it be more right? So if you come here, you somehow enter our private home, I would say.
Yeah, no, I can imagine. And how challenging is it to be a family-run, five-star hotel today?
Well, I think we try to do as good as we can. We're a big family. My mother used to do the hotel. It's my husband, it's my brother, it's his wife. Of course, we can feel that there are chains who have a big marketing, but we always try to be faster to do the extra mile. And we are part of the Leading Hotels of the World, which is a distribution network of family-owned hotels. And I think we have a very prosperous future in front of us.
And are you from Vienna originally?
Yes. I was born and raised in Vienna.
Oh, okay.
I love this city. For me, it offers so much. For me, it builds a bridge between north and south, between tradition and modern, between big and small. It has an enormous offer of culture, the amazing architecture. If you walk around, for example, the Ringstrasse, there are so many things you see. You have a lot of green spaces. For example, the Prater or the Vienna forests which are not far away or the vineyards in the 19th district. So the quality of life in this city is something really special. And Vienna was also… Last year, it was voted as the city with the best quality of life. So I think this is something we can be really proud of.
And I'm curious. In Vienna, the names of history and the artists, they're not just in a museum. They really are surrounding you with interiors and architecture. Is there a particular art Viennese artist or creative person that you really identify with?
I would say it's Gustav Klimt. Yeah, I'm fascinated by him. I mean, he is the very famous artist the end of 19th, beginning of 20th century. He was also the co-founder and director of the Vienna Secession. It's a movement of artists who wanted to be different than the artists you know so far. And he found his very own style of doing things.
As already mentioned, you see Der Kuss at the Belvedere. Everybody knows this, but there is a special exhibition that's been going on in Vienna for 300 years of the Belvedere where you see how Klimt got inspired. So what did he see from other artists, and how did he then use it in his art? Or for example, in the Vienna Secession, you see the Beethoven Frieze. He was especially doing this for the Secession.
Yeah, and the Secession building is also incredible. Obviously, it's probably the number one stop for anyone who loves architecture. Yeah, absolutely. Well, of course we have to speak a little bit about the Sachertorte directly because it's not just a cake that you make here at the hotel, but it's a whole business.
It's a whole business. Well, we used to do it at the hotel really for many years. And it was so funny because when I in the morning came out of the garage to go to the hotel, you could smell the chocolate. It was amazing. But due to the fact that we are doing so many cakes now, it's about 365,000 we're doing every year, we had to move our manufacturing a little bit outside where we have more space.
But coming back to the cake, I think it really was an innovation when it was done. Because by the time when it was founded, cakes were done completely different. They were part of a baroque tradition, so you can imagine them like a wedding cake. So really big. And the glaze of the chocolate was done with ice or with jam, but chocolate was not used to cover it.
So the innovation behind that cake was that…The Sacher cake, first of all, people used chocolate. And chocolate, of course, conserves and you have a much longer shelf life with the chocolate. So Franz and Eduard Sacher, they both shipped the cake. And already at that time, they had between two to 400 which they were shipping. And this was really something you never ever experienced with a cake before.
And as we were also talking about before, you don't refrigerate it.
No.
You keep it in room temperature, which I guess helps.
I mean, the perfect temperature to really store it is room temperature because the chocolate just tastes different than if you keep it in the fridge. And you have to have it, I have to mention that, with whipped cream, but no sugar added.
No sugar.
Just normal whipped cream.
Ah, okay.
And, I mean, we are still doing it. It's 34 steps how you create it.
Oh, okay.
All done by hand.
Oh, wow.
And we still use the secret recipe from Franz Sacher which he created in 1832.
What role do you think music has to play in the city and in the culture here? Why do you think it has such staying power here?
I mean, if you think about so many different composers, think about Mozart, think about Strauss, they all had to do something with Vienna, something important. So Vienna without music? That's not possible.
You have the New Year's concert which takes place every year. It's broadcasted all over the world. You have the Vienna Philharmonic. You have the Vienna State Opera. You have the Musikverein. You have the concert house. You have in Salzburg the Salzburg Festival, which takes place in the summer in the Easter. You have the Mozart Week in January. So I think Austria in general is very, very linked to music, to culture.
And in terms of…There's a lot of talk, of course, about how Vienna is a livable city. And why do you think Vienna keeps getting this recognition as being a livable city? What do you think it is about?
As I already mentioned, I think it's the combination of art, of history, of culture, of safety, of green around you, of clean. I think Vienna is a very, very clean city.
It is. Yeah.
It has a wonderful medical caring system. So for me, if I had a choice, if I would like to leave the city and go somewhere else, never ever. I just love it here.
My next guest is Bodo Sperlein, a German-born designer living in London who has a unique perspective on the Viennese design scene as he's designed for various legendary brands there including Lobmeyr. I connected with Bodo from my suite at the Sacher Hotel to chat about his first time in Vienna, his admiration for the city's workshops that go back to the imperial court and more.
When was the first time you ever visited Vienna?
It's quite a while ago. It's around 30 years ago, first time I was in Vienna, because obviously, from Munich it's not too far away. So it's not like a very exotic place to visit. But on the other hand, it's also a place which is very east, has all those Eastern influences which were intriguing and interesting.
And obviously, you are in Vienna, and Viennese are very particular people. They have a certain…In comparison to Germans, they're different. But I like their sense of humor, which is very, very similar to the English humor which I really appreciate. Yeah, it's much darker.
What I love about Vienna as well is the appreciation about still craft and skill. And that, I think, fascinated me mostly about Vienna and still does to this day. You have a lot of still workshops in town whereby in other big cities like Berlin and other, it's difficult to find those sort of workshops still working. And why is that? Because people might not necessarily buy hand-produced products anymore or don't have the interest in that type of product or don't appreciate that type of product anymore. However, in Vienna it's more people have those products at home and treasure them, and then sometimes they have to be repaired as well. So you would bring something in for repair or restoration and so on.
And I think that's what's great in Vienna, that people still really appreciate old things. And that doesn't necessarily mean they live in the past, but they have the appreciation. And I think they get that from their family or from their upbringing slightly different, I think. Yeah.
It's quite magic it's very unique. I think Vienna is a very, very unique place in Europe for that.
And obviously, one of the design houses that you've worked with many years and for different projects is Lobmeyr. And I'm wondering if you could describe for the audience what kind of special place they hold in the hearts of the design community because they are one of those names that is still special.
They're super special because A, they're still around, which I find already quite fascinating. And obviously, this year it's their 200-year anniversary. For a brand to be around for 200 years, it's quite amazing. And when you actually look at the logo, it's an amazing logo which was designed 200 years ago. And you look at it and think, "Wow, that is actually a very contemporary-looking design."
And when you dig a little bit deeper…I mean, with Lobmeyr, and particularly I was very pleased that we did get together and work together because they tick a lot of the boxes I appreciate about manufacturing and manufacturing companies. And one of the main plus points was that they were the first company to do an electrified chandelier, and that was with Edison. And I thought, "Wow, that's like the moon landing." So literally, if you do a product with Edison at the time, I mean he could've probably chosen quite a lot of companies, but he'd chosen Lobmeyr to do that with. And I thought that was an amazing story. A lot of people don't really know about that. But when I heard that, I said, "Wow, that's an amazing story to have."
The other thing with Lobmeyr is that they are incredibly quality driven. They have a very good understanding what a product should be designed or should be produced for. And it's very well produced. That means it has a longevity. It's not produced for a short period which, again, is very interesting.
Because from a designer point of view, I'm not very interested in designing so-called fashionable products. I find fashion a bit of a difficult word because fashion becomes quickly unfashionable. And with Lobmeyr, the whole company is based around traditional, historical products, but also contemporary products. And I think their portfolio of contemporary products become future classics, and that is a very, very nice feeling. So you know you're never going to end up on the rubbish heap because it's going to be unfashionable in a few years. And it will also withstand the time because it's so well produced. The lighting collection I did for them is solid brass which is then hand bent, and it would be incredibly difficult to destroy, I suppose. And the glass can be replaced and so on.
And I really admire their…It's like a little fairytale when you arrive at their 18th century building and the workshops are a bit disjointed. One room is for this, the other is for that, and then you have to go to the second floor to see the wiring people. It's really, really interesting to work with companies like that, and I'm glad there's still companies like that around.
And what I talked about before about Vienna being very unique because of those workshops is because there's people still appreciating that and actually make it possible for companies like Lobmeyr to survive and have a clientele. And I think Lobmeyr has a great international reputation. And obviously, you being from New York, you know that they did the Metropolitan chandelier and the Met Opera, which I found very fascinating that such an iconic piece is actually being produced by Lobmeyr, and again, I didn't know that initially. And when I then found out, I said, "Wow, actually they're doing a lot of very amazing projects." And when you go to Lobmeyr to have this list of names of projects they've done on a big wall and you stand in front of that wall and it's quite at all because you say, "Wow, okay, they've done that castle and that castle and they've done that building and this." It's, yeah, it's a really hidden treasure. And what I like about Lobmeyr… Well, they're not so loud. They don't shout. They don't walk around and say, "Wow, we are amazing. We're amazing. We're amazing." I think the people in the know, they know they're amazing and I think that's how they like it. It's quite a Viennese thing as well. It's bits of gentleman like.
The bust of the founder is literally part of the architecture of the MAK Museum.
Correct. Absolutely. Yes.
He's right. Mr. Lobmeyr is right there overseeing everything. They're like a one sentence away from being mentioned at any time you talk about design in Vienna, whatever it is. It is quite magical to see and then also just to pass by the shop, which is here in the center of town. Yeah. If I asked you to describe Vienna to you, what it means to you in three words, what would you say?
I'd say delicious, stylish, and sarcastic. Sarcastic, not in a negative way, but it's almost like a less schizophrenia situation because they are quite sarcastic as people. They're quite funny.
I know. That is a part that is probably more apparent to you as a German person than to an American. Although I have heard Austrians themselves speak a little bit about their sense of humor or how they view their own sense of humor. So it's funny. Yeah, you are the third person who has mentioned this kind of peeling back the layers of the culture here and of the people and of the history and how complicated everything is.
But it's fascinating. It's like everyone has a slightly different angle, take on it, of course. But there's definitely a common thread amongst the different people that I've spoken to, whether they're Austrian or British or German or Austrian themselves.
As I said, I really like Viennese. I have really good friends and I made good friends through work because they have such a cultural understanding and they seem to be a bit better educated on the cultural aspects. They really know their things and they're quite geeky to certain… If they like a subject matter, they go really deep, which I think is really great. So you end up having really great conversations. But maybe there is also the Vienna coffee house culture, maybe stems from that. The Viennese probably love to hang out and have little chats. In the past, if you had a business card in the 19th century, you would probably not put your address on, but you have your address of your coffee house where you can meet that person during the day because people spend so much time in the coffee house discussing subject matters, politics, gossip, et cetera.
And I think, for me, being born in Bavaria, I can understand them very well. I can understand a lot of the accents in Austria and I can understand the Viennese accent as well. And they respect you a little bit more. They always say, "Oh, well you're almost one of us because you're from Bavaria," that sort of thing. Whereby they get a bit more surety with people, let's say from Hamburg or from other German cities. They go like, "Oh, they're piefke. They call them piefke, which are very sort of like…But it tells you, Viennese are very…They also have a certain charm, which it's a hard charm. It's not like trying to be slimy or something. But on the other hand, if you make friends with them and if you break through the whole facade and everything, I think you will have friends for the rest of your life. They're very, very loyal. I like that about the Viennese.
While history is everywhere in Vienna, Austria does have a growing contemporary art scene. My next guest is Jasper Sharp, the director of Phileas, an organization that started in 2014 that promotes Austrian contemporary art, both at home and abroad. And this year it partnered with the Austrian government to become state funded.
As a Brit who sees Vienna as his adopted home for many years, he was once the curator of contemporary art here at the Kunsthistorisches Museum. Jasper was the perfect person to explain to me the country's appeal, not just to the casual visitor, but to the contemporary art scene as a whole. We met at his organization's new gallery space to speak a bit about the complexities and promise he finds in Austrian life and culture.
How did you end up in Vienna? As someone who is, you're pretty embedded here in the contemporary art scene. How did you find yourself living here?
So, I was living in Venice, in Italy, just neighboring country to here for six years until 2005. So, I'm working my way through the Vs basically. I don't know where's next? Vladivostok or somewhere.
Vanuatu.
Yeah. Vancouver. I was living in Venice and about two weeks before I was due to leave Venice and move to New York to start my PhD, I traveled up to Austria. And at a wedding, a wonderful Austrian wedding at one of the great lakes in Austria, I met this wonderful person. I waltzed clumsily over her feet all night long. She still wanted to talk to me afterwards, which I figured once the feet waltzing had been done, that wouldn't happen. But it did. I made it to New York for about four months. I commuted every three weeks back to Vienna, back and forth, back and forth until it became financially and emotionally unsustainable. And then I moved here, almost on a whim with the idea that I'd be here for a couple of months. And that was 17 years ago. And she's still my wife.
Okay, well that's good. But when you did come here, I think, or originally you were working at the museum, correct?
I had worked at the Guggenheim for six years. My first job, I was 30 and I came here basically with nothing to do. I called a wonderful lady called Francesca Hapsburg that I knew that I'd collaborated with in Venice while I was living there. And she said, "Sure, come and work, come and be a curator at my foundation." So I arrived on February 13th, 2006, and I started work on February 14th.
At what point did you join the Kunsthistorisches?
So, I started talking to the Kunsthistorisches around 2010. I did various projects for the first few years. I wasn't really in Vienna for the first couple of years. I traveled like hell and I came to realize… I was wondering why Vienna, why I wasn't getting more back from Vienna. And I came to realize that I needed to commit to the city for the city to commit to me. Kind of like anywhere, you get out where you put in. And so I slowed down the travel and tried to find some projects here to do. And the Kunsthistorisches approached me around 2009, 2010, and asked me to conceive of a program which would bring the art of today and recent years, let's say the 20th century, into this wonderful old imperial collection of very old objects. And I spent 10 years doing that, which was amazing.
And from that, once you committed to the city, what did you learn from that period?
Vienna just is…the greatest way I can describe Vienna is, sometimes you see someone coming out of an apartment block and you get a little glimpse in what's behind a door, and you just see this extraordinary courtyard with greenery and amazing architecture. It's almost like a metaphor for the city as a whole. There's a lot that takes place behind closed doors. Viennese can be a bit grumpy sometimes. It's a wonderful kind of charming, they call it the "Vienna Grant," and it's charming, get a little tiresome sometimes, but not unlike many other places that we know around the world. It was also learning German. I speak more and more German, which is good. We're doing this in English today.
Yeah, just things opened up and I discovered fascinating people, fascinating places. And that began to peel away the layers of the onion to understand what this amazing…So, it was learning about its history, learning why some of these complexes and these paranoias that still penetrate and permeate the city, where they came from, why they're here, why they linger, what perpetuates them. So yeah, it continues to fascinate.
I remember when I was thinking of moving to Vienna, I called an artist friend who's a wonderful artist who lives and works here, teaches here. And I said, "Hanz, what do you think, Vienna?" He says, "It's this is amazing place, Vienna. There's so much to kick against. There's so much darkness." And I asked him to tell me more about that. And he said, "So much troubled history, so many troubled protagonists, imposing architecture, lots of ghosts of glorious times and less glorious times, really fertile place for writers, composers, choreographers, artists, all sorts of people." And this really fascinated me. Having come from Venice, which is a sort of chocolate box that almost defies you to be creative because it is the ultimate representation of human creativity itself.
It really intrigued me to come to somewhere that was similarly glorious but with an edge to it that…Venice has its nostalgia and its darkness and so on, but Vienna is incredibly unique, I think in that respect. Has a certain melancholy, which I've always looked for in places I go to, but with a tremendous joie de vivre at the same time.
And does the city kick back?
The city's got a kick to it. The people have got a kick to them. They're not always the most accepting immediately. There's some amazing, huge-hearted people here. They're often the people that spend a little bit of time elsewhere. Very few people actually that I come across here are actually from Vienna. Certainly from my world. Everyone seems to be from somewhere else. Even the Austrians are all, they've come here to study. This has got a bit of a kick to it.
When I was very young, I lived next door to an artist, Lucian Freud, whose family actually came from Vienna. And Lucien once said to me that he loved people who had a little bit of poison in them because it made them more interesting. And I think Vienna, and I mean this very much as a compliment, has a little bit of poison to it. Its history is obviously tainted as is pretty much everyone's history in the world, to add a disclaimer. And this makes it a really fascinating place. It bears its agonies. They're very open out, they're considered, they're talked about. The city of therapy is itself constantly undergoing a very public form of therapy. And I find it a fascinating conversation to listen in on.
Yeah, well it also seems like from an urban point of view or a cultural point of view, the empire is gone, but the shell is still here. The architecture and the institutions and the palaces and the culture and the waltzing and everything is still here, even though everything else is not. So, even though every place has history and baggage, there's something where here there's not a else a lot else to distract you from history.
Yeah. Bill Bryson, the travel writer, once said that if an alien landed in Vienna, he would feel pretty sure that he landed in the capital of the world, such is the grandeur. And they built Vienna very carefully so there's a lot of empty space in front of these big buildings so that they feel even more impressive than in some other cities like in London where they butt up against other great buildings immediately.
Yeah, the interesting thing about that history is a lot of people here have great nostalgia for that moment and almost live as if nothing had ever changed. The museum I worked for has 798 employees. It was almost like the age of the empire had never actually ended. Other people are doing everything they can to eliminate every trace of that history. And that tension between the people who long for those days that are now gone and the other people who are almost ashamed of them is itself a really interesting cocktail.
And for fans of art and design, when they come here and they absorb everything that we all would speak about when you come to Vienna, what do you think that they would realize after that first couple of weeks here, just as a visitor, if they stayed? The first week, they're going to see all the museums, they're going to do all the shopping, they're going to go look at the architecture.
I'll stop you right there, just to see all the museums, you need several months.
That's true.
The density…One thing you have to remember is that the entire cultural landscape here of museums, libraries, opera houses, theaters, was built for a population significantly larger than it is today. Vienna is one of the few major urban metropolis which has shrunk in size. It's gradually, pretty quickly actually, catching back up to that empire, imperial level. But it's smaller than it was. And you can have the amazing pleasure of walking into the Kunsthistorisches Museum at 10 o'clock tomorrow morning, making a beeline straight for the single greatest painting that Vermeer ever made, which amazingly is not in Amsterdam at the moment for the Great Exhibition, and you can stand in front of it probably for an hour before somebody else walks into the room. That is extraordinary.
So, as many people as are in the city, you can find pockets of quiet in the most extraordinary places. One thing that I think makes Vienna completely unique…I notice, for example, certainly in my world, in my field, when Vienna imitates the structures and models of bigger cities, of the New York's and the London's and the Paris', it can occasionally show up its frailties somehow, almost embarrass itself a little bit when it takes on these kind of…When it plays by its own rules, to its own strengths, it's utterly unique.
So, Lilli Hollein, someone that you've been speaking to, Lilli as part of Vienna Design Week, set up a series of walks through different neighborhoods in the city where she paired young designers with traditional handmade manufacturers in the city. You can walk through the very center of town here in Vienna and find people making shoes, chocolates, ceramic, cutlery, guitars, all over the city but even from the very center. And most major European cities at least, they've vanished. Either they've outsourced or they're banished to the suburbs or to the countryside. It's all over Vienna. It's really remarkable. The making that still goes on here and the passing on of traditions and crafts and techniques is, for me, pretty much unparalleled in the world.
And so as someone who knows the city so well, knows the culture pretty damn well at this point, when you're working with the contemporary art scene here in Austria, what is it the thing you often are pushing not against, but the part of the world around you that you're trying to massage or maneuver in some new way, because you're trying to, do they need help thinking about how they think about Austrian artists? Is it about how they fit in with the greater world of contemporary art? What is your main challenge here for this organization?
Firstly, it's to get people to Vienna. It's happening more and more. But for a certain generation, Vienna's been a bit of a blind spot. For many years, when the Iron Curtain was still up, it was the last frontier. You were not on your way to anywhere else when you were going to Vienna, further east than Berlin. I remember Adam Weinberg, director of the Whitney in New York, called me a number of years ago and said, "I'd like to come with my trustees. Could you put together four or five days in Vienna for me?" He'd never been in his life. He's director of the Whitney and some of his most senior trustees, seasoned collectors, never been to Vienna. And they came and we had four amazing days.
On the last night we were at the Black Camel having a schnitzel, and Adam stood up, raised his glass and said, "Here's to Vienna the best kept secret in Europe." And he was astonished. It was a sort of sweet, sour thing to say. And your heart sinks and flies at the same time. So that's, in terms of getting them here. Because when they're here, they're amazed by what they find. The density of artists, the variety of institutions, world class artists just basically hiding in plain sight. In terms of what we try to do in the city itself, it's really just trying to get people to talk to each other. We-
You mean Austrians talking to one another?
Yeah. And just getting institutions…This incredibly dense landscape of cultural institutions, it's really about trying to…Part of what we see as our mission is to present an image of the country and project it out. And that requires a certain level of cooperation and collaboration between the main protagonists, which is not always…I think for me it's a symptom of a slightly smaller country, is that everyone knows each other and it makes for a more intimate and more familial, but also a slightly more polemical environment sometimes, where larger cities or larger countries, there are greater distances. There's a greater space between things, which allows for a little bit of breathing. We live on top of each other here, which is amazing. But it just means that communication often is the bit that suffers, strangely enough.
And you mentioned before the little quiet spots in Vienna, the places maybe that are not on the to-do list. If you had a Saturday with no responsibilities, all by yourself, what would you do with a Saturday like that?
Do you know what? It's interesting you say Saturday because in somewhere like New York City, it would have to be a Saturday. The great thing about Vienna is, it has a really forgiving human pace of life. I used to think that it was slow because I came, basically, I grew up in London and it took me a long time to realize that actually Vienna's not slow. Vienna's the pace of human life that we should all live at. London is too fast. New York is too fast. I'm always 15 minutes late for everything there. Here I'll bump into a friend on the street. Five times out of ten, I'll have 20 minutes to go and have a quick espresso. That's never the case in a bigger city, for me at least.
So, if I did have a quiet moment, which could be on a Saturday, but could also be on a Tuesday, I'd probably get on the tram, one of Vienna's unbelievable trams. And if you're lucky, you get an old one with a heated wooden seat and head out to Lainzer Tiergarten, which is the old imperial hunting ground. And you can literally walk for three hours without turning back. This is within the city limits. In the summer, I would go to one of the amazing Heuriges, which are these vineyards. Again, Vienna I think is one of the only cities in the world that has vineyards within the city limits. You can sit out under the vines and eat food cooked often by the wife of the vintner. Lovely. You can have roast pork or you can have all sorts of lovely vegetarian spreads and things. Just go and sit in the hills with a view over the whole of the city, high up in the vineyards. That's a pretty unique experience in Vienna.
And that's when I talk about the sort of human pace of life, people take time to do that in the summer. It's a thing that people do. And not just on a Saturday, but on a Tuesday night, a Wednesday or Thursday. People knock off work a little bit early. Got a pretty good work life balance here. You can go at a hundred miles an hour here if you want. You can go to all the bright lights, amazing clubs, theaters. You could be at different opera house pretty much every night of the week. But you can also hide. You can write a book here. You can compose a symphony here. You can think here. You can lead a family life here.
We think of places like Switzerland being quite functional and quite boring. Vienna marries some of that functionality. A public transport system which works, a health system that works, a school system that works, gardens that are clean and beautiful and planted with flowers, with an amazing edge. And one thing that I would say we try to do above all is to bring people to Vienna, not for its historical legacy. As much as we love white horses and Sachertorte and Egon Schiele, we are trying to bring people here for what's cooking right now and what's going to be known 20 years from now. Get people to see it now while it's still on the way up.
Thank you to Fallon Nachmani, Kaleigh Johnson, Dung Ngo, Sarah Natkins, and to all of my guests for making this episode happen. The editor of The Grand Tourist is Stan Hall. To keep this going, please follow me on Instagram at Dan Rubinstein to learn more, and sign up with your email for updates at thegrandtourist.net. And don't forget to follow The Grand Tourist on Apple Podcasts, Spotify, or wherever you like to listen, and leave us a rating or comment. Every little bit helps. And now, a little bit of piano straight from the Rote Bar at the Sacher. Auf Wiedersehen!