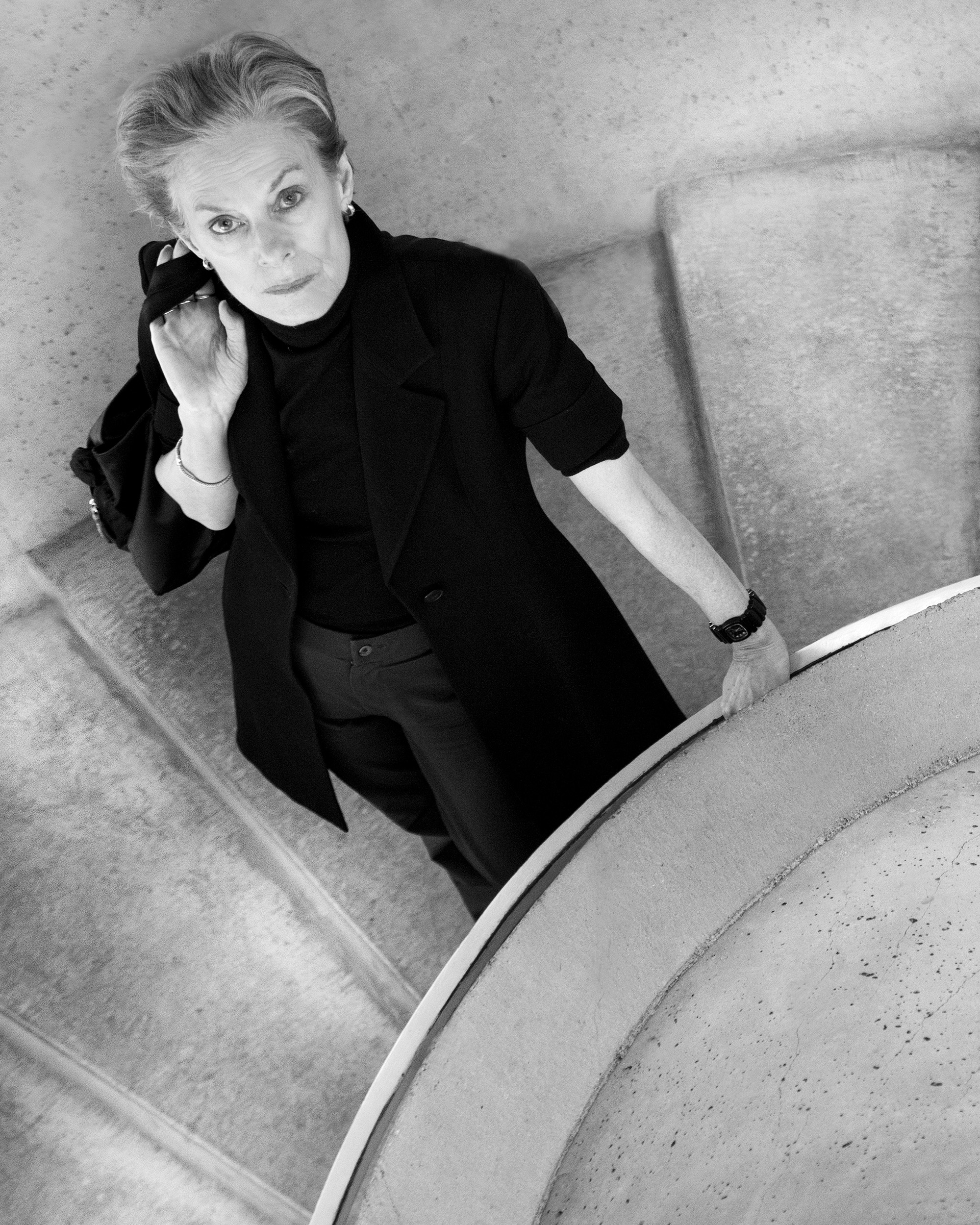 SHOW NOTES
A towering figure in postmodern dance, Lucinda Childs has injected an elegant spirit of collaboration, artistry, and whimsy to the artform. On this episode, Dan speaks with the legendary choreographer on her days learning from the likes of Tanaquil Le Clercq and Merce Cunningham, creating her groundbreaking performances with Philip Glass and Sol LeWitt, and the time a severe injury almost ended her incredible career.
For more information about Dance Reflections, an ongoing initiative by Van Cleef & Arpels, visit their website.
To see a video of the 2013 staging of "Street Dance" in Philadelphia, visit this link.
Listen to this episode
TRANSCRIPT
(SPONSOR BREAK)
Lucinda Childs: I don't think it's necessary to tell these people who are coming, there's no story. There are couples dancing, but it's abstract, and I don't think I have to tell them that they're not going to see bravura technique. They're not going to see fouettés and pirouettes and leaps. They're going to see an athletic, balletic movement style. It's really found movement, it's a whole different concept. The whole conceptual idea of it, I think, registers more. They know it's going to be repetition, but they know that repetition doesn't mean that I'm going to see the same thing over and over again. It's just the opposite. You're going to see the same thing, but always in a different way.
Dan Rubinstein: Hi, I'm Dan Rubinstein, and this is The Grand Tourist. I've been a design journalist for nearly 20 years, and this is my personalized guided tour for the worlds of fashion, art, architecture, food, and travel, all the elements of a well-lived life. It's hard to believe, but we're midway through the eighth season of The Grand Tourist. Since I began this little audio voyage, we've interviewed architects, designers, painters, sculptors, hoteliers, watch tycoons, historians and even a few guests with a hereditary title or two. In that time, I've come to learn that there's more that unites the disciplines of the well-lived life than divides it. In other words, there isn't much daylight between a great artist or a decorator or between a jeweler and a couturière or a choreographer. My guest today is a trailblazing artist on every level.
Through her decades of work, she has pushed her discipline forward in fascinating ways. She's not only a dancer, choreographer, and performance artist, but she's also a true American original, Lucinda Childs. An elegant rule breaker if there ever was one, her spirit of collaboration and ingenuity has transformed postmodern dance. Born and raised in New York. She began her dancing career as a child, heavily-influenced by the legendary ballet dancer and Balanchine muse, Tanaquil Le Clercq. Later on, she tried her hand at acting but returned to dance. Her life changed upon meeting Merce Cunningham, who injected a new artistic spirit to the art form that thrilled her and inspired her to create her own daring works. In the '60s, she was part of the revolutionary postmodern dance company, Judson Dance Theater.
Shortly thereafter, created "Street Dance" where an audience looks out a window to dancers across the street, frantically pointing at things around them timed to an audio track, heard indoors. It wasn't just performance, but art in the truest sense and a lot of fun. One of Lucinda's greatest skills is that of collaboration. She partnered with Philip Glass numerous times to create some of her more daring works, including the five-hour-long "Einstein on the Beach" in the 1970s, and then the show simply called "Dance," recently revived as part of the Dance Reflections Festival in New York, sponsored by none other than Van Cleef & Arpels. While dance was as minimal as the music by Philip Glass, it was supercharged by a stage set by artist Sol LeWitt.
In all, she's created dozens of works and even reunited with Glass for the opera "Akhnaten" in 2020, produced for a venue in Nice, France that she had to choreograph largely via Zoom during the pandemic. She performed in it as well. I caught up with Lucinda Childs from her country house in Upstate New York to talk about the impact of Merce Cunningham, how she would describe postmodern dance to a rube such as myself, the state of dance today as an art form, and the tragic moment when a major neck injury almost ended her dancing career.
(MUSICAL BREAK)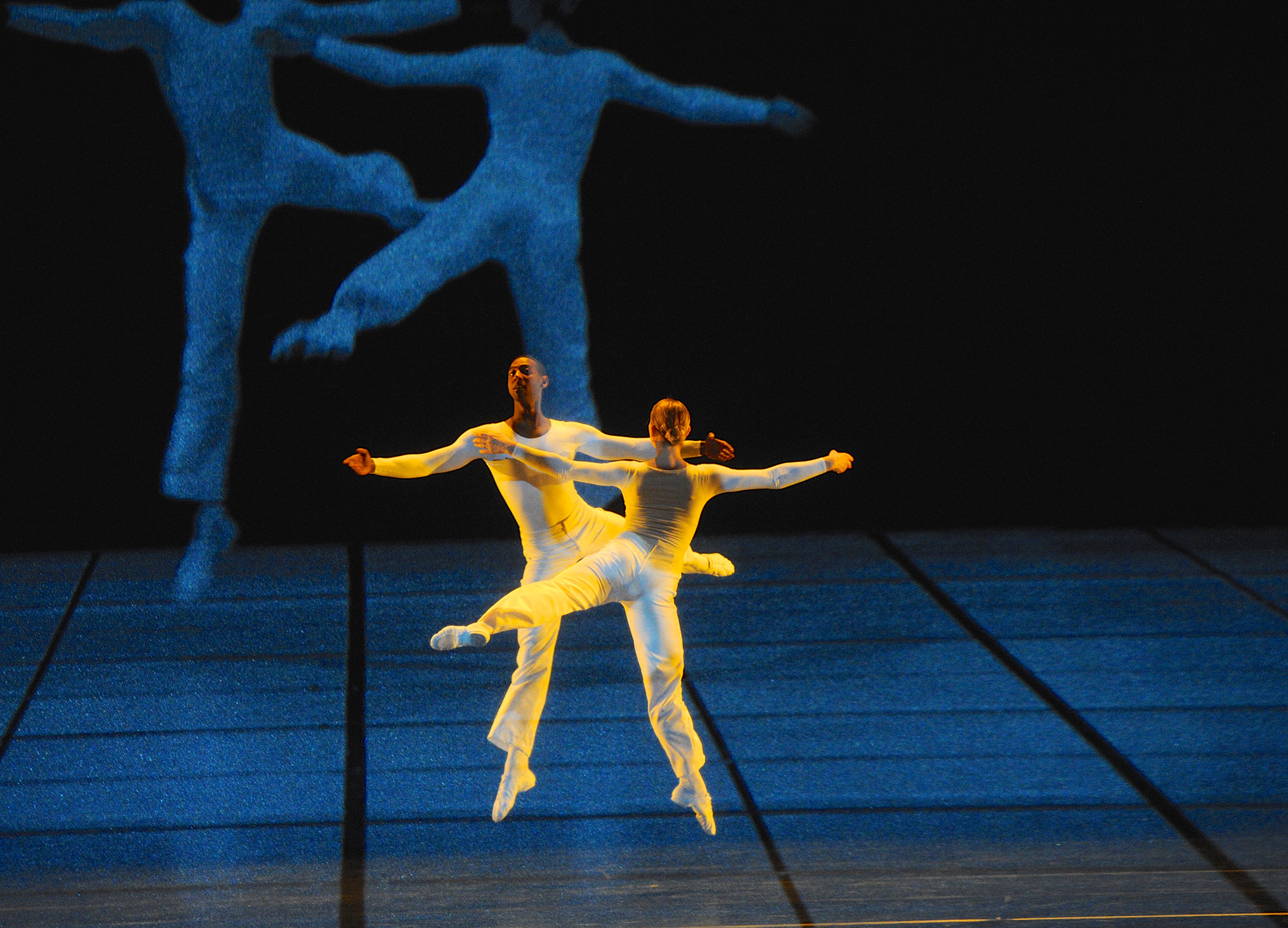 I wanted to start at the beginning with you. You were born in New York City, and I believe you were raised in the Upper East Side. Your dad was a doctor, and I believe your mom was a model. I was wondering what your early life was like and was it a creative household? Did they support the arts? What was that like?
Yes, the arts were supported by my father's mother, my grandmother and my mother and my father's grandmother got along incredibly well and went to the opera and went to the Philharmonic. She even would get me out of school when I was at The Brearley School so that I could go to the Philharmonic and go to the opera and do things that were just wonderful, actually, to be able to do that I remember.
Wow. Okay. You were raised on the Upper East Side, I believe.
Right.
Right. Do you remember what was the Upper East Side like back then? Was it different than what it is today? You're Upstate New York today, but I believe, but what was that like back then to grow up there?
Well, it was an upper middle-class neighborhood. I had a lot of friends, of course, in the area. I was across the street from the Armory, which has now turned into a big performing center on 66th Street.
What was it back then? It was just literally an armory.
Literally an armory, yes.
Okay. To people that don't know, it looks like a giant castle and quite beautiful, but today, it's for our performing arts. But back then, I guess they held weapons there.
Salvation Army, well, I don't know. Yeah, all kinds of things going on there.
All sorts of things. Did they encourage you to be creative as a kid? What was that kind of household like?
Well, I was sent to children's acting school and dancing school. I had ballet and theater and I loved it, but they didn't like the idea for me to take it too seriously because they didn't want it to interfere with my homework on the school nights.
Right.
I had to come home and do my homework, and it was a very, very, very good school at Brearley, but very demanding. You had to do your homework, but I was sad about that because I really wanted be able to do more training than I was able to do.
When you took those early classes in dance, even as a child, there were those ballet classes, do you remember how it made you feel? Maybe was there anything, did it click with you in the way that I hear from other—
Well, the thing in this particular school that I went to, it was called the King-Coit School. It was a very privileged situation, and to believe it or not, Tanaquil LeClercq happened to be one of the ballet teachers that they brought in, the beautiful, gorgeous, she was like a goddess to me. I couldn't imagine ever being a goddess myself, but it just was like a dream when this creature wandered into the studio and began to demonstrate, and that was I was about 10 years old at the time.
Can you explain as a mentor what you learned from her? What she brought to the class?
Well, just the whole beautiful, mystical, marvelous, dream-like quality of the ballet. The first ballet that I ever saw was Tanaquil in Après-midi d'un of Jerome Robbins, which is very beautiful, which she danced before her polio.
I guess why would say why was dance important to you at the time? Could you imagine if you had broken your legs or something and the doctor said, "You can never dance again?" What would've happened, how it means something to you? I'd love to hear about the importance of dance for you at that time.
Well, speaking of breaking your leg, I had a very serious neck injury, which involved, I had to wear a collar. I had to take Valium. I had to do all kinds… because it was a very, very painful situation. I went to a doctor and he said, "You'll have to take Valium and collar maybe for the rest of your life, for all I know," and I refused to accept this. I said, "There must be some alternative." As a result, I went to physical therapists, Tai Chi, Alexander Technique, you name it, just because… and I was cured, totally cured. I never wear a collar anymore. I have no pain. I'm completely recovered, which has something to say about not just the medical profession, but somehow the body finds its way… I wanted to heal. I needed to heal. I needed to get on with what I was doing and not just lie in bed with a collar around my neck.
You had bounced between acting and dancing for a while, and I'm wondering, when did you decide that maybe dance was something you wanted to truly pursue as a lifelong career, or was it not that simple?
Well, I went to Sarah Lawrence College after the Brearley School. At that time, I was very, very interested in acting and dancing. In fact, Sarah Lawrence was ideal because of the performing arts program. In 1959, and the guest teacher was Merce Cunningham, and I never forget the class. I was so inspired because it was connected with the contemporary arts, visual arts, and it's something just completely different. I began immediately right then in 1959 to go to his studio and you would find Jasper Johns, John Cage, Robert Rauschenberg, all these people actually physically there in this space.
Wow.
I thought, "How could there be a better place to be? This is really fantastic."
Today, Merce Cunningham is this bedrock of what we know of as dance today, and the name is so synonymous with dance. But at the time, how do you describe orthodoxy and dance and versus what he was doing and what he was espousing? I was wondering if you can explain why he was so inspiring at the time in terms of what made him different.
Well, there was modern dance, which is a very strong movement. All of these amazing modern dancers were in New York, Martha Graham, Doris Humphrey, José Limón. Hanya Holm was my teacher, actually, one of my teachers. Suddenly, this was an artist choreographer with no narrative influenced by John Cage and not accepted; accepted more in Europe, although that was slow to develop, but it was a difficult time for him. It didn't affect the fact that he worked, but it affected the atmosphere around working. It was a struggle.
When it comes to starting your own career in full swing, I'm wondering, when you're working in the world of dance and opera at the time, late '50s, early '60s, what was appealing then to you? Who were you looking up to? Maybe Merce Cunningham was one of them, but I'm wondering what you were seeing out there in the culture, maybe not even in dance, where you were inspired by?
Well, the most inspiring thing for me was the fact of the Judson Dance Theater Group, which was just forming at that time. Yvonne Rainer was also at the Cunningham studio and told me about the workshops and invited me to come. I saw her performances, which were incredibly inspiring to me, impressive, I thought she was for what she was doing, an outstanding performer who could deal with movement activity that was not necessarily classically associated with dance. She was really stepping outside of this category, which is of course, part of the influence of John Cage, and she was using text at the same time. I thought what she was doing was extraordinary and very inspiring to me, and then I was so lucky to be part of that group during the '60s.
What was it like being there in the company on a day-to-day basis? What was it a typical week like?
A typical week was—
At Judson.
… you go to your ballet class religiously, and then you go downtown and you're in Yvonne's rehearsal and you carry mattresses. It's a weird combination, but there's no way we're going to give up our training. We're dancers. Steve Paxton did a work where I had to eat an apple and rotate in a bowl of ball bearings and Carrie, Robert Rauschenberg, it's kind of… It was wonderful. It was such an exciting period. But we would not give up our training. We were dancers.
What was the training like? I'm just curious what—
It was a typical ballet class. We happened to be training mostly with Mia Slavenska because we needed a teacher who was… there were many schools in New York, but Mia taught twice a day. This was very valuable to me because I felt I'd had so many different teachers at Sarah Lawrence, and it was wonderful to have the focus and the concentration of Mia of twice a day. You could take classes twice a day if you had the time. She trained very, very specifically. Monday was a certain adagio, Tuesday was the same, and Wednesday and so forth. I really needed this desperately, and it was very, very important to me.
And one of your first groundbreaking performances was "Street Dance," which has been staged a few times. I saw a video of a somewhat recent staging in Philadelphia that you can watch online, and we'll put a link on our site so people can see it. To me, I was struck by how lighthearted and almost humorous it was and very voyeuristic. I'm wondering if you can explain before I explain too much what it was and how people first saw "Street Dance" and what it was and how it came about.
Yes, well, it was part of the Judson workshop. It was an assignment, actually by… well, Robert Dunn was the guru of the group, helping us to translate the ideas of John Cage into movement, ideas and movement activities and programs and so forth. The assignment was to make a dance that was six minutes. So I thought the interesting thing for me would be to leave the space and return within a period of six minutes. While I was gone, the audience in the loft building that where he was giving this class could look out the window and follow me on the street.
I left a recording behind of what I was looking at and what I was saying. I had a stopwatch, so I knew when they were hearing what I was pointing to. This became something that has been performant, and it is funny because all kinds of things happened that I wasn't aware of or I was aware of and didn't expect. The audiences became part of the piece in a way that was totally unexpected, so that fit in very well with the whole concept. But that was basically the whole idea of the piece.
There are parts where the performers were pointing to a sign—
Yes. Yes.
… or literally just things on the street outside of where you were.
Well, it was things I was pointing to. I'd point to, this was a soft touch cocktail lounge on East Broadway, there was a drop of paint. I knew they couldn't possibly see this drop of paint, so I was projecting to things that were beyond their perception. So, they had to listen to it and perceive this visual information in that way, and I like that idea to force them into this point of view.
Looking back with contemporary eyes, it seems like something that could almost be, it felt flash mob, as we would say today, where people are interacting situationally to the environment around them, like a site-specific work of art in a way also to be consumed of as a performance, but also as media. What was the reaction like to "Street Dance" originally?
Well, Steve Paxton wasn't in the class at the time, and Robert Rauschenberg, they were in London. I got messages from them, "Oh, we are so sorry we missed your dance. It sounded really good. It sounded great," and it was completely site specific, but that wasn't the term used at the time. It's a little bit before that. So, for me, that was great because I cared about what they thought.
Yeah, whether you were looking for their, I guess, nod of approval. I guess, did they see it eventually?
Yes. In fact, Robert Rauschenberg said, "Can you come do it in my loft on Broadway?" Which, of course I did. Then I reconstructed the whole thing for an evening that he was having.
Oh, wow, okay. How long did that—
So, I got to perform it again, and it has been subsequently performed in Paris and some other places. It has been reconstructed. It's been reconstructed actually with children, which was one of my favorites because they were so adorable. Each one had their own little sight-specific moment. It was really in Paris, in Paris, in the poor town area.
The Judson Dance Company is so credited with kicking off postmodern dance as a movement. I'm wondering, I'd love to hear from you how you define postmodern dance and if you could explain that to the listener.
Well, I think that Merce Cunningham is of definitely postmodern in that sense that he was part of the contemporary art movement to work with ideas, as I say, had no narrative. The minimalist movement was beginning to emerge in New York at that time, and that was very much very important to us, especially to me. It was a long period of time before I formed a company that I worked alone in studio without objects, without dialogues. I think that it's postmodern really just means after the narrative movement of Martha Graham, which is so incredibly intense and is such a… I think that's why they objected to us because it was so radical compared to what they were doing in the typical modern dance realm.
This also comes to another production of yours, "Einstein on the Beach," which I think, was your first work with Philip Glass, correct?
Yes.
It was designed by Robert Wilson, another great. He was a five-hour production, I believe, with no clear narrative. You'd show up around 6:00 and leave around 11:00. Tell me about how working on a production of that length, of that time, what it was like in terms of a creative process to do something of that length and scale.
Well, it was an enormous transition for me because I had worked, as I said, in these alternative spaces, rooftops, churches, gymnasiums, streets. So this was just from that point of view to be in a proscenium piece that was designed for a proscenium space. But I went to see Robert Wilson's work on Broadway, actually, Letter to Queen Victoria, I think in 1974. I was really fascinated with the fact that this contemporary aesthetic could be translated into this kind of space, that it no longer seemed necessary for me to be contemporary, to be just outside of that space. You could also be in it, because we found it objectionable to be in a framed space in the Judson days. But anyway, I was just fascinated with his work, and I knew of Philip Glass and had heard his music, but never imagined dancing to it. So it was an enormous transition for me to work with my first composer and the first time being involved in a proscenium space and production that designed for a proscenium space.
Philip Glass obviously is so unique in the world of music. What is he like personally? When you first met him, what was that like to-
He was incredibly open and honest. One of his first questions to me he wanted to know if I could sing, because the people in those days, the first versions of "Einstein," they were limited as to how many people they could be involved in. It was very important for him to have singers, obviously, and performers for Bob. But I don't know, he just was someone very, very… you could trust him completely, whatever he had to say and feel like you trust the integrity of it. Of course, the music was wonderful to learn it the way I had to. We all learned the music, and to work on it was fantastic. We continued to work together and have been working together ever since.
Wow. With a production like that that doesn't have a clear narrative, how did you want, or I don't want to say expect, but what was your hopes that people would feel when they left at the end of the night? What did you want them to take away from that, from a piece like that?
I don't think I thought about that so much because to be part of this five- hour piece, to be dancing, to be doing text, the text of Christopher Knowles and my own text, which was part of the opera, I really was so involved in the performance, I didn't really think about that so much. I know that there were people who reacted in one way or another. Not everybody reacted the same way, but I don't think I had any particular desire for any particular reaction, although of course, you don't want them to walk out.
No.
But they did, but they would come back, so…
Oh, wow, that doesn't happen if someone walks out. I guess they—
No, no, no. In fact, Bob Wilson encouraged this. He always said, "This is an opera, and if you want to go out and you want to go out, just go out and come back." He even had notices on some of the doors that this was perfectly acceptable and perfectly desirable.
I'm curious, going back to Philip Glass for a moment, as someone whose music is typically associated with repetitive nature and it builds over a long period of time, you might expect him to be, I guess as a layman, if you'd never met him or never knew anything about him, you would expect maybe him to be rigid in the way that he would collaborate with someone else. But I was wondering, is there what that back-and-forth process was when it comes to him writing music and you working on choreography, how the day-to-day would come together in order to produce a final work where you're both some equal importance, if you know what I mean.
Yeah. Well, of course, "Einstein," the solo in the first act was 30 minutes, which was sometimes 35 depending on certain things. But to make a piece for my ensemble, for my dance group, for my company, I said to Philip, I said, "20 minutes is approximately around what they could handle," and we decided on the sections of the dance would be 20 minutes. All five of them were 20 minutes. There were originally five parts. He would send music to me because everything I did is based on the music. It is the music, it's with the music, for the music, of the music, that comes first, absolutely. So I would just wait and he would send me music, and then I was able to work with it, work on it, find material for it before the dancers actually went into rehearsal.
We're talking now about "Dance," which is now being restaged for Dance Reflections, and again, also with Philip Glass, but also with Sol LeWitt, which is so exciting to have this translated work from when you first worked with Sol. How did that come about and how did he enter the scene to have an artist like that, this part of a performance?
Well, Sol LeWitt was very involved in the visual arts community and also very friendly with Philip and very often helping artists, some of the performing artists. Philip suggested that we talk to him because… and we both agreed, "If we're going to make a piece together and it's going to be presented in a theater we should go to, we need a designer, we need a collaboration for the set or for the decor or whatever." So we met with Sol as a result and he accepted, but he told me that it wouldn't be interesting for him to create a spatial object, like a drop or physical object that I dance in front of. He said, "That just doesn't strike me as being very interesting."
I think we almost got to the point where we felt, "Well, maybe this isn't going to happen. We're not actually going to find a way to collaborate together." But finally, in our future visits because we met a few times before he decided, really, we decided the decor has to be the dancers, and therefore, we decided on this film that was projected, which is simultaneous with the choreography that you see on stage, the dancers on stage is simultaneous with what you see in the film. So this was thrilling to me to have him do that. He was able to come to my studio to follow my scores and to already have an idea of exactly what he wanted to do with the film.
(SPONSOR BREAK)
So when you're restaging something like this and you're casting and looking for performers, what do you look for in performers for piece like that that might be different from casting for other kinds of productions? I saw some documentaries about "Dance" where people talk about how physically demanding it is, that this particular piece. How is it different or is looking to cast for something like "Dance" what you're looking for?
Well, I'm sure it's different because there's stamina is an issue for 20 minutes. You don't want the energy to drop. It's almost like an athletic problem that you keep the energy at a certain level so that it's sustained for the entire 20 minutes. They're on and off-stage, so they have to be connected to the music. They have to know exactly where they are in the music at all times, whether they're on or off the stage, and they have to know the music. Some of them even have notes backstage with the score that I use to help train them because it's very demanding, concentration, stamina.
I'm curious because, of course, there's the stereotype of the demanding dance instructor or the ballet teacher striving for perfection that can never truly be met. When you are teaching younger dancers, what is going through your mind when you think about the way that things were when you were coming up? How does your past experiences as a young dancer and a student, Judson or what have you, or even as a young ballerina, how does that impact the way that you are as a teacher in the studio?
Well, obviously, with all the different teachers that I had starting from age 10 to not so many years ago, I had both sides of it. But for me, the best results for me personally came from the people who were encouraging and gave me the energy and the desire and the willingness to feel that I can go ahead. I feel that it's my responsibility to make that, to project that, or I feel that I can do that, and I love to do that.
Are you a tough teacher?
No, I'm not tough, but it's just very hard work. I want to get them through it, and I don't want to make it harder for them than it has to be. But I always tell them, "It's doable. You can do it. It's possible."
Speaking about Philip Glass, there was a recent, I believe production for Akhnaten in the Riviera somewhere. If you watch the video, which again, I'll try to put that up online, there's some behind the scenes where you were essentially directing from a half a world away, I think from the pandemic, and you were teleconferencing in. That must've been a challenge.
Absolutely. I was almost at a point where I didn't know if it would be possible because I'd never done it before. The idea of Zooming, this is not a technology that's really created for the kind of work that I do, but I had a wonderful team, team, wonderful people, many of them we worked together before. I don't know, everybody just seemed willing to make it happen. Then finally, I was actually physically there the following year when finally, I was able to get to a Nice in the Riviera and it went by very well.
When you did finally get to go in person, did you look at it up-close and think, "Oh, wait, I would've made different decisions, or now it's different now that I see it up close or I see things in a different way?"
No, I was very happy with it, very happy—
Oh, good.
—with it. But the only thing was I was supposed to be the narrator, and since I couldn't physically be there, I had to be filmed and send the film there to do that part. That actually worked very well too, because we had a wonderful video, people working on the production.
Can you explain a little bit of Akhnaten, and I guess anyone who knows the name Akhnaten, you would know that it's about Egypt, but can you explain a little bit about of what it was about, what it is now?
Well, Philip Glass is interested in, "Einstein" was about the science, and then Akhnaten is a famous Egyptian pharaoh who believed in a one-god system, even though the tradition at that time was to have many gods. He really resurrected this whole new way of thinking and was criticized for it, of course, and his career ended badly. But Philip found this very, very challenging to think of this person, someone very important in religion, and then you have Gandhi for political hero. So these three operas, Satyagraha, Akhnaten, and "Einstein" are all connected really in the same way of major, major figures in our world that have influenced Philip.
You've staged at least 30 productions of opera, and I was wondering, how would you describe the health of dance culture today if you had to give it a letter grade like we do in restaurants in New York City nowadays? What is the state of dance today? Is it in good hands? Is it in good condition?
Well, it depends on which side of the ocean you're on.
Tell me both sides.
But look, this is incredible. This French organization, Van Cleef & Arpels has supported this work, made it possible here in my country, which I'm thrilled because that doesn't happen very often. Most of my work, all of the productions and creations have happened in Europe. So I would say that the state of dance here has always been a struggle uphill. The creation of the National Endowment in the '70s helped, but if you were on the committees where we had to do the selection, you could select a whole group of 90 choreographers deserving of support.
They'd say, "Well, we don't have money for that. You have to cut that in half." It was so discouraging. I just felt, "Well, I've been to Europe in the '70s, and that's just a better place. There's more support for the culture." A lot of that is Les Troyens in 1981 already doubling the budget for culture. Here in the States, the opposite was happening. So I've been supported in Europe, and I'm very lucky. But I also feel very happy that something is happening here, but it's thanks to a French organization.
What role do you think dance plays as a public good, if you will. If we had to convince the governor, I don't know, the governor of New York or someone in the White House, why dance is something that should be supported? What do you think dance does for a culture?
Well, I think it's the art form is very fragile. The fact that it's found its roots here with Balanchine, the tradition of Balanchine, it's just amazing with the City Ballet is so popular and American Ballet Theater and the modern dance movement. Also, the Graham company still exists, thank God, that Cunningham, I think there's a different thing that it's more that not so much that the company continues to exist, but the work continues to be given to other companies. So that's a good thing. But I think that it's not really the job of artists to explain to senators. We should have ministre de la culture. We don't have any minister of culture. So Robert Rauschenberg went in to try to fight for more support and talked about the Bauhaus and Hitler and stuff like that. We looked at the transcript and they spelled Bauhaus B-O-W-H-O-U-S-E. Do you know what I mean?
Yeah.
It was a useless waste of his time, shall I say?
No, listen, I believe you because…
You believe me?
… as a writer, I can completely understand what you mean. What was the last performance that you had nothing to do with, but maybe a last dance performance perhaps that you've seen that really inspired you?
Well, I think that in Milhouse, which is near Strasbourg, I saw a Forsythe piece that was on the same program with the work that I was doing, and I've always admired his work. It's not very often that you get an opportunity to see live performances, especially of Forsythe. I could see them in other companies in Europe, in Germany, and in Italy and in France on the programs with the Paris Opera and stuff like that, but this was the chance for me to see his work again. I was very, very thrilled to see it. It's just so bold, but not in any way that draws attention to the boldness. It's just marvelous. It looks so natural, and some of it's just completely crazy, but perfect at the same time. It's perfection.
I'm curious if there were any productions that were in the works over the years that perhaps didn't see the light of day or never made it to an actual performance. Anything, the near misses in your career that you may think back of, "Oh, I would love to resurrect that idea," that never quite made it all the way to the final stages?
That's complicated because I think that there are ups and downs. Not every work, obviously dance, I never expected dance to, because it was very heavily criticized to begin with in the late '70s and early '80s. There were people who liked it and people who didn't. But I feel that one thing leads to another in a chain that you can't break and you can't give the total responsibility for one piece to be the only piece that you wish. It's an ongoing process, I think. All of the pieces have meant something, and, of course, each one means something different, but they're all important.
This might be a more high-minded question as well, but I was wondering, as a lifelong choreographer who studies the movement of the human body and probably knows it better than anyone, when it comes to connecting it to something like "Street Dance", I'm wondering what ordinary activities in life do maybe you perceive differently as someone who studies dance and performs and as a choreographer? What do you in your everyday life see differently as a choreographer?
Well, I start my day with practice, my own practice, which is a combination of many different techniques, which I've mentioned before, the tai chi, the Pilates, the balletic, the isometrics, all the things that I can do so that I can continue to demonstrate, and in some cases, perform still with Wilson's work and also in Los Angeles. But I think that I try to take that with me into my day, and I think I'm successful in the morning and probably less successful in the afternoon and then completely unsuccessful at night. But I try to take with me the posture, the feeling of enjoying, enjoying to be alive, to be vertical, to be moving.
When it comes to those listening out there and maybe they get a ticket to dance one of the performances for Dance Reflections or for any piece of contemporary dance, and this might be a weird question, but how should you consume dance as a viewer, as an audience member? Is there anything you've ever wanted to just grab the people in the audience and say, "Please pay attention to this part," or, "This is how I would wish you could just absorb?" Is there any advice you would give for someone who really wants to enjoy dance?
Yeah, that's a good question, but I don't think it's necessary. I don't think it's necessary to tell these people who are coming. There's no story. There are couples dancing, but it's abstract. I don't think you have to tell them that, and I don't think you have to tell them that they're not going to see bravura technique. They're not going to see fouettés and pirouettes and leaps. They're going to see a athletic, balletic movement style that's in some ways a little bit pedestrian, but not entirely. It's really found movement. It's a whole different concept and the whole conceptual idea of it, I think, registers more. They know it's going to be repetition, but they know that repetition doesn't mean that I'm going to see the same thing over and over again. It's just the opposite. You're going to see the same thing, but always in a different way. I don't think you need to say that to people right now. I think people are on to that and they get it, and they like the conceptual aspect of it.
I was wondering, was there ever a dance performance you've seen that made you cry?
Yeah. Yes, I think so, yes.
Do you remember which one?
Well, seeing Martha Graham do a curtain call is enough to make someone cry. I'm sure I was not the only one crying.
If I were to ask you what dance means to you in three words, what would you say?
It's my life.
(SPONSOR BREAK)
A special thanks to our guest, Lucinda Childs and to the team behind Dance Reflections from making this episode happen. The editor of The Grand Tourist is Stan Hall. To keep this going, don't forget to visit our new website and sign up for our newsletter, The Grand Tourist Curator at thegrandtourist.net, and follow me on Instagram @danrubinstein. Don't forget to follow The Grand Tourist on Apple Podcasts, Spotify, or wherever you like to listen, and leave us a rating or comment. Every little bit helps. Til next time!
(END OF TRANSCRIPT)