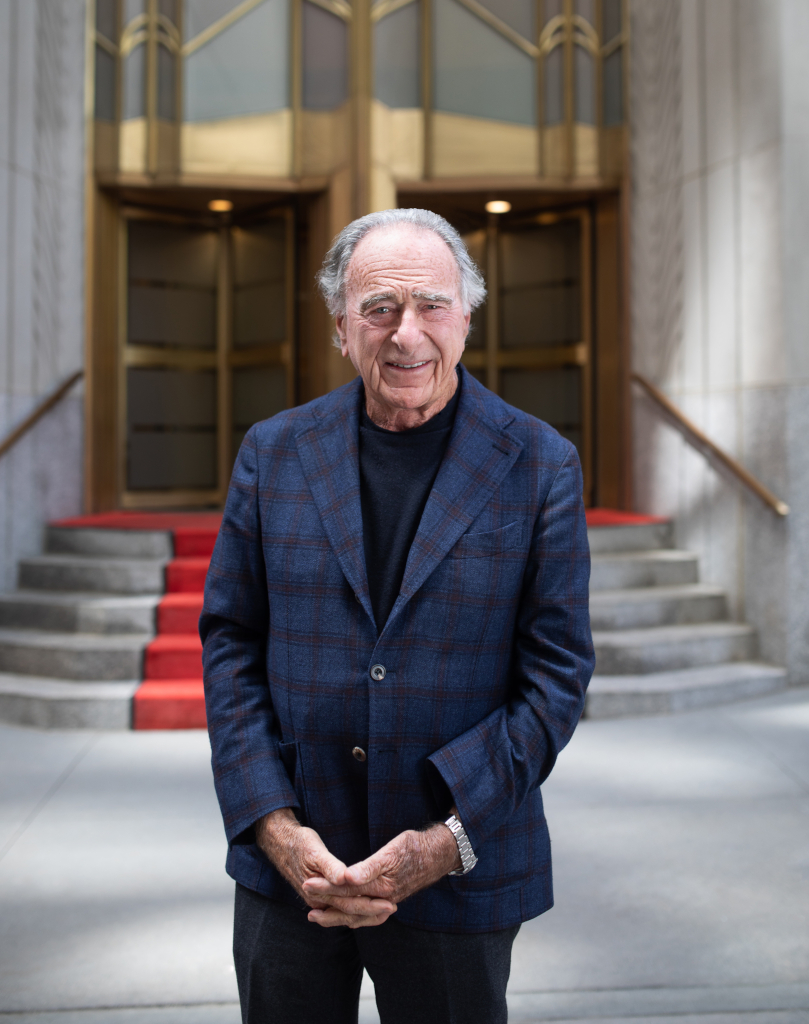 SHOW NOTES
Some power players in architecture and design have outsized impacts on the built environment that will last for generations. On this episode, Dan speaks with real estate developer Harry Macklowe about some of the biggest deals in this legend's career, how he got Steve Jobs to build the original Apple Store glass cube, his love of Art Deco and mid-century modern, and his latest project: One Wall Street.
Listen to this episode
TRANSCRIPT
Harry Macklowe: I always tried to be a good developer and achieve something in my buildings that would have a tenant say, "This is a good building, it's a Macklowe building, and it's well run."
Dan Rubinstein: Hi, I'm Dan Rubinstein and this is The Grand Tourist. I've been a design journalist for nearly 20 years, and this is my personalized guided tour. Through the worlds of fashion, art, architecture, food, and travel, all the elements of a well-lived life. Any discussion about modern life and its design falls on the architects and urban planners who toil for years to sculpt space, and if lucky, rise above things like politics and budgets to achieve works of wonder. But less examined are often the tycoons and power players that choose these talents, fund their imaginations and put their neck and bank accounts on the line for the built environment. My guest today is one of those real estate developers that has had and continues to have an outsized impact on his hometown of New York. Harry Macklowe. Macklowe was raised in the New York area and had a brief stint in advertising that left an indelible impression on him.
At a certain point, he switched careers to that of a real estate broker and then quickly to developer, and the rest is history. But his love of art and design never wavered, and he melded those loves into his career. Today, 50-something years later, Harry Macklowe has a signature on some of the biggest real estate purchases and developments the city has ever seen. From Metropolitan Tower in Midtown built in the 1980s to Rafael Vinoly's 432 Park Avenue, whose grid-like 85 floor design has garnered more column inches in the press than most. His latest venture is One Wall Street, a massive tower in Manhattan's financial district in the Art Deco style that Macklowe has carefully converted into a mixed use building, primarily residential, a former bank. It's one of the biggest office to residential conversions in the city's history. I toured the building myself, and it's a real treat to be in an apartment where in one unit, I literally could look into the neighboring stock exchange.
The building's crown jewel is the so-called Red Room, which will become a luxury department store. It's a lobby with soaring triple height ceilings covered entirely in red and gold mosaics created by the famed muralist Hildreth Meiere. The restoration of the single room reportedly cost over a million dollars. Today, thanks to Macklowe, it sparkles. I caught up with Harry Macklowe from his office in New York to chat about his early days as a gopher in advertising, how he convinced Steve Jobs to build the now famous glass cube for Apple and just what makes a good developer. Oh, and stick around to the very end for a special treat and a little chuckle.
Nearly every sort of biography of yours mentioned that you kind of left school to become a real estate broker, and you always mentioned your time at the School of Visual Arts, very famous art school here. I'm curious, what was that like and what did you study there?
Well, firstly, I worked in the advertising industry. My job was menial, but extremely important. It really was helpful. I was a messenger. I was delivering packages for the advertising agency and it certainly helped me learn the city. It was exciting. It opened the door to a world that I did not know. Of course, I then graduated because I guess I was a good messenger. I then graduated to becoming a mail boy. And as a mail boy, not only did I get in very early to sort the mail, I then had the privilege of delivering the mail to an advertising agency, which had three floors in an office building on 57th Street in Madison Avenue, which as comes full circle, I ended up buying all the land behind that office building and building 432 Park Avenue. But from the mail boy, you get to know all of the copywriters, all of the people in the art department, in media and account executives, and you get to see and understand at a very young age, the complexities of the advertising agency and of the business.
And, of course, as a very young person, kind of what makes Sammy run, there's so much that you're interested in and why can't I do that? I can do this. These are the ideas that I have. And it's only the fertile imagination of youth that is springing forth every day with lots of ideas, some of them very realistic, some of them not, and all of them observations based upon what it is their environment is. And of course, no bad habits because the training is just starting. So, that was my career in advertising, and I've found that advertising has always been an extremely important part of the crucible of my learning, especially graphics and the kind of Swiss school or what I call the Yale School of Design.
So, I guess I was always guided by and had a nascent interest in the arts. Architecture is just a natural extension of when I made the transition from advertising, because I felt the ideas I had were just not transportable, nobody would listen, and then I was exposed to real estate and I thought, this is a far more creative, imaginative industry. I didn't understand real estate or real estate brokerage. Oh, you can own a building. Oh, really? But I soon learned and I thought that was something that I wanted to do. For me as a young man, 21, 22 years old was intoxicating and it answered all of the questions of the why nots. So it gave me a platform from which to grow.
I mean, your roots in New York are just about as deep as anyone's, and you're essentially in the firmament at this point. I'm curious what your first memories are of New York City as a kid or as a young adult, of what New York City was like back then, and how that sort of pictured in your mind. When you close your eyes and you think back to your first memories of New York City, what do you imagine?
I remember the thrill of going to a night baseball game in Ebbets Field in Brooklyn with my father, my father and my brother. I thought it was a privilege to go with him to spend an evening. And when I walked into the stadium and I saw the lights shining on the grass, I must've been eight or nine years old, I was totally overwhelmed. I couldn't believe that I was walking into this thing and it was night and all of a sudden the brightness, it was day. It was as though the sun was shining, and it was though somebody had painted the grass green. In retrospect, it kind of reminded me of a scene from the movie Blow-Up, which subsequently was all about color and sensory perceptions. And I remember that as though it were not even yesterday, as though it were today, taking my breath away.
I remember where I sat. I remember what I saw. I remember not eating a hot dog, but the ball game was insignificant. It was the space, the place, and that this could be. I also remember the Third Avenue El, which was on Lexington Avenue, and I remember that train, and I remember visiting my father's office, and I remember infancy of seeing and understanding Manhattan. We lived in Westchester in New Rochelle and moved to New York, 18 years old. That's when I started to really understand. Of course, I came to New York to visit friends while I was in Westchester, but it was after 18 that I got to know the city, but those are the outs. That's the one outstanding memory that I have that's so visual. And I guess the second very strong memory was going to the Washington Monument and seeing the magnificence of that spire that was overwhelming. Not the cherry blossoms, but the Washington Monument itself, the thinness, the design of the building.
Did your parents have sort of modern taste? Did you grow up in a sort of mid-century modern household? Because you've been so influential in the sort of state of design of New York in so many different ways over the years. I'm curious, were you surrounded by that kind of culture as a child with your parents or were they kind had more traditional taste?
Very traditional. Firstly, my grandfather came from Poland to the United States with Grandma Sarah in 1895. They came through Germany. I have the manifest from my cousin on the boat that they arrived and they spoke Yiddish. They never learned or they learned a very limited amount of English. They were wonderful people in my memory's eye. We didn't see them that often, but they lived in Brooklyn. We lived in Westchester. My father was a very, very, very nice man, and he dressed well, and I was always impressed with how neatly he dressed, how well he matched his tie shirts, suits. But my home was traditional. My mother decorated in fake French provincial with plastic on the covers in the living room when nobody was there and nobody could sit there. You couldn't go into the living room other than to transit it. But I do remember that she painted, and that was a little bit of influence to me, but not that much.
My interest in design architecture really came from the advertising business. I was observant enough to be attracted and understand a type font to recognize and learn and ask questions about the difference between New York Times bold, Helvetica, and Bodoni. I had a curiosity and whatever it was that I was doing, I wanted to know why, what, and how it works. And I really loved the advertising industry, which was extremely important to me when I became a real estate broker because the references that I had were advertising agencies, was the advertising column in the New York Times every day. It was Grey Advertising, McCann‐Erickson. They got this account, they got that account. It was Wells Rich and Greene. It was the Alka-Seltzer commercial. I recognized that if an advertising company switched their advertising from one advertising agency to another, that advertising agency would need new personnel, would have to expand.
And I would try to follow track and ask those companies if they were in need of more space, wanted to move, and could I be their representative to find them space. And that's really how I got my start in the real estate brokerage world. And as I did that for a couple of years, starting with nothing and then accumulating my commissions, I recognized that the proper side of the desk to sit at was the landlord's side. Although you would sacrifice ready money, it was investing, and it was a future as opposed to the brokerage side, which was a little more uncertain.
And as a developer, what was your first big deal and how did that happen?
One of my friends at Helmsley Spear knew that as a real estate broker, I wanted to make investments and make that transition. He offered me a building on 28th Street between Park Avenue South and Madison Avenue across the street from New York Life Insurance, which was a complex of new buildings. This was an older loft building that was built turn of the century. I looked at it, went through it, and thought that I would be able to take a loft building, which was manufacturing. There were lots of needlepoint tendencies in this building, and they were paying a dollar, a dollar and a half a foot, and I thought that the market should be $4 a foot and it should be what I would refer to as tertiary office space. So, if the office space market was $5 or $6 a foot, this space should be able to rent at 395, $4 a foot and be attractive to a tenant who couldn't afford that first class rent.
So, that was the building that I bought. I put together a group of friends together with my own equity investment, and I acquired the building. The broker who sold it to me is, of course, has remained a friend for life, sold me subsequent many other properties. So, I didn't know exactly what to do with it. I asked the tenants to leave. They were manufacturers. The leases were month to month. The seller had anticipated that he would be able to get the most money if he sold the building vacant or if the building could be vacated so that it could be upgraded. And I kind of made plans, drew them myself, and started on a construction program. I remember getting advice and help from space planners whom I knew because as still an active real estate broker, my clients all needed interior architecture design. You understand that very well, what I'm talking about.
So, there were several space design companies who wanted to have me recommend them. So I was able to benefit, ask a lot of questions, and learn a great deal, because here I was renting to office tenants, negotiating leases on behalf of my tenants, and understanding their construction, air conditioning, private office, library, photocopy. At that time, there wasn't even fax machine. It was still mimeograph and understanding their business, business plans, and therefore, I knew what I had to create in office space. So the first thing I did was I didn't have money to hire a demolition company, so I owned a station wagon. So I went down to the Bowery, the Bowery and Houston Street, and I asked this person, that person, and I said, "Do you guys want to work? Do you want to earn some money? I've got a building and I need some demolition."
So, the guys raised their hands of course, and they said, "Yes, of course, we want to work." So I got six people. I put them into my station wagon and I drove back to 28th Street and I had bought 5 and 10 pounds sledgehammers, short hammers, long hammers, and I said, "You've got this floor to demolish. Take down all these walls, knock them down from the ceiling right to the floor, pile the rubble if you can. I had wheelbarrows." And so I had six men working and demolishing the first three floors of a 12-story building and came along lunchtime, and they said to me, "We'd like to go out and get lunch." I said, "Of course, you take a half an hour, get lunch." He said, "Could you give us money for lunch? We don't have any money. Could you pay us? Give us a couple of dollars? We've worked for you the morning." I said, "Absolutely, of course." Gave each man $10. They never came back.
Oh, no. Well.
So I sat down, I lamented and I thought about it and I found a general contractor. I did a lot of interviewing and I found a general contractor and I said, "This is my problem." He laughed and he said, "Of course, they never came back." He said they went out and got a couple of drinks. So, that's how I started. I converted the building and I remember being greatly influenced by things that were around me at the time. I think that was in the early '60s. I think it was the New York World's Fair at that time. And I saw things that light Allier, a company, had done, and I tried to copy them for my lobby lighting. And, of course, I was on a very limited budget, and I thought I had designed a very clever lobby without realizing that I had designed it. I had drawn it, put it all together, and built it together with a lighting fixture that I asked electrician who I had hired to make for me. So I guess I designed the lobby and I was a brief lighting designer.
(SPONSOR BREAK)
From those humble beginnings of wheelbarrows and sledgehammers, I wanted to just kind of jump ahead a little bit to the General Motors Building that I believe you purchased in the early 2000s. And I'm curious if you could tell me why that building, and how Apple first came into the picture with the cube and everything that really kind of changed the face of retail and had a massive impact on the design world.
The General Motors Building was an icon. When it was offered for sale the first time, I was very interested, but I didn't have the imagination or the ability to put together the wherewithal to buy the building. So, when it came up on the market the second time, I did and I made every effort to buy it because I thought that was the pinnacle of buildings in Central Manhattan, in the Grand Central and in the Plaza area. In the Plaza area, of course, it was the best, but I thought these two important office concentration, the places were the best market, and this was the best building and the most attractive. I was able to, on my own, look at the building, understand the tenancy, see what the building could be, because it had been purchased from the sponsor of General Motors Building, Cecilia Benattar and the British investment group.
It had been purchased by Disque Deane, a very smart real estate investor who was proficient in doing sale leaseback deals. And he had bought this building and it was an operating position, and it's typical for his portfolio. And when he sold it to Donald Trump and Conseco, they ran it, they rebuilt it. And you may have forgotten, but Trump put the name Trump on the General Motors Building above the ground floor, and he rebuilt the ground floor and tried to call it the Trump Building, but it was still the General Motors Building. I saw a great deal of potential. There was a plaza on Madison Avenue, which I thought should be retail and the building should be brought out to the sidewalk. There was a plaza that Trump had built that was up and down, and I thought made no architectural sense. I studied the elevations very carefully and thought you could create both a splendid plaza that I was greatly influenced by Mies van der Rohe and the Seagram Building.
I studied that a great deal. I was greatly influenced by I. M. Pei and the pyramid in Paris, which I spent days and days photographing, measuring, studying, and felt that there was a great deal to be learned by that and the redesign of the General Motors Building and getting rid of Trump, getting rid of all the green marble in the brass, going back to some references to Edward Durell Stone, to the sectagon shape, to the whole architectural theme that he had was the appropriate way to architecturally look at the product and to recreate it. At the same time, I had bought a piece of land that you may remember on Houston Street and Broadway.
Houston Street is a divider. And as an east west street, it's very, very interesting because it starts very far east at the East River. Of course, it ends in Greenwich Village at Sixth Avenue as a main boulevard, but it has a graceful curve to it. It's not a straight street. And at Lafayette Street and at Broadway, there's a very, very gentle, very subtle curve. And at the northeast corner of Houston Street and Broadway was a carwash and a gas station. It was called a Whale of a Wash, and across the street was a loft building, and it was the beginning of SoHo. So the north side of Houston Street is really the end of NYU, and the south side is the beginning of SoHo, although NYU has property within it, but that is kind of symbolically what happened. And Donna Karan had a magnificent, wonderful advertising billboard on the south side Houston Street, which was 15 stories high.
And the advertising agency [inaudible 00:26:42], I forgot the [inaudible 00:26:43] or something, a very, very smart, bright advertising agency had this fabulous mural on the wall for her with her fashions. And it was gray and white and the colors were beautiful and the drawings were seductive. And I bought that and I felt that because I had owned a lot of buildings, I owned 35 or 40 buildings in SoHo in the early '70s. I felt that there was an opportunity to build a first class office building on this site. And I also heard that Apple was in the market for a space in SoHo, and fortunately, the real estate director of Apple is a real estate director I knew because I had rented in a few of my office buildings space to the Gap, and I knew the Fishers who were the owners of the Gap. We both were art collectors, and his real estate director, whom I had worked with went from the Gap to Apple.
So, he was the man conducting the search. And I said, "Listen, I've got a great building for you. And I pushed the building, which I ultimately built. It's beautiful, and Adidas is the tenant there." If you go by the four corners of Houston Street and Broadway, you'll see the building. It's one that I'm enormously proud of. I designed it together with studios, together with Dan Shannon, my design partner, and we built, I think, a very forward, gorgeous building, and I'm enormously proud of. So I said this would be a sensational home for Apple because the building has anodized gray facade. It almost looks like an iPad turned on its side.
So, I thought there would be that association. And the guy said, "No, no, no, no," he said. Steve Jobs has seen what was then a post office and it was leased to Restoration Hardware. They weren't going ahead with their lease, and that became the Apple Store in SoHo. That was the first Apple Store in Manhattan.
I think it's still there. It's still there in the same building.
Yeah, absolutely. And I was disappointed, and at the same time, I was bidding on the General Motors Building. I said, "What else are you looking for?" He said, "Well, we're looking for something on Fifth Avenue." I said, "Well, that's interesting." I said, "I think I have the perfect location. I said, "Because you guys really, you don't want to be in a store. You want to be your own image, and I have some ideas."
I said, "If I'm successful, I'm going to offer something to you." So, that's the genesis of the creation of the Apple with Macklowe, and it is the beginning in my mind of the Apple cube. When I was successful, I then called the real estate director and I said, "I bought the General Motors Building. Come over and I want you to look at it." And all I did is showed him with my hand, the Plaza. I said, "Forget this. This is yours. This can be Apple." He said, "Ah, no. Nobody will come up to 59th Street. Nobody will come up to 59th Street." Two weeks later, I got a call from Steve Jobs and he said, "Could you come out and see me? I'm very interested in the General Motors Building. I have something I want to show you." And I said, "Great. I said, "I have something I want to show you." So we met. He picked me up at the airport in a pickup truck.
I sat in the back of a pickup truck and was taken to his office in Cupertino, directly to his office. And he was walking around in his black turtleneck T-shirt and his jeans and his basketball sneakers. We shook hands. We spoke for a half an hour. We kibbitz back and forth. He had built a model of the Plaza. I had come with a model of the Plaza. We talked about it. I had 50 different designs including the cube. He had a design that was also a variation of the cube, and we shook hands immediately. That was a deal that took. It had nothing to do with rent. He understood the uniqueness of this. I understood what I had, and it was all about design, architecture, presentation, and we both knew that this would change the city.
And your latest is One Wall Street, which is this incredible building. And for those listening that might be living outside of New York, I'm wondering if you could describe this incredible building yourself to the totally uninitiated.
One Wall Street sits at the very nexus, the very apex of the financial district of Manhattan. Manhattan is the home of the New York Stock Exchange. It's really the home of capitalism. As the United States has flourished, it's done so through public markets, and the public markets had all been concentrated within a hundred yards of One Wall Street. We are next to the New York Stock Exchange. We are one and a half blocks away from what was the American Stock Exchange, and this is the heart of the financial community of the world. When I was a advertising employee, the first bank that I had a bank account was Irving Trust, and One Wall Street had been built by Irving Trust in 1928. It was one of the five New York money center banks. Irving Trust was founded at the turn of the century and it was able to maintain its independence into the '70s.
Irving Trust built the building as their banking headquarters. And as their bank flourished and grew, they built the second half of Broadway to Exchange Place. So the Irving Trust building, One Wall Street now, goes from Wall Street to Exchange Place, and it's 365 feet and it's a 50/51 story building and it's elegant in its Art Deco architecture. It was designed by Mr. Walker. And Mr. Walker designed several buildings that were very distinguished within a very subtle Art Deco style, which was quite popular at the time, very influenced by Rockefeller Center and the Harrison and the Prometheus designs but Walker's was more simplified and more distilled. When I saw the building as 1,250,000 feet in it, I thought it could be easily converted to a extraordinarily city within a city residence. I thought it should have a significant commercial component on the bottom, but I thought it should have apartments, rental, and condominiums in the middle and on the top.
I felt it was large enough that it could become a mini Rockefeller Center in that underneath the building was the subway, three or four subways converged there. So, that's a wonderful for transportation. It had several levels below ground for banking and vaults and office space, which I thought could be converted to beauty parlors and cobblers and food, and several of the kind of community that lives below ground in Rockefeller Center and is connected by concourses. I thought that that could happen. And I wrote a three-page memo. I hand wrote it and I still look at it, refer to it, and I came pretty close to all the predictions that I had. The cobbler and the food and the beauty parlor has morphed into Whole Foods, has morphed into Lifetime Fitness, and now has morphed into the French department store, Printemps. And there are three major department stores in Paris, Galleries Lafayette, Le Bon Marche, and Printemps, meaning spring in French.
And we are fortunate enough to have rented them 55,000, 60,000 feet of space and they are going to make an extraordinary store. They had an opportunity of choosing uptown, Chelsea, downtown, and I was able to convince them that, and they felt it also that this community was growing, was flourishing, and they would be part of the nurturing process. So we have recreated and restored one of the beautiful architectural rooms that Irving Trust used as their major entry and banking office, and it was designed by Hildreth Meiere, a Artico artist. It was very popular at that time. We've restored it to its original design and glory.
And this is the Red Room that you're speaking about, correct?
This is the Red Room. Then we have created throughout the building, public spaces, swimming pools, private dining rooms. We call the One Club. We have a swimming pool on the 38th floor that overlooks the Statue of Liberty. We have a lounge above that, that's 6,000 feet, that is spectacular looking at Lower Bay, looking at Staten Island, looking at the Statue of Liberty, just marveling at the abundance of beauty in the skyline of Manhattan and in the skyline of New Jersey.
We're a very, very special building. We've created a social kind of WeWork space that is in its design, I think, sets a wonderful landmark design of shared free office use space, conference rooms, private podcast rooms, lounge space, and workspace. We've created storage and play areas for children throughout the building. We have a 75,000 foot gym that is in every respect, the most modern physical facility that being run by a spectacular company, Life Time Fitness. I think it'll be a very, very satisfying whoever uses, it's going to be very pleased. And it's interesting, when I describe this to you, I'm not talking about I've just designed something that I'm going to make money. I'm not talking about I've designed something that I'm going to be satisfied with. I'm talking about we have created something that you are going to be very happy with. You're going to walk away and say, this is a special club, or I'm very happy here, meet me at this club. And that's always been my goal. And that has stayed with me from the beginning of my career.
And I'm curious, listening to these stories, if I were just to ask you, what is Harry Macklowe definition of a good developer? How do you define what is a good developer or even a great one?
What is a good developer? That was the goal that I sought for myself and I constantly challenged myself. As I became more and more influential in the design process, I would only work with an architect who would listen to me. I would respect what they did because little did I know, but I was learning rapidly and greatly influenced by wonderful. I was greatly influenced by Mies van der Rohe and the Seagram Building. I was greatly influenced by the Parthenon. I was greatly influenced by the Roman Forum. I was greatly influenced by the Beetle ad in the New York Times. I was greatly influenced by the advertising, Think Different. These influences all went into the matrix that made up what it was that I wanted to do for myself in creating a building that was different or that was the top of the line. Even though my buildings and my investments were small, I wanted them to be special.
I wanted them to be tenant oriented, and I wanted the tenant to get a full value. And if something wasn't right for the tenant, I wanted to rip it out. I didn't care. I didn't want to hear a complaint. I wanted to hear the satisfaction of this is a special landlord. He'll do anything for us to do it. And the good developers that I admire are ones who do the ambitious projects. I have enormous respect related for Steve Ross, certainly for Hudson Yards, for having a direction that is undeterred a determination to get there. So I think that's a good developer. I don't think his taste is mine. I don't think the sophisticated architectural ideas that I have. And when I say sophisticated, within the architectural community, and that's what I call good architecture, good development. If I can blend myself into that, if I can be the designer, if I can be the inspiration, then I feel it's my building.
I've done it. It's not just direction now. I've done it, I've drawn it, and I've been totally instrumental and the design of the building or hand in hand with the designer of the building and feel that. So, that's one that I feel is a good developer. Another one as a good developer is somebody who will associate themselves with Mies, associate themselves with good designers, associate themselves with people who have the awareness and the ability to bring a good design to the table. I think Steve Roth from Vornado is somebody I enormously respect. One because he has a very great financial discipline. Two, because the architecture that he does not inspire and that he doesn't know. He knows enough to get the influential architects to bring him there, and he wants to see that it's his first class. So his aspirations are as good as mine. They're as much as mine.
You've had a strong connection to the period of Art Deco in your projects throughout the years. I was doing some reading about your hotel, which was something that I might be a little bit too young to remember, but Hotel Macklowe had kind of a, I believe, a little bit of an Art Deco sense to it, of the interiors. I'm just wondering now that you spent all this time working on One Wall Street, do you have a kind of attachment to this kind of Art Deco period in design history is. We talked a lot about mid-century modernism and Mies and everything like that, but is there anything about Deco and that period of time from an architecture and development point of view that you particularly love?
Well, I think Art Deco to me morphs into modern architecture. I think Art Deco to me, leads you into the Bauhaus. I think you have to pay a lot of attention to Eileen Gray. You have to pay a lot of attention to Prouve, in order to get there. You have to understand these designers and these zeitgeists at that time, what the influences were. I think you have to understand the end of bentwood furniture, and you have to understand the beginning of tubular furniture. You have to understand Mies van der Rohe. You have to understand Marcel Breuer. You have to understand Eileen Gray. You have to understand the great influences of the Bauhaus in Dessau. And you have to see, without the Barcelona Pavilion, you couldn't have Stephen Holl, you couldn't have Richard Meier, you couldn't have Charles Gwathmey. You have to see that progressive architecture. And you have to see that transitions within the arts, both the written arts, the performing arts, and all of the scripted arts and culture and literature.
So, we owe a enormous debt of gratitude to Art Deco, which is leading us really into tubular furniture. It's leading us into screens. It's leading us into the exploration of new materials. It's leading us into a new way of seeing things, where the Art Nouveau is more grotesque and more surrealist. The Art Deco now is representative of the flapper times. It's representative of [inaudible 00:49:18]. It's representative of the culture that's coming out of Germany after the First World War. So yes, that's an influence, but I'm Miesian architect. I am Miesian designer. I'm a Yale School of Design on typeface. I am a person who looks at a display, looks at an advertisement, looks for the modernity of it, looks for the eye appeal, looks to what is the artificial visual data, what am I looking at? What am I creating? Yes, I like and enjoy enormously parts of the Art Deco.
(50:11):
And when I design Metropolitan Tower, there were a lot of influences, but I went back to Biedermeier and I went back to Joseph Hoffman. For some of my designs, I was influenced by the Normandy, which of course brings you back to the foothold. In a very crisp, Metropolitan Tower is an enormously modern, very, very influential building. Metropolitan Tower, while it's subtle and not known within the architectural community, it's almost as important as a Demoiselles d'Avignon, it's kind of breaking. It's almost as important as cubism because 146 West 57th Street Metropolitan Tower was the first four-sided silicone building in New York City. It's the first curtain wall that was built by gluing glass onto interior mullions by having an absolutely flush exterior with no metal exposed. And it was the distillation of architecture. It was the reflection of the sky, it was the transition of your eye. Looking at that, what am I seeing? Is that a mirror? Am I seeing clouds? Am I seeing a design? And that was just extraordinary.
Thank you to Harry Macklowe. And a special thanks to Marta Brambilla for making this episode happen. The editor of The Grand Tourist is Stan Hall. To keep this going, please follow me on Instagram at @danrubinstein to learn more and sign up with your email for updates at thegrandtourist.net. And don't forget to follow The Grand Tourist on Apple Podcasts, Spotify, or wherever you like to listen and leave us a rating or comment. Every little bit helps. Til next time. 
And as the last thing I will ask you might be a little bit on the lighthearted side. You did some videos on a website long time ago called oldjewstellingjokes.com, which was one of the greatest things in the internet that is still around today. And you told some old jokes and I'm wondering if you can recall one real zinger, old Jew telling jokes that you could recall or recount for the audience listening?
Well, I think you have to be really very serious. This is extremely serious to me, and I take it seriously. So I don't think in terms of levity or jokes, but Sarah went to the rabbi and she said, "Rabbi, rabbi, rabbi, Natham loves me. Should he be the lucky one? Or Modercai, he says, he loves me, he cherishes me. Should he be the lucky one? You're the smartest man in the village. Please, I want you should give me something." "
Well, Sarah, that's an interesting question. I got it. You should marry Modercai and Natham, he'll be the lucky one."
Oh, that's a good one. That's a good one.
I'm going to give you one more. "So, children, this is what you can expect from marriage ,and I'm glad that I had an opportunity to speak to you for an hour and a half and tomorrow I will be performing the ceremony," says the rabbi in his study to the bride and groom.
And the groom says, "There's one question I have, rabbi." He said, "Yes. What is it?" He said, "I've noticed that in our ceremonies, in our religion, the men dance with the men and the women dance with the women, but it's my wedding and I want to dance with my wife." He said, "You want to dance with your wife?" He said, "Absolutely not. God would frown on it. I couldn't perform this ceremony, and if you did that, I don't think the marriage would be successful." He said, "Okay, okay, rabbi." He said, "I have one more question." "So go ahead and ask." He said, "After we're married in the ceremony that you perform, can we have sex?" He says, "Can you have sex? Sex is wonderful. It leads to children. Of course, you can have sex." He says, "Well, can we have sex on a hot rubber blanket with chains and toys and whipped cream and olive oil?" He said, "Oil, the schmoil, do whatever you want." He said, "Well, can we have sex standing up?" "Absolutely not. It could lead to dancing."